IBM lab now open on campus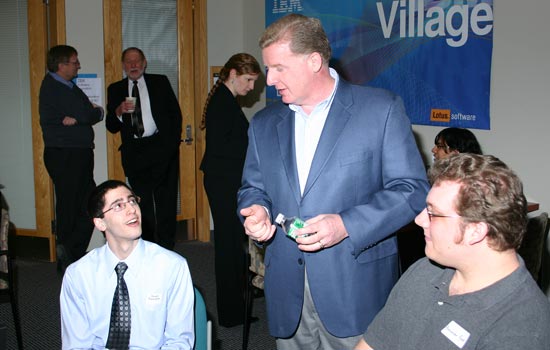 Photo submitted by Virginia Gross-Abbey
IBM has launched its first software Innovation and Collaboration Lab on the RIT campus to allow students to work on IBM enterprise technologies, including open collaboration products that harness Web 2.0 and social-networking features.
Students of various majors will perform design, development and technical-support roles from within IBM's lab located in the Center for Advancing the Study of Cyberinfrastructure. This lab draws on students from the B. Thomas Golisano College of Computing and Information Sciences, Kate Gleason College of Engineering and the College of Imaging Arts and Sciences.
"For RIT, the lab provides an excellent opportunity for faculty and students who have expertise in open source to work together on real-world software engineering issues," says Jorge Díaz-Herrera, Dean of the Golisano College of Computing and Information Sciences. "As opposed to students who are doing co-ops away from the university, this brings industry and real work scenarios to the campus. This is a great example of how we can help companies like IBM in research and development. In return, they expose our students to real-world issues."
IBM's contribution to the development and design lab includes dedicated servers and laptops for student co-ops, plus on-site staff and mentors who will be working together with students in person and virtually to train students on gaining new business skills combined with technology expertise. Students will initially be working on Lotus and collaboration tools, such as Lotus Symphony and Lotus Connections.
Joe Pecoraro, a fourth-year RIT computer science major involved in Web development, would like to spend his co-op learning how to apply enterprise social networking to improve productivity. "I want to have a personal impact on the IBM technologies I'm working with. The lab is really trying to do just that—let the students make a difference in future innovation," says Pecoraro. "I hope that working with IBM will give me an opportunity to clarify what I want to do in the future. I anticipate this may turn into a future career or open doors to more opportunities with IBM."
"The lab allows the best and brightest at RIT to apply their skills to innovative solutions through collaboration with IBM and maintain our linkage with the university's top talent," states Robert McDonald, IBM vice president of technical support for Lotus and collaboration software. "We hope to leverage students' extensive experience with the new age of collaborative technologies such as social networking, mashups, wikis and blogs."