RIT competes in 2022 Northeast regional collegiate cyber defense competition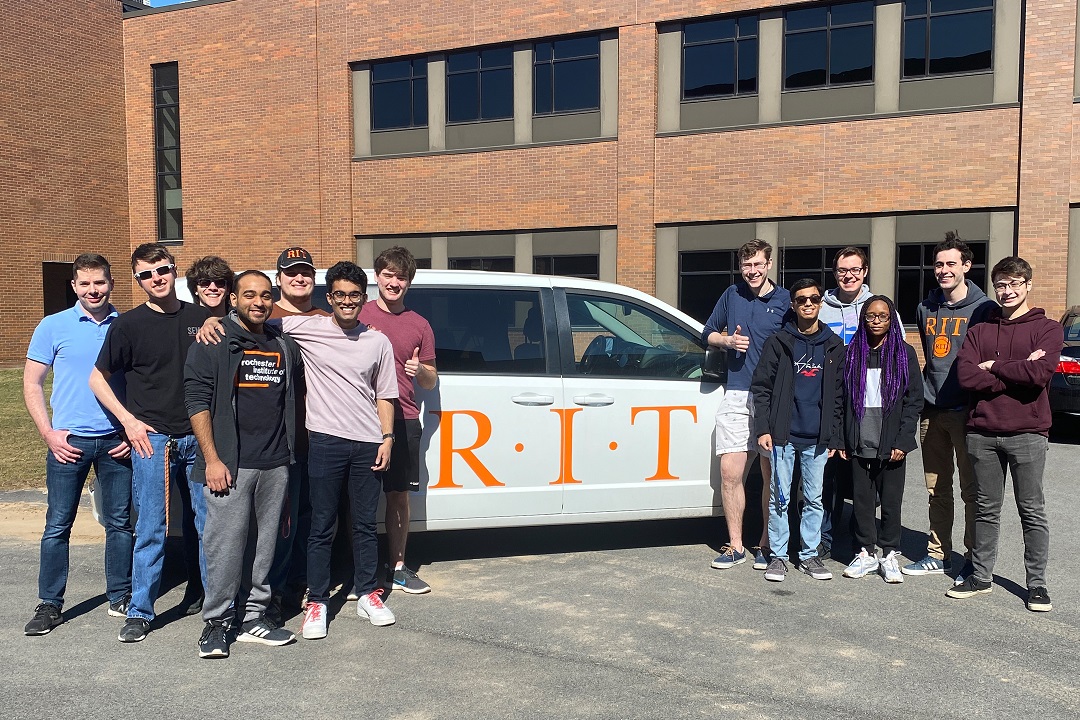 A team of Rochester Institute of Technology cybersecurity students competed in the 2022 Northeast Collegiate Cyber Defense Competition (NECCDC) March 18-20. 
The annual regional event is part of the National Collegiate Cyber Defense Competition (NCCDC)—the nation's largest college-level cyber defense competition. The extracurricular activity helps students build and hone the skills needed for a job in the cybersecurity industry—an industry that currently has a severe shortage of qualified professionals.
Ten college teams competed in the Northeast regional event, which was hosted in Burlington, Vt. this year. Northeastern University placed 1st, Champlain College placed 2nd, and University of Maine placed 3rd. The win means that Northeastern receives an automatic bid to the 2022 national competition, which will be held April 21–23.
The cyber defense competition gives student teams the opportunity to assume responsibility for the information technology operations of a simulated organization, allowing them to apply cyber defense skills in a real-world scenario.
For the competition, a group of industry professionals from government and companies—called the red team—is assigned to break into computer networks to exploit information from a mock organization. Teams of students are "hired" by the organization to prevent that information theft from occurring.
The theme this year was "the hunt." Competitors focused on analytics, investigations, threat hunting, finding indicators, root cause analysis, and communication. These are core capabilities that cybersecurity professionals need to focus on in order to identify and respond to security compromises. Blue Teams had to do this, all while keeping critical services running and responding to management requests for information.
The RIT student team is made up of computing security majors CJ Gebo, a fourth-year BS/MS student from Rochester, N.Y.; Evan Mikulski, a fourth-year student from Wallingford, Conn.; Jacob Cedar, a third-year student from Brooklyn, N.Y.; Brayden Werner, a third-year student from Colombia, Md.; Jason Howe, a third-year student from Boston, Mass.; Mohammad Eshan, a third-year student from Jamaica, N.Y.; Kayla Hodgson, a third-year student from Woodbridge, Va.; Jack Audino, a second-year student from Mendham, N.J.; Justin Balroop, a third-year student from Rochester, N.Y.; Zachary Price, a third-year student from Twinsburg, Ohio; Chandi Kanhai, a fourth-year student from Fairfax, Va.; and Asa Horn, a second-year student from Austin, Texas.
The RIT team is coached by Bill Stackpole, professor in RIT's Department of Computing Security, Bo Yuan, computing security department chair, and James Brigden, lecturer of computing security.
"The RIT team did an amazing job and represented RIT incredibly well," said Brigden.
Participants in the 2022 Northeast regional competition included RIT; Champlain College; Northeastern University; University at Buffalo, SUNY; University at Albany, SUNY; University of New Haven; University of Maine; University of New Hampshire; United State Military Academy West Point; and University of Massachusetts Amherst.
RIT's cyber defense team is a perennial contender at the regional and national competitions. The Tigers won their region in 2021, 2020, and 2019. They also placed third at nationals in 2019.
Eight more regional winners will be determined before the National Collegiate Cyber Defense Competition in April.