RIT student competes in Microsoft Imagine Cup finals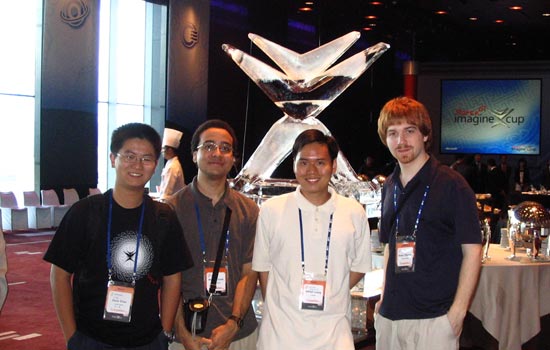 Submitted photograph
Ziyan Zhou was among a pool of more than 100,000 students to advance to the Microsoft Imagine Cup World Finals, a competition for technology students. The second-year RIT computer science student participated in the software design category representing Team North America. Ziyan's three teammates were from Western Washington University, Texas A&M University and McGill University in Montreal. "It was like participating in the Olympic Games," says Zhou. "I met the brightest 300 youth in the world from 56 different countries. It was a lot of time and work, but it was totally worth it."
Preceding the World Finals Competition in Seoul, Korea, Zhou's team was one of 10 to visit Microsoft headquarters in Redmond, Wash., to share their software application with Microsoft chairman Bill Gates. Zhou and his team created a language-learning network called Project Omni. "There were two key factors that led us to our idea," says Zhou. "The first is how popular social networking Web sites are with millions of students, including our friends using them every day. We wanted to find a way to take the excitement surrounding these massive student communities and apply it to educational technology. The second key factor was the struggles students face when learning foreign languages. Meeting people and helping them with language is one of the most effective ways to learn a new language. Our team sees social networks as a natural solution for helping students learn and communicate." Zhou advanced to the World Finals after successfully competing at the regional and national levels following an online qualifying round.
A total of 14 students from RIT's B. Thomas Golisano College of Computing and Information Sciences competed in the Imagine Cup Regional Finals in Boston. Microsoft Corp. started the Imagine Cup competition in 2003 to encourage young people to apply their imagination, passion and creativity to create technology innovations that can make a difference in the world.
The theme of this year's competition was "Imagine a world where technology enables a better education for all." There are nine categories of the Imagine Cup Finals: software design, embedded development, Web development, programming battle, IT challenge, algorithm, interface design, short film and photography. Team Thailand placed first in the software design invitational followed by Korea and Jamaica.