RIT student video game wins Best in Show at Boston Festival of Indie Games
'The Gristmill,' a tactical strategy card game, goes from capstone project to indie festival winner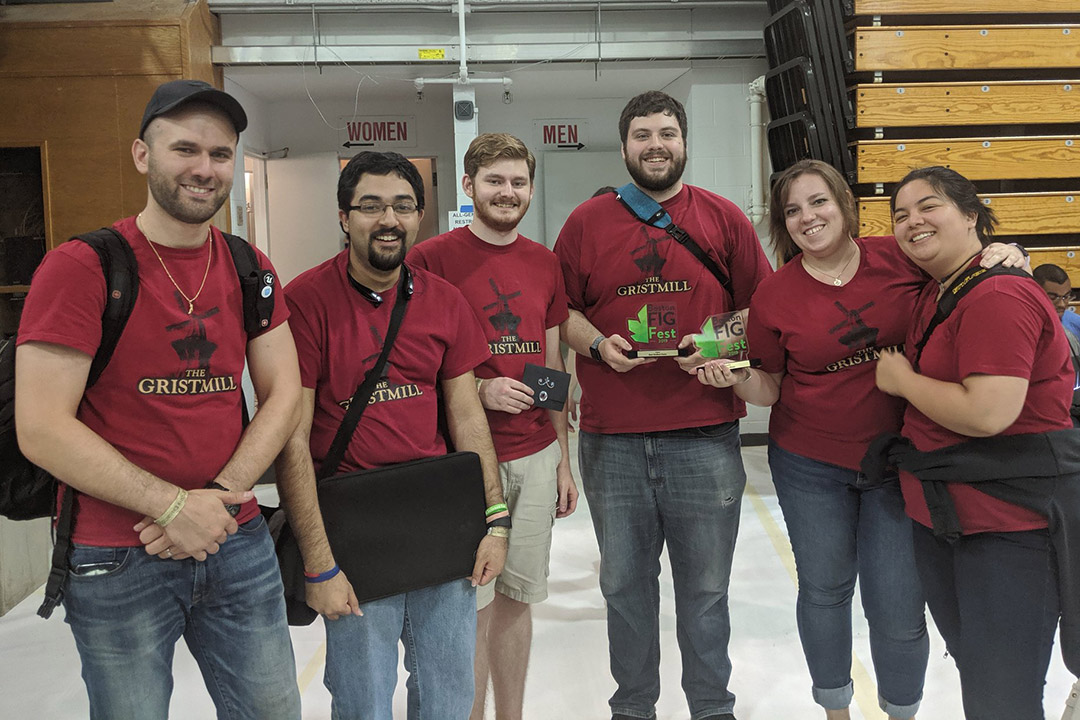 The Gristmill, a digital card game created by RIT students, won Best in Show and Best Student Game at the Boston Festival of Indie Games, held Sept. 14. To win the top prize, the RIT game beat out more than 40 selected digital games, including indie projects created by professionals.
The Gristmill was created by six RIT game design and development master's students as a capstone project in 2019. In the tactical strategy card game, players move their soldiers — known as Grists – outside the safety of their fort walls to battle a forest of twisted monsters. As the battles wear on, players' forces grow wounded and they must find new strategies to defeat their foes.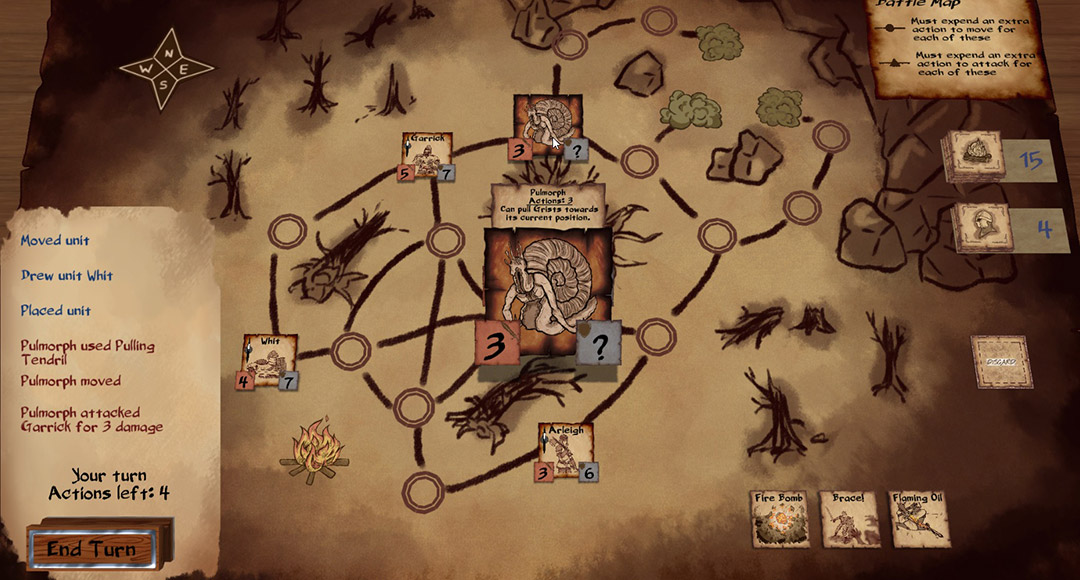 "Winning Best in Show was a complete shock to everyone on the team," said Tetyana Kolomiyets '19 (game design and development BS/MS). "There were amazing games at BostonFIG and to be recognized with such a title was not something I expected."
Hosted at the MIT campus, BostonFIG is a chance for attendees to play showcased digital and tabletop games from independent game developers.
"Because BostonFIG isn't all student projects, winning Best in Show in the digital showcase is getting a stamp of approval that The Gristmill can compete alongside professional indie projects and win," said Robert Bailey '19 (game design and development BS/MS). "It's incredibly validating that we're making something cool and that people want to play it."
Bailey came up with the world that would turn into the setting for The Gristmill in 2016, while taking an undergraduate worldbuilding course. When it came time to pitch concepts for his School of Interactive Games and Media capstone project in 2018, Bailey talked with his group about making a card game out of the world of Grists. They named the group "Team Several People."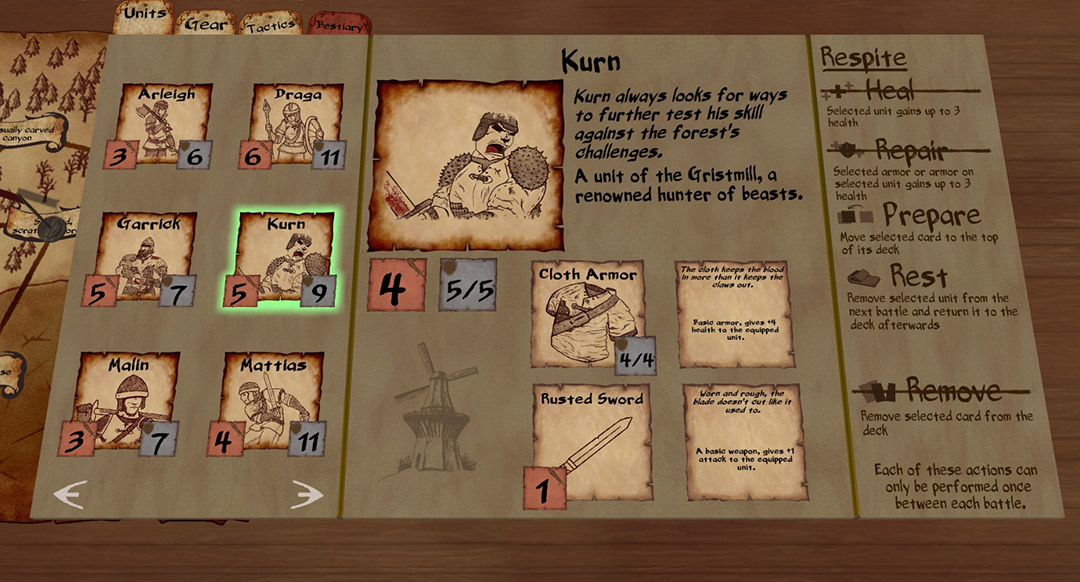 "We wanted to see if we could create a polished card game experience with interesting, fresh mechanics and in a world uniquely our own, while fitting the roughly nine-month time span of the capstone program," Bailey said.
What makes the game unique is the mixture of deck building card mechanics and traditional unit strategy gameplay, explained Bailey. Players can play any card at any time, as there are no resource costs. However, there are limited actions per turn which makes deck management an important factor.
"A player always digging through the deck for a better answer will have their units constantly pummeled, while one who runs over the entire board slaying beasts early will quickly find themselves without the resources to keep their Grists supplied," said Bailey. "I think this type of intense management at all layers of the game gives it a unique feel."
Throughout the year, the team came up with several prototypes and playtested different paper and digital versions of the game to garner feedback. The group worked on mechanics to give the monsters animalistic unreliability that can surprise players and created art to enhance the game's look and feel.
The game creators include:
Robert Bailey, who worked as the designer and writer and is from Goose Creek, S.C.
Tetyana Kolomiyets, who worked as the monster, environment and card artist and is from Kiev, Ukraine.
Ashwin Ganapathiraju '19 (game design and development BS/MS), who worked as the gameplay and database programmer and is from Reston, Va.
Sam Levey '19 (game design and development BS/MS), who worked as the AI programmer and is from Palatine, Ill.
Jason Rose '19 (game design and development MS), who worked as the equipment and unit artist and is from Fair Lawn, N.J.
Trevor Walden '19 (game design and development BS/MS), who worked as the gameplay and graphics programmer and is from Goose Creek, S.C.
"This was my first opportunity to really do art on a major scale, since as a self-taught artist my exposure to different categories of art was limited," said Kolomiyets, who is now a software developer at Scientific Research Corporation in South Carolina. "I got to design the cards and textures for pieces as crucial as the cards and maps themselves and as unnoticed as the table texture behind the gameplay map."
Currently, the game has four monsters, four boards and about 40 cards. Players fight through the forest to a single boss and it ends.
However, players can see different cards and scenarios by playing the game again. The team hopes to create and integrate a connective tissue for people as they replay the game again and again.
"The team wants to keep developing," said Bailey, who is now a content/technical designer at Disruptor Beam in Framingham, Mass. "We've scattered all over the country, which is definitely an obstacle, but we're looking at ways to stay consistently in touch and keep iterating."
To learn more about The Gristmill and download the an in-development build of the game for free, go to https://severalpeople.itch.io/the-gristmill.