Sharon Mason teaches students to succeed by embracing challenges
Computing and information sciences professor earns Eisenhart Award for Outstanding Teaching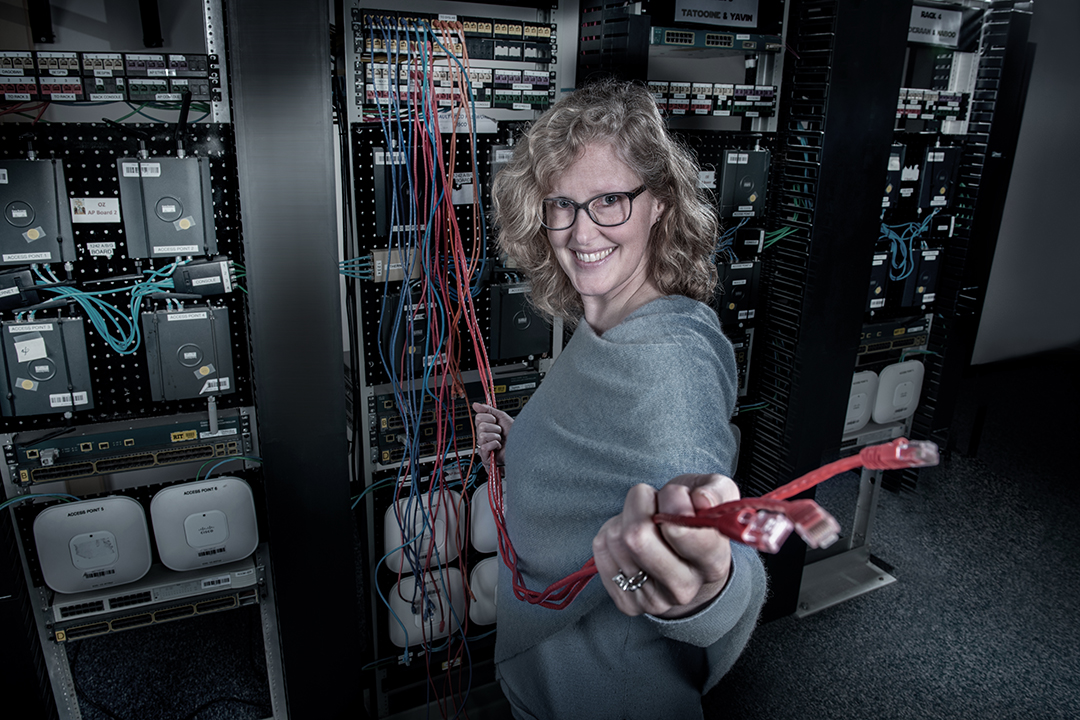 Sharon Mason knows that her students will encounter a few zigzags and bumps in their educational journeys. She views those challenges as a good thing.
"We learn best when we're working through challenges—not when everything is easy and going smoothly," said Mason, a professor in RIT's School of Information. "I like to make it clear to my networking students that they have space to try different things, make mistakes, and learn from them."
It's that approach to learning that has earned Mason an Eisenhart Award for Outstanding Teaching, RIT's highest honor for tenured faculty.
Since she was a kid, Mason has always loved education. She recalls that she was unhappy when she was sick as a kid and had to stay home from school. After completing her undergraduate degree in communications, Mason joined RIT's Golisano College of Computing and Information Sciences as a graduate assistant studying information technology. It was there that she worked with systems administrator Dave Emlen.
"When given the task to reformat and reinstall Windows on different machines around campus, Sharon was always smart, patient, and had a sense of humor about it," said Emlen. "I think those three things contribute to the many reasons she's an excellent teacher."
She began teaching classes in database and then in networking. One day, as she was plowing through her graduate work, the department head suggested that Mason apply for an open faculty position. Since then, she has worked to grow the computing college by developing several new degree programs and courses.
"I really enjoy teaching the introductory courses because it's an opportunity to shape the way students go about learning," Mason said. "I especially like the midpoint of the semester, because it's when students start to figure out how all these pieces that they're learning fit together."
Mason also serves as a champion for broadening participation in computing through inclusive practices, particularly among minoritized and marginalized groups in STEM. She founded RIT's Women in Computing (WIC) organization, which aims to support and retain women students in the college and does outreach to K-12 women in the community. She also served on the inaugural organizing board for the New York Regional Grace Hopper Celebration of Women in Computing Conference. 
As an accomplished researcher, Mason has been awarded more than $5 million in funding from the National Science Foundation and the Department of Defense—as both principal investigator and co-PI. Her work supports student scholarships and research in diversity, equity, and inclusion for both faculty and students.
With her most recent NSF project, Mason is studying how fostering a growth mindset learning approach can lead to long-term student success. She describes growth mindset as the idea that our intelligence is malleable, rather than fixed and innate. The comprehensive study integrates growth mindset into curriculum and mentoring programs for 30 college students studying computing.
"As computing teachers, we're setting students up so that they can learn something new later on in the future," said Mason. "There will always be another problem to solve and another challenge to work through—that's the nature of the work."