School of Information

Overview
In the modern world, technology has woven itself into the fabric of society, binding people and information closer together than ever before. While this new digital era brings with it exciting innovations, it also brings a host of new, unexplored problems. In the School of Information (iSchool), our focus is on utilizing technology to solve real world, human-centered problems. With a combination of diverse courses, state-of-the-art equipment, and a team of knowledgeable and imaginative faculty, the iSchool gives students the tools they need to ensure a lifetime of success. We shape the future and improve the world through creativity and innovation.
$80k
Average salary with one of our degrees (Glassdoor)
36th
Rank among top 50 computing colleges (Business Insider)
Latest News
January 9, 2023

Staying busy between semesters

During the 15 weeks between spring and fall semester, RIT students are finding ways to embrace new challenges. Some are taking the stage and performing. Others are winning club championships. For many, summer is a time to get work experience and participate in research projects, traveling abroad, and helping others while pursuing their passions.

December 14, 2022

RIT develops interdisciplinary master's degree in artificial intelligence

RIT is offering a new master's degree in artificial intelligence (AI). The program begins in fall 2023 and enrollment is now open. The Master of Science degree aims to prepare students from diverse educational backgrounds to become well-rounded AI professionals.

October 7, 2022

NTID Career Fair helps deaf, hard-of-hearing students and alumni find co-ops, full-time jobs

More than 30 employers returned to the RIT/NTID campus since the start of the pandemic to recruit a new cohort of talented deaf and hard-of-hearing students and alumni for open co-op or full-time positions.
Featured Profiles
Her Lifelong Journey Is About To Begin!
'22
Dominique Molee is a fifth-year Computing and Information Technologies student graduating in May of 2022. Her academic journey comes to an end and she is taking off on her lifelong journey
View More

about Her Lifelong Journey Is About To Begin!
A Lasting Impact in Accessibility and Usability
Faculty Emerita Vicki Hanson
Although Vicki Hanson stepped away from her full-time faculty role within the School of Information more than three years ago and has since become the Chief Executive Officer of the Association for...
View More

about A Lasting Impact in Accessibility and Usability
Undergraduate Programs
Home to the college's Bachelor of Science degrees in computing and information technologies, human-centered computing, and web and mobile computing, the iSchool comprises the "full stack" computing knowledge that prepares professionals working on both the front- and back-end of the user experience.
Graduate Programs
A Master of Science Degree from the School of Information provides an opportunity for in-depth study to prepare for today's high-demand computing careers. Big data is not just high transaction volumes; it is also data in various formats, with high velocity change, and increasing complexity and information delivery must be immediate and on demand.
Designed for working professionals studying online part-time, this degree program has a strong career focus. You'll learn both practical and theoretical skills to handle large-scale data management and analysis challenges ever-present in today's data-driven organizations.
Facilities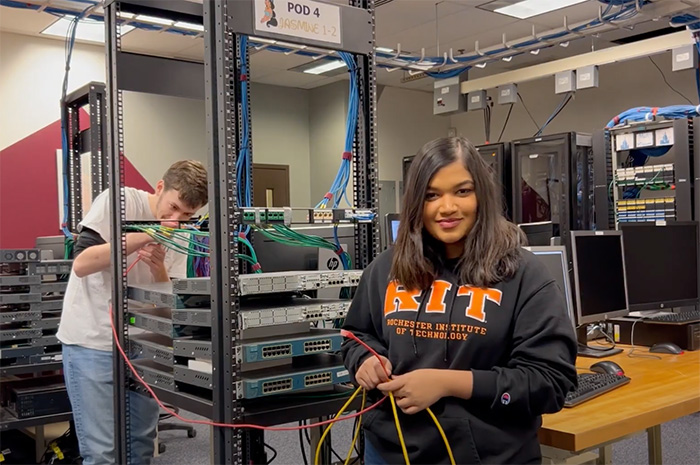 (This video was recorded in Spring 2022. Since then, Matt Huenerfauth was named Dean of Golisano College of Computing and Information Sciences.)
Student Resources
Organizational Restructure FAQ
Change of Program Students
Application Process
If you wish to change your major to one outside of the iSchool, your first step is to schedule an appointment with an advisor from the major you'd like to enter. They will be the best resource to help you decide if the major is right for you. They will also alert you to any additional materials you'll need to prepare in order to switch majors into their department. (For example, the iSchool requires a written statement from all change of program applicants).
Next, meet with your current academic advisor in iSchool, and they will complete a Change of Program form with you. The form is then sent (along with your academic file) to your new department. Your new department will then review all materials and make the final decision. You will be notified of this decision via email from your new department.
Spring Semester Information Sessions
Attend one of our meetings
Wednesday, March 22nd from 1:00 - 2:00 p.m. (ET) via Zoom
Thursday, April 6th from 2:00 - 3:00 p.m. (ET) in GOL-2500
Email melissa.hanna@rit.edu to register for either session and also to receive the Zoom info. There will be time reserved for Q&A at the conclusion of the sessions. 
To request an interpreter, please go through Access Services.
Application Process
Meet with your academic advisor in your current (home) department to complete a Change of Program Registrar's form. You will need to submit a 1-2 page written statement that answers the following questions:
Why are you applying to your chosen iSchool major: CIT, HCC, WMC?
What are your academic strengths and weaknesses?
What areas of computing are you passionate about?
What are your future goals and/or career interests?
Why do you believe this major is the right fit for your future goals?
Your completed application (Registrar's form) & statement should be emailed by May 10th to Melissa.Hanna@rit.edu.
Deadlines, Dates & More
Fall semester (2231) Change of Program Deadline: Wednesday, May 10th.
Application will be reviewed after Spring semester (2225) final grades are posted.
Students will receive an email of our decision after the new year.
iSchool course restrictions lift three weeks after enrollment begins - please place yourself on the wait list by setting up a SWAP.
The iSchool reserves the right to deny a change of program application based on the above criteria, academic standing, or students' demonstrated ability to complete program requirements.
Recommended cumulative & term GPA: 2.5 + in courses relevant to iSchool.
Suggested Courses
GCIS 123-15 Computational Problem Solving in the Information Domain (all majors)
ISTE 140 Web and Mobile I (all majors)
MATH 131 Discrete Math (WMC and CIT majors)
ISTE 230 Intro to Database & Data Modeling (WMC & CIT majors).
NSSA 102 Computer System Concepts (CIT majors)
STAT 145 Intro to Statistics I (HCC and CIT majors)
PSYC 101 Intro to Psychology (HCC major)
Professor Bogaard; iSchool Undergraduate Program Director
Hannah Pruch and Elisabeth Foster, Academic Advisors, All Majors