Paper Planet
May 13, 2022
William Barrett, Karl Trollinger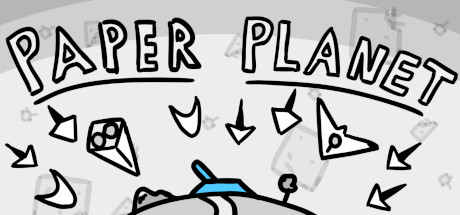 Winner of the RIT Student Game Showcase 2022 "Best in Show" category
Paper Planet is a 2D planet-defender arcade-roguelike inspired by old Flash games that has a strong emphasis on fun item combinations and being easy to pick up and play.  The game is nearly feature complete, with an expected release on Steam in late Summer 2022.  A demo is currently available on Steam.  (Go to this link in the future, to see the game's current progress).
Regarding the Aesthetics of the game: Paper Planet's art is extremely cohesive and designed with a great degree of readability, enemies with similar behaviors will be similarly shaped, and each attack from an enemy is easily identifiable. The art also has a great deal of appeal, both due to its nostalgic roots, but also from its cartoonish style and hand-drawn linework. 
Regarding the "Game Feel" of the game: Paper Planet puts a great deal of effort into maintaining perfect game "flow". The enemies often die in one hit allowing the player to fire and move on to the next incoming enemy with almost no downtime.  Additionally, pressing the spacebar allows the player to teleport to the other side of the planet keeping the flow going and adding additional tactical possibilities.
---