Croatia as a Perfect Destination for Study Abroad students from RIT's Performing Arts Program
Study abroad experience is an excellent opportunity to pursue an educational program in a foreign country with the aim to expand one's understanding of various cultures and to get outside of one's comfort zone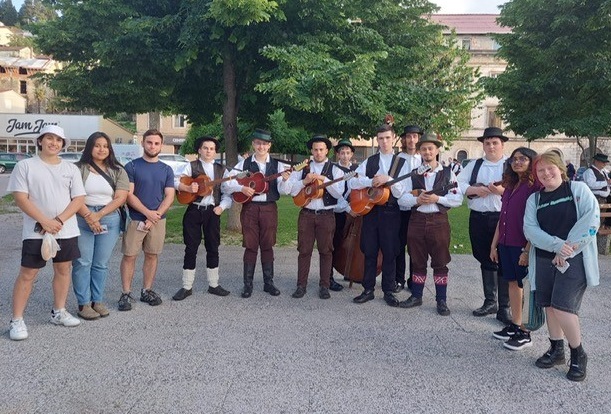 Performing Arts students visiting a Folklore event "Na Neretvu misečina pala" in Metković, Croatia (Photo: RIT Croatia)
This May students from RIT participated in the Performing Arts – Global Music study abroad program. During their stay on RIT Croatia's Dubrovnik campus, students took part in an intensive course called Studies in World Music, taught by Dr. Mojca Piskor. The course is designed to explore selected music cultures with an emphasis on music from Central and Southeastern Europe. The primary goal of the course was to expand understanding of and perceptions about music. In addition to in-class discussions, students had opportunities to be engaged in hands-on activities associated with the cultures studied.
During their three week stay, students benefited a great deal by visiting picturesque Dubrovnik and its immediate surroundings, as well as finishing their trip to this region by exploring Mostar and Sarajevo, jewels of Bosnia and Herzegovina. Ethnomusicologist and RIT professor Erica Haskell, met the students in Croatia and traveled with them to Bosnia and Herzegovina. During their one week tour students had the opportunity to attend a performance of the Sarajevo Symphony Orchestra as well as a performance by the folkloric dance and music troupe Baščaršija.
RIT Director of Education Abroad and International Fellowships, Jenny Sullivan, explains: "We were very excited to partner with Dr. Haskell, the Inaugural Director of the new School of Performing Arts to create this program. Dr. Haskell is an accomplished ethnomusicologist and spent many years living in the Balkan region. It was clear that Dr. Haskell, in collaboration with local faculty member Dr. Mojca Piskor, could provide students with a regionally immersive experience that them to examine the ways music reflects and shapes culture. This program is a new gem in our portfolio of summer direct enroll study abroad programs at the Croatia campuses. It provides access to students with interests in the performing arts a uniquely RIT international experience; it is hands-on, innovative, and capitalizes on the expertise and support that our Croatia campuses provide in Europe. It truly embodies the spirit of the world as the classroom!"
Daisy Matus, a 3rd year student of Biomedical Engineering program at RIT, was one of the students who took part in this adventure. When asked about her motivation to apply to such a program, Daisy said she never intended on studying abroad but she found out about this program during a time in her life when she wanted something new, something exciting. After reading more about it, she found out that the dates fit perfectly within her schedule and the class sounded very interesting. She is a Performing Art Scholar and she has been playing clarinet and saxophone for about half her life but she has never before learned about ethnomusicology. So she thought, why not learn about music in two different countries and see the impacts and importance first-hand?
"I really liked everything about this experience, but if I were to pick one it would be meeting a lot of different people. From RIT students to tourists and even the locals. It was fun and eye-opening to hear everyone's stories. It was a good thing that most people in Dubrovnik speak English! Also, there are a lot of friendly cats in Dubrovnik!" said Daisy.
Every study abroad program strives to deliver the best learning outcomes for its students. When asked about hers, Daisy had no hesitation in answering: "One of the biggest things that I have developed was an increase in cultural awareness. Not only from taking the class and going to different places but from going out and talking to people, especially locals. I met a friend of our faculty advisor who was born and raised near Sarajevo in Bosnia-Herzegovina and lived through the wars. Her story was absolutely incredible and it is something that I will truly never forget".
When cultural differences are concerned, everyone who embarks on a study abroad experience needs to be prepared to experience dissimilarities, and it was no different for Daisy. "Honestly, I appreciated most cultural differences, such as the use of small cars and the coffee culture since I am a big fan of coffee" commented Daisy.
"Overall, not only did this program fulfill my expectations, but it exceeded them. Everything was absolutely amazing. The class was great and I enjoyed the folklore events that we attended in Metković and Čilipi nearby Dubrovnik. And RIT Croatia's campus is in a great location so there is always something to do outside of class. The second part of the program was great as well. We visited Bosnia and Herzegovina, specifically Mostar, and Sarajevo, and we learned a lot about the history there" added Daisy.
People tend to make decisions about certain choices based on recommendation, and Daisy absolutely recommends this kind of a study abroad experience: "Firstly, Dubrovnik is a beautiful city and I felt safe here which made the experience enjoyable, and this is coming from a Mexican-American woman of color. Mostar and Sarajevo are also very nice and rich in history. Secondly, the class was a great experience since we got to do some fieldwork and the professor was great. Thirdly, the program ended right before I had to go on Co-op so it fit perfectly in my schedule and it was three weeks which I felt was just right".
Computer Science major, Greg Villafane, also reflected on his experiences.
"My study abroad trip to Croatia and Bosnia and Herzegovina was more than I could have dreamed of. The vibrant beats of traditional folk music and dance formed the heart of my experience, creating an unforgettable sense of connection. At the same time, these forms of expression represented the nation's spirit and history, allowing me to have a deeper understanding of the unique culture of these countries. 

Beyond the music and dance, we got to explore Bosnia-Herzegovina's political and historical landscape, which was profound and enlightening. It demonstrated the resilience of its people after the war in Bosnia, and how history shapes creativity. The sounds and stories of Croatia & Bosnia and Herzegovina continue to resonate with me, offering a fresh perspective on the world."
---
Recommended News
December 1, 2023

November 27, 2023

November 10, 2023

November 10, 2023