August 23, 2023
by Fran Broderick
Dr. Jay Yang named new Director of Research for RIT's ESL Global Cybersecurity Institute
Decorated professor brings collaborative research experience advancing machine learning, modeling, and simulation for predictive cyber intelligence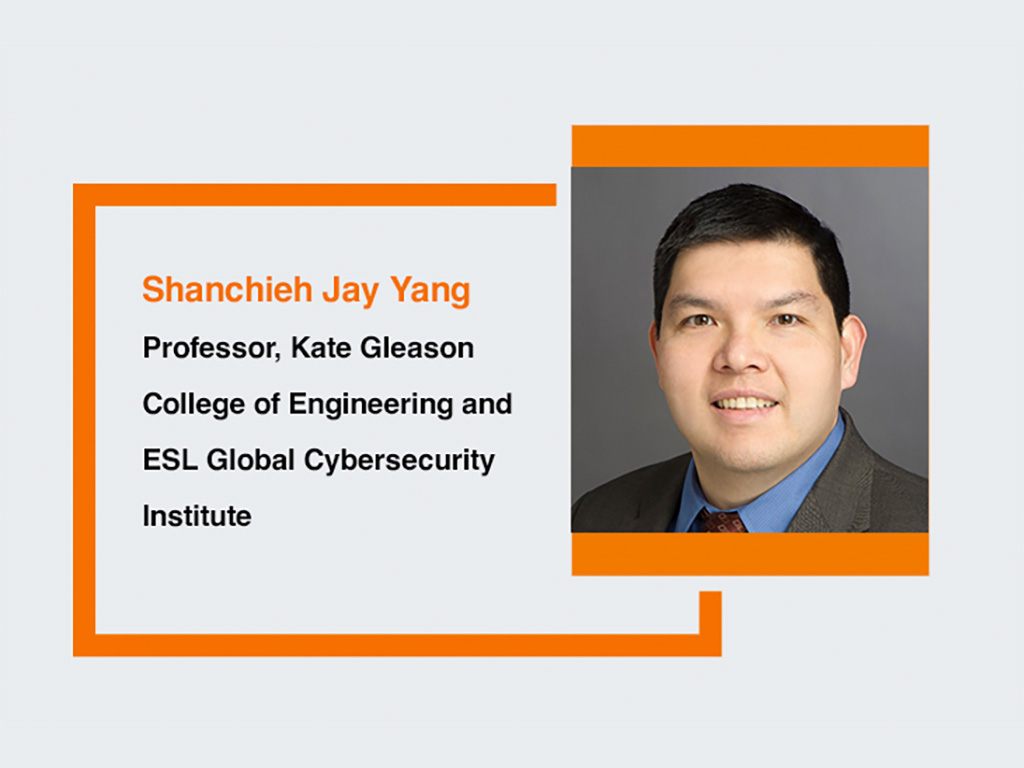 Dr. Shanchieh Jay Yang has been appointed as the new Director of Research for RIT's ESL Global Cybersecurity Institute, where he will lead the Institute's growing research profile, which now includes more than 30 multidisciplinary researchers, tackling novel problems in cybersecurity and artificial intelligence. 
Dr. Yang is a seasoned researcher who has published more than 85 peer-reviewed papers and worked on more than 30 sponsored research projects. His research focuses on advancing machine learning, modeling, and simulation for predictive cyber intelligence. He was a 2019 NSF Trusted CI Open Science Fellows and a 2020 NSF Trusted CI TTP Fellow. He received IEEE Region 1 Outstanding Teaching in an IEEE Area of Interest Award for outstanding leadership and contributions to cybersecurity and computer engineering in 2019. He was also a co-chair for IEEE Joint Communications and Aerospace Chapter in Rochester NY in 2005, when the chapter was recognized as an Outstanding Chapter of Region 1. His research group has been supported by NSF, IARPA, DARPA, NSA, AFRL, ONR, and ARO.
"I aim to foster a collaborative and aspirational research culture for faculty and students to advance learning, discovery, and creation for a kaleidoscope of cybersecurity solutions," said Yang, who is a professor in the Department of Computer Engineering in the Kate Gleason College of Engineering (KGCOE). "In addition, I'll be working to create opportunities and lower the barriers for faculty and students to conduct world-class research, and for the community to transfer our research to practice."

Dr. Yang is dedicated to student experiential learning through active engagement to instill an interdisciplinary and entrepreneurial mindset for students. He has established a number of international collaborative academic programs to provide students with global experiences, and is Director of the GCI's Cybersecurity Visiting Student Researcher (CyberVSR) program. Yang received his BS degree in Electronics Engineering from National Chaio-Tung University in Taiwan in 1995, and MS and Ph.D. degrees in Electrical and Computer Engineering from the University of Texas at Austin in 1998 and 2001, respectively.
Topics