Interdisciplinary team heads to Ethics in Engineering Case Competition
Lee Sortore, a mechanical engineering student, and Emma Nastro, a museum studies student, will represent RIT at the Lockheed Martin competition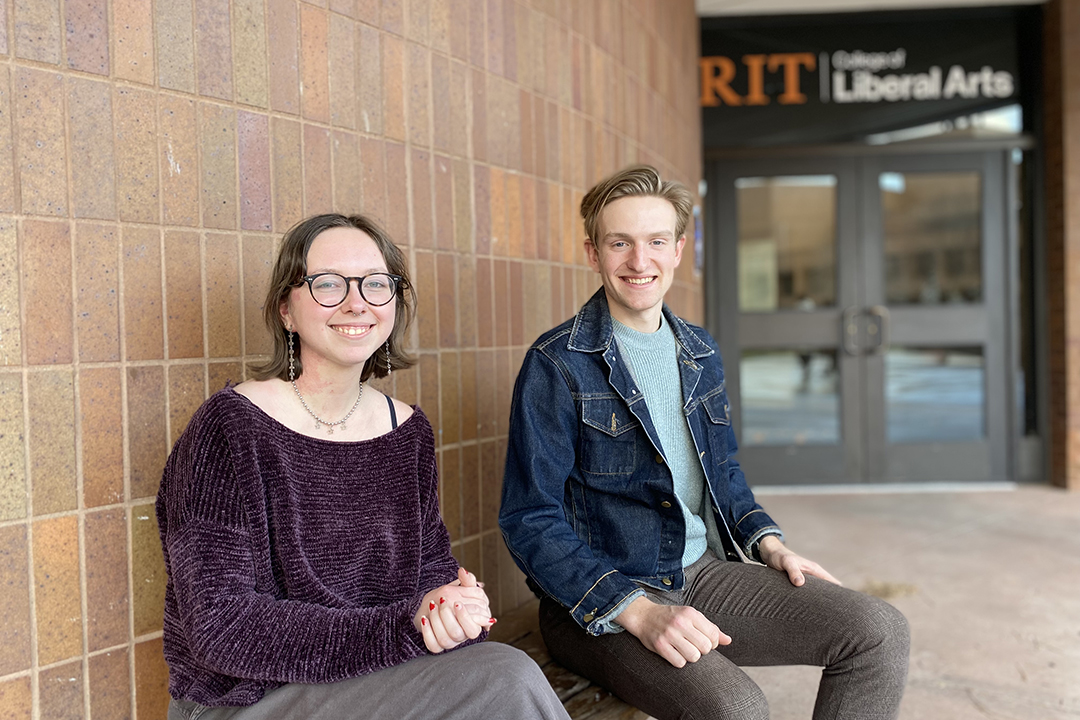 An interdisciplinary pair of RIT students is headed to Bethesda, Md., to participate in the 2023 Lockheed Martin Ethics in Engineering Case Competition. Emma Nastro, a third-year museum studies student from Oceanside, N.Y., and Lee Sortore, a fifth-year mechanical engineering student from Allentown, N.J., will represent RIT at the competition, which is held from Feb. 27 through March 1 at the Lockheed Martin Center for Leadership Excellence. This is the first time an RIT team has competed in this competition.
Juilee Decker, museum studies program director, is accompanying Nastro and Sortore to the competition as their main faculty advisor. Decker believes that experiences like this gives students the valuable opportunity to apply what they've learned outside of the classroom and helps to challenge students by pushing them outside of their comfort zone.
"This experience in particular really demonstrates the value of the interdisciplinary learning experiences available here at RIT," said Decker. "It's an example of how interdisciplinary learning can empower our phenomenal students to come together and collaborate to not only bring more to the table, but also to make a positive impact on the world."
During the competition, two-student teams from academic institutions across the country will present solutions to a fictional case involving ethical, business, and engineering dilemmas. All teams are expected to prepare solutions for each stakeholder within the fictional case in advance, and surprise details will be shared throughout the competition, which will require the teams to think quickly and, potentially, alter their proposed solutions.
The event compels participants to think about the importance of ethics in the workplace, with the overarching goal of supporting and building business ethics awareness among college and university students.
Nastro and Sortore first met while collaborating on Sortore's multidisciplinary senior design (MSD) project, a two-semester project-based course that all fifth-year engineering students participate in annually. This year's project prompt was to design an interactive museum exhibit about the upcoming NASA Psyche asteroid mission. Nastro was brought onto the project by Decker, who has a history of collaboration with faculty and leadership in the Kate Gleason College of Engineering, to serve as an exhibit design consultant.
When Nastro heard about the competition and suggested participating, Sortore agreed that their interdisciplinary skills and experiences would set them up for success in the competition.
"I think between the two of us we cover a broader scope of skills and approaches, so that can give us an advantage of being able to develop new angles and draw different conclusions that other teams might not see," said Sortore.
Nastro added, "Lee and I had been working together for three months on the MSD project at that point, and I thought we would work together really well for this opportunity. When we showed up to our first meeting, Lee had focused on summarizing all of the parts of the case but hadn't put thought into a solution, and I hadn't summarized the case at all and was only thinking about possible solutions. That confirmed for us that our different approaches and mindsets would work together perfectly."
Both students look forward to meeting new people, hearing new perspectives, and exploring the area during the competition. Sortore shared he also looks forward to applying his learnings from the competition to his future career as an engineer.
"Ethics within engineering isn't something that you only encounter a few times in your career, it's really something that you encounter daily. Experiences like this allow me to get that direct exposure to build my skillset and prompts me to think more critically about ethical issues within engineering," said Sortore.
Nastro, who plans to pursue a law degree after she graduates from RIT, believes that participating in the competition is excellent practice for what she'll be expected to do in law school and beyond.
"Even though I'm not necessarily going to work in a corporate engineering setting, I'll still encounter complex ethical issues at every workplace," said Nastro. "I think that being able to see both sides of an ethical issue, and to have the skills to work with people on those kinds of issues, is really important for any field you go into."
To prepare for the competition, Nastro and Sortore have worked with a group of faculty advisors to enhance their proposed case solutions. They extend a special thank you to their all of their advisors, including: Juilee Decker; Matthew Marshall, associate dean of the Kate Gleason College of Engineering; Sarah Brownell, senior lecturer in the Kate Gleason College of Engineering; Shanchieh J. Yang, director of global outreach for RIT's ESL Global Cybersecurity Institute; and Wade Robison, Ezra A Hale Professor in Applied Ethics in the College of Liberal Arts.
Topics