Micatu Inc. donates high-tech optical sensors for campus microgrid
Company founded by RIT engineering alumnus Michael Oshetski also provides research funding for assessment of power quality and usage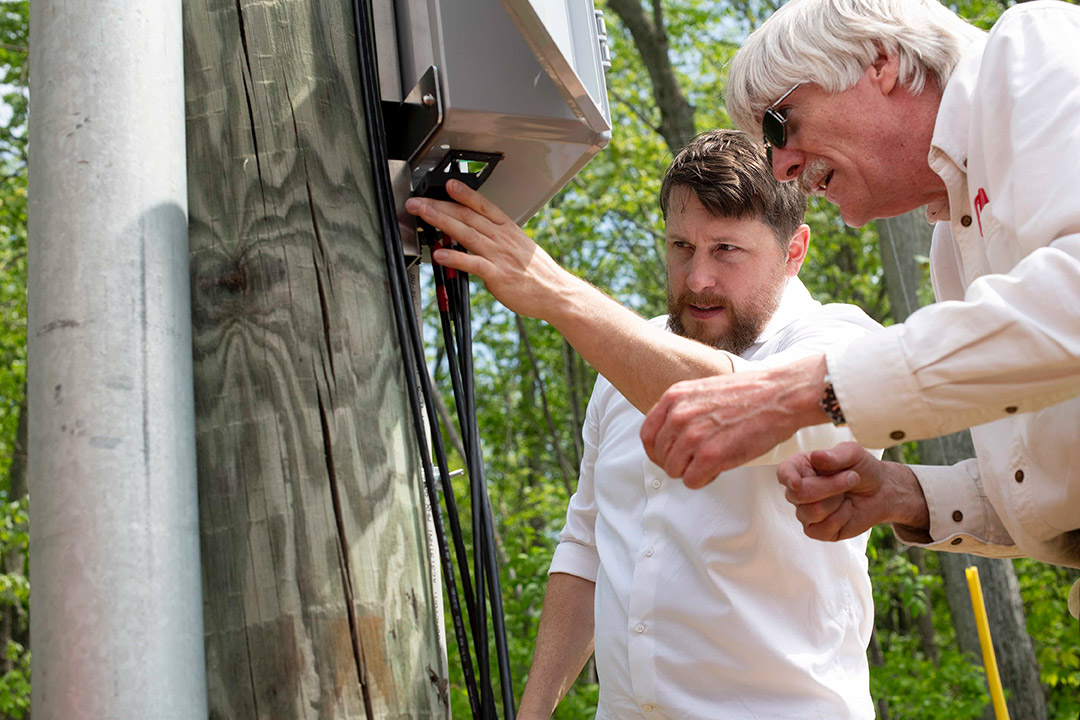 Micatu Inc. donated its groundbreaking Gridview optical sensors to Rochester Institute of Technology for a new campus learning lab. The equipment allows faculty and students to monitor renewable integration and manage the addition of distributed energy resources onto the campus microgrid.
The donation of the equipment for an outdoor learning laboratory by Micatu also includes $150,000 in funding for research projects related to assessing power quality, big data analytics, and infrastructure.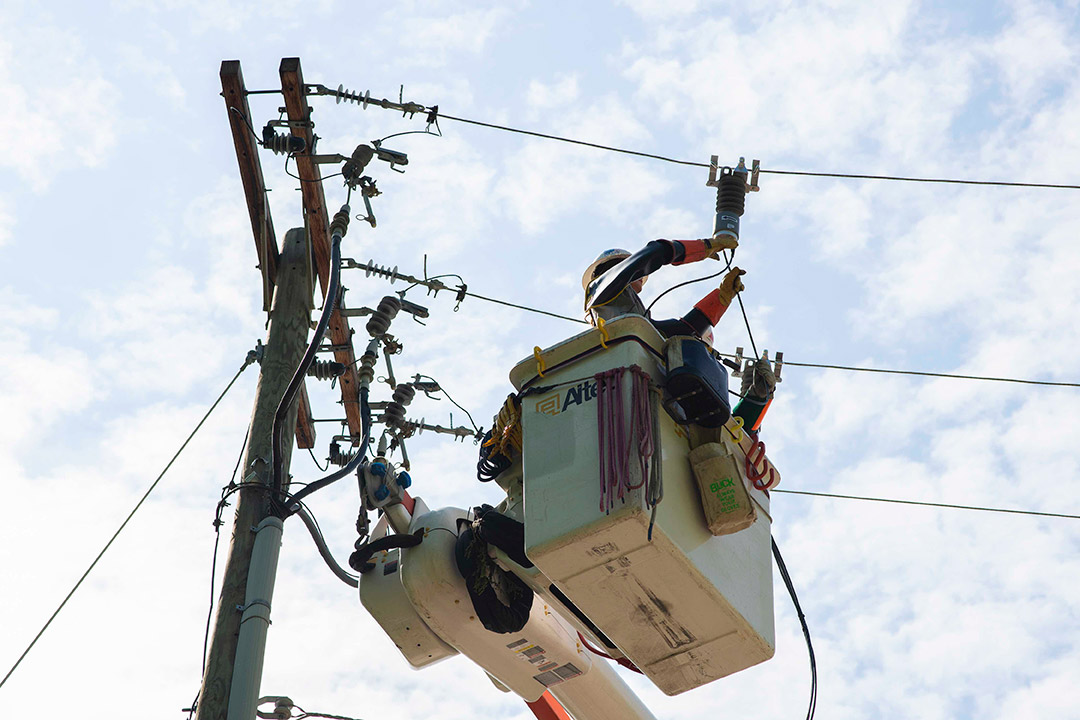 A. Sue Weisler
"The utility industry is often considered old and slow to move and therefore not considered innovative for new college engineering grads. As an industry, we are not attracting the talent we need to drive the next generation of grid modernization," said Michael Oshetski '03 (electrical engineering), founder and chief executive officer of Micatu. "Micatu is helping the industry bridge the gap to modernization with a revolutionary power quality measurement technology platform that provides unprecedented visibility into what's happening on the electric grid. I hope the use of our optical sensors at this microlevel demonstrates that the industry is open to innovation and that students will get excited about potential opportunities to be part of creating the modern grid."
Optical sensors were installed onto RIT electrical facilities by Micatu technologies and electricians from O'Connell Electric, a Rochester-based contractor. Sensors will provide vital information about voltage and current on the grid needed to measure and predict system fluctuations and patterns. This information can be used to mitigate outages and failures before they occur. Microgrids today consist of alternative energy sources—hydropower and solar power, for example, and although they may be smaller than some traditional utility grids, they can provide needed supplemental energy resources. The key aspects of Micatu's system is its use of optical technology, which is more cost-effective, as well as its ability to provide timely analytics to regional providers.
By giving students practical, hands-on experience with the campus microgrid, RIT's outdoor lab encourages students to pursue careers in the electric industry—a critical initiative as utilities struggle with replacing a large number of retiring employees, along with the knowledge and experience they have contributed over several decades. In 2018, the U.S. Department of Labor estimated that 50 percent of the energy utility workforce is expected to retire by 2028. A 2017 report by the U.S. Department of Energy states that 63 percent of utilities said job candidates have insufficient qualifications and certifications, while an additional 47 percent lack experience, training, or technical skills.
"Micatu's donation adds tremendous value to the College of Engineering Technology's strength and focus in the area of fiber optics and optoelectronics research and education," said S. Manian Ramkumar, dean of RIT's College of Engineering Technology. "The optical sensors will serve as hardware training tools at the undergraduate and graduate level and will enhance our ability to teach power distribution grids and the effective measurement of power quality on transmission lines. This donation also highlights the power of collaboration between our engineering schools and utilize our individual strengths for the benefit of the donor."
Course development will include topics related to use of AI and machine learning, data analysis, and microgrid management. Tomorrow's engineers will not only need to understand the electrical engineering aspects of the grid but will also require a background in the data sciences to collect and analyze a wide range of information that will be critical to managing the grid's changing topography.
"Michael Oshetski is a perfect example of an RIT alumnus who is making a difference and improving the world," said Doreen Edwards, dean of RIT's Kate Gleason College of Engineering. "Mike co-founded a company that developed optical sensor technology to improve the electric grid's efficiency and resiliency. Through his gift, we are able to build a real-world lab where our students can learn about the complexities of designing a smart grid that will continue to incorporate more renewable energy sources."
Research planning is underway and being led by faculty members Katie McConky, associate professor, and Bing Yan, assistant professor, both in RIT's Kate Gleason College of Engineering. Through preliminary talks with Micatu, the current plan is to hire two graduate students in the fall to focus on developing the infrastructure and skills to handle the enormous quantity of data these sensors will produce. 
"The data includes information on power quality and environmental information such as temperature," said McConky. "We will be working with Micatu this summer to identify a project that will support their needs, but also allow our students to develop the big data analytics skills necessary to work with massive real time data sets. One project that we have discussed would be to identify anomalous readings, and then to understand if there is any correlation between these readings and the variables that are being collected."