Outstanding Graduate Woman Award recognizes engineering student's contributions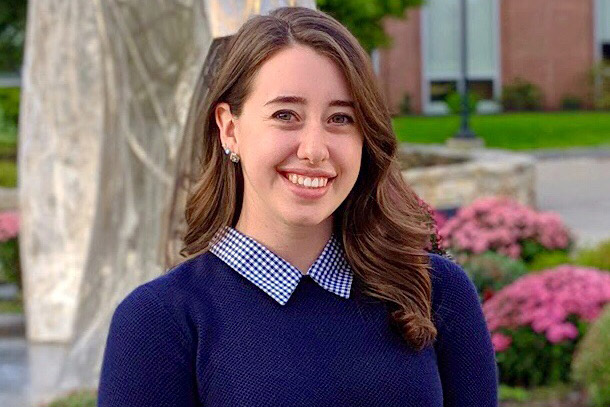 RIT student Morgan Mistysyn is the recipient of the Outstanding Graduate Woman Award for her leadership role in the RIT chapter of Engineers for a Sustainable World.
Mistysyn, a resident of Gouldsboro, Pa., will graduate this May with a Master of Engineering in engineering management and a bachelor's in industrial engineering. She is the second recipient of the Outstanding Graduate Woman Award created by Twyla Cummings, RIT associate provost and dean of graduate education, and offered for the first time last year.
"Although we were unable to honor Morgan this year at the Women's Career Achievement dinner, I think I can say on behalf of the selection committee, how proud we are to have Morgan as an RIT graduate student," Cummings said. "She is a leader and a mentor whose successes raise the reputation for RIT."
Mistysyn is the current president and former secretary of Engineers for Sustainable World, a student club that has shaped her RIT experience. She has contributed to and facilitated projects, mentored younger students and networked with peers in the national organization to plan a digital conference held in April.
"I've gained so many good friends and great experiences building and doing and learning in the club," she said. "And I'm really grateful for it."
Mistysyn has applied concepts from her master's program to her work on the executive board to promote good decision-making and group dynamics while managing budgets and managing projects. "We have a team of people who are working to make this club successful and I feel responsible for making sure this team is successful, so the club is successful," she said.
This past semester, Mistysyn also worked as a learning assistant in RIT Professor Nathan Barlow's Linear Systems and Differential Equations class in the College of Science. She had taken the undergraduate class as an industrial engineer student.
"I've been a teaching assistant before and grader, but learning assistant is more about facilitating the learning than teaching," she said. "It was a cool way for me to interact with younger industrial engineering students and to give them some advice."
The value of hands-on experience is practical advice Mistysyn highly recommends. An internship last summer with Penske Truck Leasing in Reading, Pa., resulted in a job offer as an operational excellence analyst.
Her work will focus on continuous improvement and lean productions systems, hallmarks of industrial engineering. While at Penske last summer, Mistysyn earned her green belt in Six Sigma, a quality standard, and is eager to pursue her black belt certification as full-time employee.
Depending on social distancing restrictions later this spring, Mistysyn's first day on the job on June 1 may be from her home. Either way, she is confident her transition will go smoothly because of her internship experience.
"Once I get the equipment, I can jump back into the projects I was working on before," Mistysyn said.
"I feel very fortunate in that I have a company that is already committed to me."
Topics