August 30, 2021
by Rochelle Allan
RIT alumnus creates new game used as icebreaker for New Student Orientation
John McNicholl's experience with Simone Center entrepreneurship programs drives him to succeed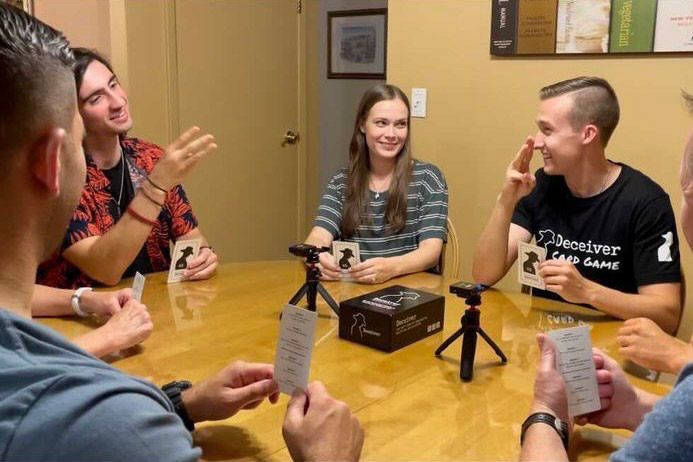 John McNicholl, a 2021 RIT graduate from Commack, N.Y, has launched a new game —Deceiver— that is now available on Amazon and at Shop One on campus and was recently incorporated into RIT's New Student Orientation program as an icebreaker. McNicholl earned a bachelor's degree in industrial engineering and a master's in engineering management as part of RIT's dual degree program.
What is the concept of Deceiver?
Deceiver works best with three to eight players. Players are dealt a card that contains six questions that require only a yes/no response, such as "Have you ever broken a bone?" or "Is blue your favorite color?" One player is dealt the deceiver card. The deceiver card only says, "You are the deceiver." Each player looks at the same question, except for the deceiver who doesn't know what the other players are looking at. Without reading the question aloud, players raise their hands if their answer is "yes." But, the deceiver doesn't know whether or not they should raise their hand because they don't know the question. After players go through a series of three questions, the players vote on who they believe the deceiver is. This is a great ice breaker game to play with people who don't really know each other.
Where did the idea for Deceiver come from?
Whenever we had family gatherings, we would play the game Mafia. This game got a little illogical at some point because you would vote for who you think might be the killer based on facial expressions and body language. There was no reasonable way to figure out who the killer was which got me thinking along the lines of the questions. So I typed out three questions on my computer, printed them out, and gave everybody a slip of paper with the same questions and one person got a slip of paper without any questions. When we played it this way, everybody seemed to enjoy the game more and even appreciated the way we got to learn things we didn't know about family members. I created a prototype of the game and started playing with my friends and a few strangers, and I noticed how well it was received which pushed me to build on it further.
When you were a student, how did RIT's Simone Center for Innovation and Entrepreneurship play a role? 
When I did a co-op at the Simone Center last year, I was able to sit in on the Applied Entrepreneurship class. We created business plans, performed customer discovery interviews, and so on. I learned a lot about customer discovery and finding the right manufacturer for my game, and then developed the prototype. To help me understand customers and their expectations in a new way, I talked with 400 potential customers, collecting feedback about where they buy card games, how they hear about card games, and how much they would spend on a card game. The idea is to set yourself apart from the competition, which was what I looked for while reviewing the feedback I received. I was able to alter my game appropriately and even find the right manufacturer in India who was able to cater to all my requirements.
What has it been like to sell Deceiver on Amazon?
Anyone can sell on Amazon, and I want people to know that it is not that hard. It's been two years since I started working on my game, but because I had been taking 18 credits every semester, I didn't have the time to focus on it as much as I would have liked to. I set up an LLC, bank accounts, and tax information, among other things, and basically completed all the groundwork before I approached Amazon. From there, it took less than two months to get it ready for sale on Amazon. I graduated this past May and I launched my product on Amazon in August.
How would you summarize your experience with entrepreneurship and why do you enjoy it?
I created the game in 2019 when I was a third-year student at RIT. I initially created the game for fun to play with my friends and family and I always thought that I would work in the field of engineering after graduation. This changed when I saw how the game was received and the joy it brought to the people around me. I figured this is a good time to take risks instead of following a traditional engineering path, at least for now. I am blessed and immensely grateful to have the support of my parents which is the main reason I can go after this dream. I love being creative and having the freedom that comes with entrepreneurship at this point in my life. I truly treasure the feeling of creating something that someone can use to have a wonderful experience with their friends and families, which is a huge personal motivator.
What are your plans for the future?
Honestly, I haven't thought too far ahead just yet. Deceiver is for ages 12 and up and it just got launched on Amazon. I have been working on different ways to market my game using social media, visiting board game clubs, and so on. I am also working on an adult version of Deceiver for ages 17 and up, which should be available by the end of this year. I never saw entrepreneurship as an option for me, but now having some amount of exposure to it, I am hopeful and curious to see where my creativity and ideas can take me.