RIT student earns prestigious SMART scholarship
Computer engineering student receives scholarship from the Department of Defense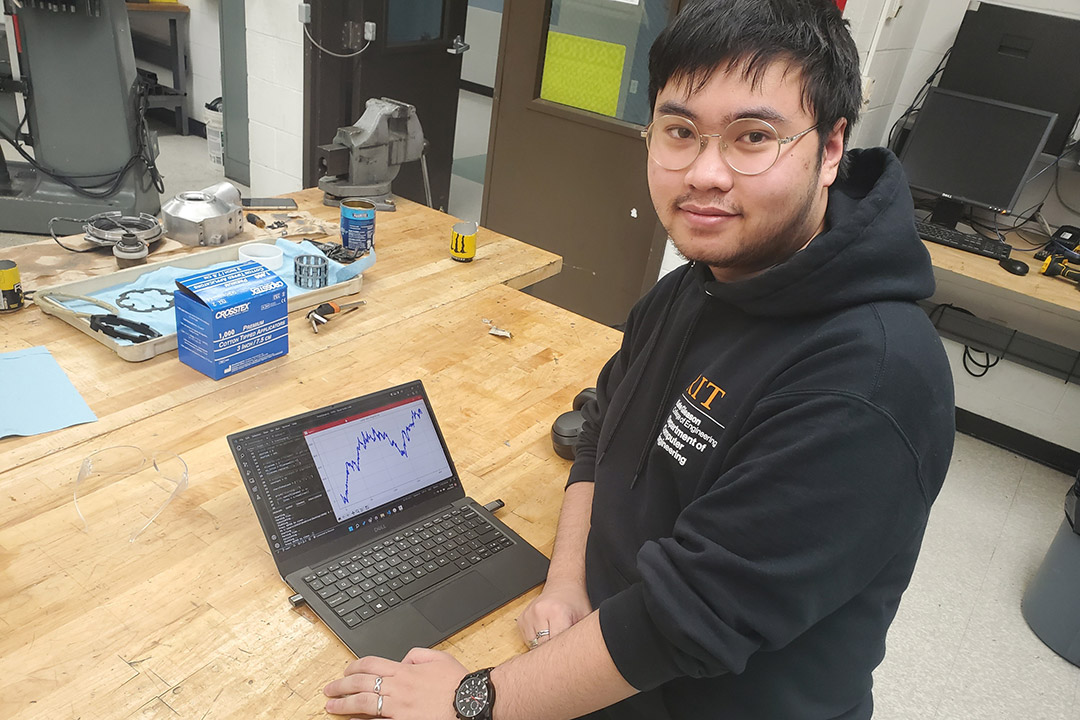 Colin Vo, a second-year computer engineering student from Jefferson Township, N.J., has earned a SMART scholarship from the Department of Defense. The SMART scholarship program includes a full scholarship, a stipend, mentorship, summer internships, and employment with the Department of Defense following the awardee's graduation. Vo's internships and employment will be at the Picatinny Arsenal military and research base in New Jersey.
What got you interested in the SMART scholarship program?
I grew up near Picatinny Arsenal, and I've always been fascinated with army and military technology. I've met some amazing people there that have inspired me to work hard and be like them. I've wanted to be a SMART scholar since high school. When I heard Picatinny did things like fire control systems and that involved embedded systems work, I knew I wanted to apply to be a SMART scholar there.
Can you describe your feelings and experiences during the application process?
The application process was very long and stressful, and it took about four months to complete. The essay prompts took a lot of time and consideration to answer. When I was asked for letters of recommendation, I was very relieved that I had amazing professors that were more than willing to recommend me. Many peers, professors, and mentors have helped me through this process, and I'm very thankful for all the support they've given me.
What kind of work will you be doing as part of this program?
I'll be working as an intern at Picatinny Arsenal under the combat capabilities development command armaments center (CCDC-AC) weapons and software engineering center during my summers, starting in the summer of 2023. The work I'll be doing involves designing and developing software systems. I'll also be doing testing, verification, and validation of current systems.
How do you think being a SMART scholar will affect your education and career?
I think being a SMART Scholar will allow me to gain valuable experience in both my education as well as my career. For the short term, I'm excited to work with a mentor and apply what I've learned at RIT to projects for the Department of Defense. Working with a mentor will also allow me to be a better mentor for the students I will be a teaching assistant for at RIT. I will also bring experience back to RIT Baja SAE, as they've given me the opportunity to work on amazing projects that relate to my major. In the long term, being a SMART Scholar means I'm committed to working for Picatinny Arsenal after I graduate, which is a great feeling that I have job security.
I'd also like to give a shout out to RIT Baja SAE for being a second family to me and giving me the opportunity to work on projects I wouldn't be able to do anywhere else.
Topics