Santosh Kurinec named to national computer chip initiative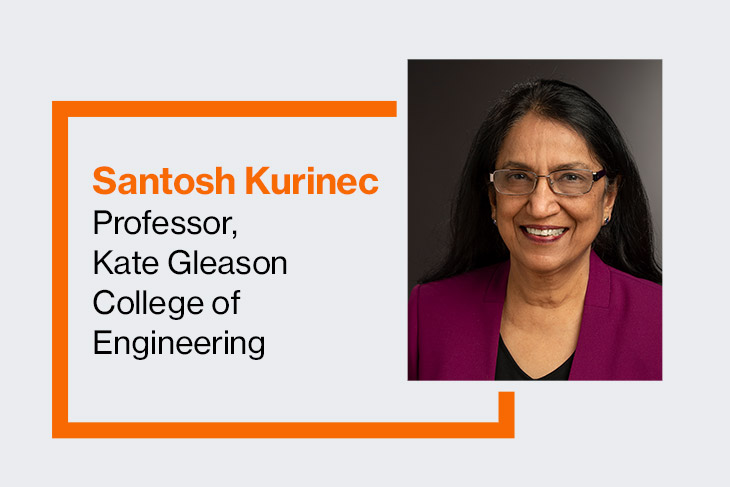 Santosh Kurinec will represent Rochester Institute of Technology on the American Semiconductor Academy—an extensive, national consortia being established to meet the challenges of computer chip shortages.
She was part of a national workshop on The Future of Semiconductors and Beyond: Devices and Technologies, organized by the National Science Foundation, as a means to identify industry challenges and develop strategies to accelerate microelectronic manufacturing. The academy is a result of that workshop, and Kurinec, a professor of electrical and microelectronic engineering in RIT's Kate Gleason College of Engineering, will be among academic, corporate, and government agency representatives from across the country tasked with improving manufacturing processes and increasing a skilled workforce.
"Over the last year or so, many organizations were looking at the big problem that the U.S. is facing in production of computer chips for national security and in increasing our national competitiveness," said Kurinec. An expert in integrated circuit designs and solar technologies, Kurinec has also engaged in outreach for promoting engineering education. Her session at the NSF workshop focused on attracting a strong, talented workforce.
"All these organizations are also looking at the shortage of the workforce that is needed for America to remain on cutting edge in technology."
There are many challenges in the semiconductor industry that have come about due to a general industry philosophy of "design here, manufacture there." The model, in place since the mid-1990s, saw U.S. organizations and academia researching new technologies and materials for computer chips and handing off some of the large-scale manufacturing processes to fabrication sites overseas. Fewer fabrication sites were built in the U.S., Kurinec explained.
"That is not an effective model for today's demands," she said. "The time has come that we should tell our young people that they can build these things, that we cannot rely on all imports anymore. Instead, we can rely on global partners, but we have to do our own research, development, and manufacturing."
The biggest challenge beyond facilities is a skilled workforce. According to the Semiconductor Industry Association, the January 2021 CHIPS for America Act is expected to provide funding for economic and educational incentives to develop more than 280,000 new jobs. One new job in the direct, semi-conductor industry is expected to support five to six positions in the computer chip supply chain.
Academy members will develop curricula in integrated circuit and systems design, semiconductor materials, devices and microfabrication technology jointly with the semiconductor industry to be shared across the academy network. Materials developed will further educate undergraduate and graduate students, preparing them to enter the U.S. semiconductor manufacturing workforce, and provide opportunities to advance technology transfer from university research laboratories to industry.
Microelectronic programs such as RIT's will be positioned to produce graduates skilled in the design, manufacture, and new materials development of computer chips for technologies that include not only electronic devices such as cell phones, but integration of chips for biomedical devices, utilities, automobiles, and other industries and applications.
Technical focus areas include the development of new fabrication facilities and also the emphasis on improved and increased design and processing techniques. RIT has a significant stronghold in each of these latter areas and has consistently graduated more than 1,500 students since the program was established in 1982. Graduates are in global computer chip companies such as Micron and Global Foundries as well as part of automotive, alternative energy, and defense industries, for example, that use computer chips.
"RIT has to keep up the platform for building devices for teaching and research," she said.
Kurinec is at the forefront of the design and development of semiconductors as well as nonvolatile memory, photovoltaics, advanced integrated circuit materials, and solar technologies. She served as a visiting scholar at the IBM T. J. Watson Research Center in New York state and has been honored for her research with national corporations and academic institutions as a Fellow of the IEEE, Electron Device Society Distinguished Lecturer, and, in 2108, as a member of the Women in Technology Hall of Fame.
Topics