Professor presents at international conference
RIT engineering professor discusses projected growth and global challenges in the solar photovoltaic industry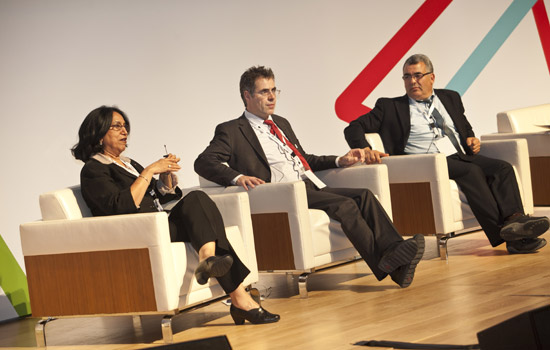 Santosh Kurinec, professor of electrical and microelectronic engineering at Rochester Institute of Technology, was one of several leading researchers who spoke on global trends in alternative energies at the Qatar National Research Foundation annual conference.
During her talk, "Silicon Photovoltaics: Materials, Manufacturing and Market," Kurinec discussed RIT's research and development in this area, specifically about the field of silicon photovoltaics, and detailed current market research about different solar cells and their efficiencies, how manufacturability is improving, and the scale of applications around the world.
Solar energy was the second largest source of new electrical-energy capacity in the United States this past year, according to the U.S. Solar Energy Industries Association. Global developments also reached record capacity as current installed solar photovoltaic capacity produced "as much electricity as 16 coal power plants," according to the European Photovoltaic Industry Association.
"Normally when people work in a research lab, they work in small scales, one cell, few cells, but the scales are incredibly huge," she said, adding that solar cells are being mass- produced because of innovations in manufacturing processes and increasingly companies, as well as residential customers, are using the technology.
During the panel discussion, participants asked Kurinec about bottlenecks in getting solar technologies to users, how can investing in solar technologies be encouraged, and what other improvements are on the horizon in solar cell development.
"As the cost of polysilicon, the baseline material used in silicon photovoltaics, has declined substantially in recent years, it opens up opportunities to make cell structures more advanced by learning from the semiconductor chip industry," she added.
At RIT, Kurinec and the faculty-researchers in the microelectronic engineering department, part of the university's Kate Gleason College of Engineering, are focused on reducing the cost of solar cells by replacing silver, a substance used for contacts in solar cell metallization, with copper. The National Science Foundation's Industry and University Cooperative Research Center, Silicon Solar Consortium, support these key projects; the latter is based at Georgia Tech and North Carolina State University. Kurinec and her research team are part of this center.
"The challenges in integrating copper are similar, however, with different requirements, to those encountered by the chip industry back in the '90s when aluminum was degrading the performance due to its relatively lower conductivity and vulnerability to electro-migration. Introduction of copper, having higher conductivity and resistant to electro-migration, was enabled through innovative developments of diffusion barriers, deposition and planarization techniques. For solar cells, copper diffusion posed challenges as it degrades minority carrier lifetime in silicon. Photovoltaic community can learn from the way chip industry developed copper diffusion barriers," Kurinec explained.
The Qatar Foundation's annual research conference, which took place this past November, is an international forum to support initiatives in the areas of energy, security, integrated health care, mobility and road safety and human capacity. Since 2010, the Qatar government has invited international researchers in these areas to share development information and solutions. This year, the conference focused on three challenges: water security, energy security (photovoltaic and energy storage) and cyber security. Industry leaders, corporate research and development teams and members of academia attend the conference.
It was the first time Kurinec participated in the event. She was part of a three-person panel on energy and the environment that included professors from universities in Switzerland and the host country.
"Qatar is an oil-rich nation, but they are also putting a lot of effort into renewables," she said. "And that could be a lesson, if an oil-rich country is spending on renewables, we in the United States can and should do that too and not become complacent with sights on shale revolution. The U.S. needs a balanced energy portfolio, including solar and nuclear, for domestic energy needs, climate control as well as global trade."
Related articles:
Santosh Kurinec leading research on microchips, solar panels (Democrat and Chronicle)
Topics