Student Spotlight: From studying abroad to a master's degree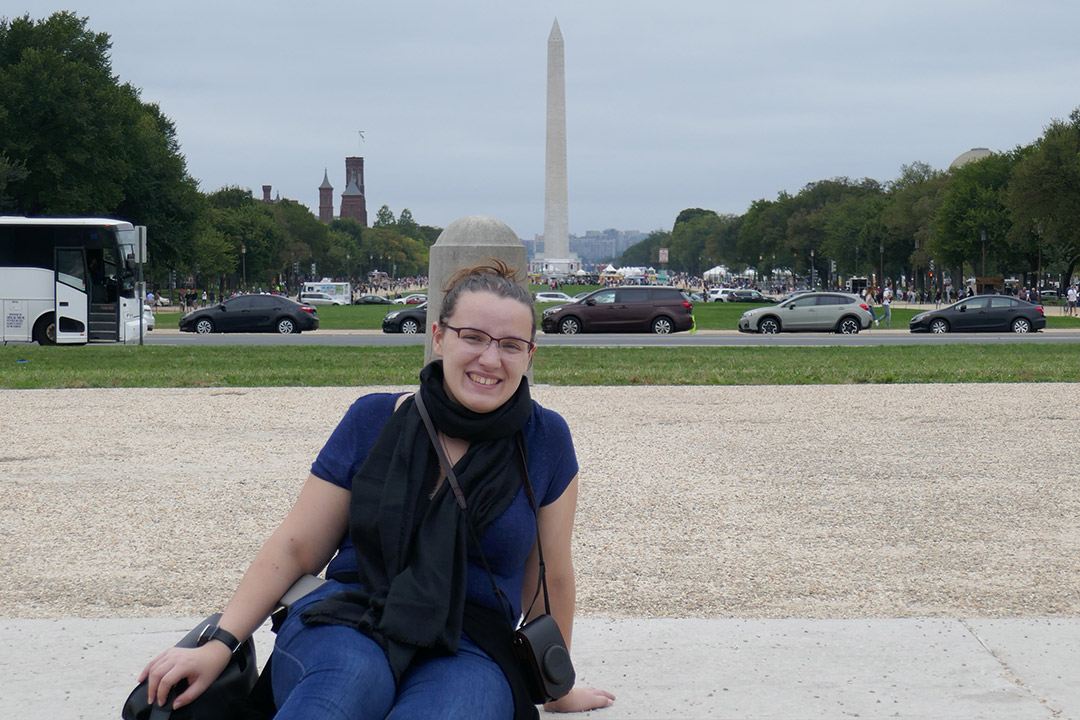 Lucie Le Scolan is pursuing her master's degree in engineering management. From Rennes, Brittany, France, Le Scolan came to RIT on a study abroad trip last fall as a graduation requirement for her former school, the Institut National des Sciences Appliquées (INSA). Once she completed her five-year engineering diploma in mechanical and control systems engineering, Le Scolan decided to return to RIT to complete her master's degree.
Since returning to the Henrietta campus, Le Scolan has resumed her involvement with different clubs, like the Latin Rhythm Dance Club and Dumbledore's Army. Once she completes her master's degree, Le Scolan would like to explore her career options both in France and America. Ultimately, she wants to work in product improvement and lean management to help increase production flow and optimize factory projects without infringing on the needs of the workers.
Le Scolan said she is extremely grateful for her study abroad experience last year and she's happy that it led her to RIT. She also encourages her fellow students to study abroad if possible.
For more information about studying abroad, go to https://www.rit.edu/academicaffairs/global/study-abroad.
Why did you go into the field of engineering?
I've been wanting to study engineering since middle school. I was interested in everything science related and, when I looked into it further, I realized that there are people who can go and solve real-world problems instead of only being in a lab. I thought that was really interesting, so I decided to look more into engineering. At first, I was more interested in nanotechnology and stuff like that, but when I discovered my first school, INSA, and looked at the different options, I thought that mechanical and control systems engineering seemed interesting. I ended up getting into INSA and that's how I ended up in this major.
Last year you studied abroad at RIT. Why were you interested in that program?
I've always liked speaking English. I did my first internship for my school in France in Glasgow, Scotland, and it allowed me to have a good level of English, but I wanted to improve even more. At my school in France, it was required that we do an exchange program with another engineering school before we could get our diploma. There was only one school in America that was on my list of programs to choose from, so I decided to come here. It was a bit of a lucky coincidence.
What was your favorite part of the study abroad trip?
I met some really wonderful people here. I traveled quite a lot with some of the friends I met and we went to Toronto; Philadelphia; Washington, D.C.; and a few other places. It's so different from France. Sometimes I miss France, obviously, but there are some parts of America that offer a really unique and different perspective. I really liked being able to see the cities that I only learned about on TV and online.
What about RIT made you decide to come back to pursue your master's degree?
The teachers are so nice and they're really involved in what you're trying to do. They really want to help you. If you go to see them and you say, 'I don't understand this,' they will always try to bring you up to speed and it's something I didn't really find in France. When I finished my first degree, I had three choices. I could either start working, continue studying in France or continue studying at RIT. I was accepted into both schools, so it was a hard choice to make and it was kind of complicated. After thinking about it, I realized that I was really happy at RIT and it was really a positive experience. In France, teachers are less close to you and sometimes they can be very harsh. So, I decided to try getting my degree in America and see where things go.

What impact do you think earning two degrees in two different countries will have on your career prospects?
I think what is going to help is that when people look at my degree and see it's American, they know I can adapt to different cultures and I can obviously speak English. Also, there is the fact that no matter where I go to work in the world, it's better to have an American degree because it's more renowned. We have a little bit of a problem in France with that. In our country, our degree is very valuable. When you get out of France, it's not as valuable. If, for a few years, I want to work in America, it's easier with an American degree and companies value that. Also, I had experienced an internship with a company in America and I quite liked it, so I was like, 'hey, if I like this one, why not get a degree there and see if I can work for another American company.'
Would you recommend that American students try out studying abroad?
I would say yeah, definitely. Going abroad is something that is indescribable. You learn so much. You learn about the world and you learn about yourself, especially if it involves learning a new language. I think that's really important in the world we live in today. We're connected to everybody. When we're young, it's the best time to go away and learn something new. If you have a family, it's way harder to say, 'OK, let's just move.' Also, I think experiencing what the world has to offer and experiencing different things is important. It makes you start to appreciate your country more and you appreciate the little things when you come home. I would say one word of advice, and that is to learn about the country before going. There could be major differences that you might not like. In France, for example, we have class from 8 a.m. to 6 p.m. every day and that's not what people have here. You can be quite surprised if you don't know those sorts of things beforehand. So, go for it, but make sure you learn everything you can before going.