Students combine technology and design to help others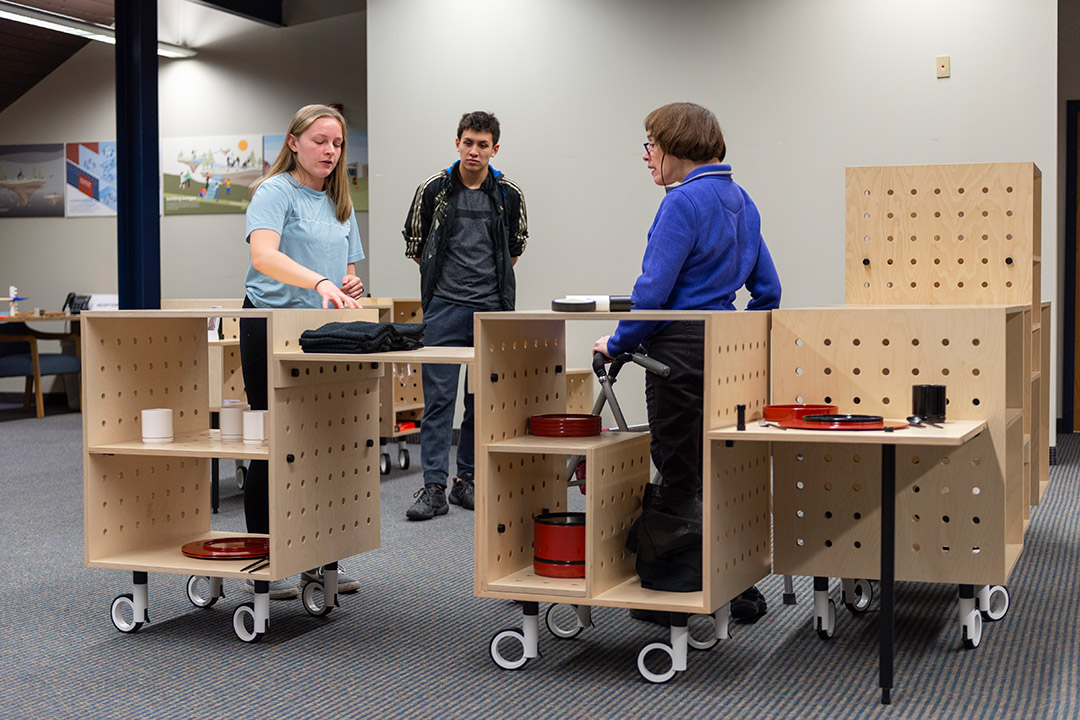 For more than a year, third-year interior design student Emma Canny has been working with a multi­­­­disci­plinary team on a universally designed kitchen that meets the needs of people with disabilities.
Canny's project is more than a classroom assignment. It is one of several working prototypes that is being tested in RIT's LiveAbility Lab so end users can provide students with immediate feedback.
The LiveAbility Lab is a partnership between RIT and the Al Sigl Community of Agencies, a collaborative network of organizations in Rochester that serves children and adults with special needs. The lab, which is located on Al Sigl's Wolk Campus, opened in 2018.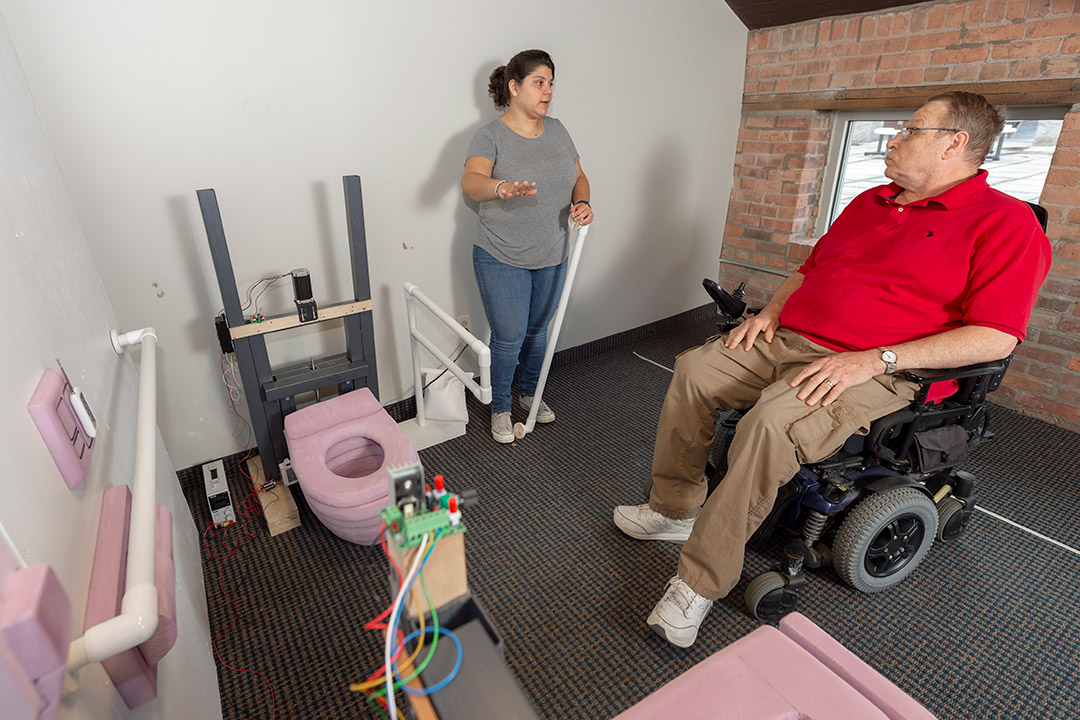 Elizabeth Lamark
The goal is to develop a pipeline of accessible technology projects that are conceived at RIT and take root at the LiveAbility Lab on their way to development in the marketplace. 
Data gathered from the World Health Organization and the World Bank estimates that more than 1 billion people in the world live with some form of disability, of whom nearly 200 million experience considerable difficulty in their daily lives.
Along with the mobile kitchen, current projects in the lab include an accessible bathroom, 3D-printed prosthetic devices, and a functional car door that enables individuals with mobility challenges to safely enter and exit a vehicle.
Dan Phillips, an associate professor in the Kate Gleason College of Engineering and faculty associate for the Partnership for Effective Access Technology Research and Development at RIT, leads the lab, which is a collaboration across colleges.
He said the unique space is designed to incorporate teaching and experiential learning.
The goal is to develop projects that will positively impact the lives of people with different abilities.
"Not only are our students designing and revising prototypes based on the feedback of the end users, they are engaged in hands-on learning about universal design, Americans with Disabilities Act compliance, and the daily challenges faced by individuals with special needs to fully participate in life's opportunities," he said. "When that happens, the entire community benefits."
Real challenges
Canny, from Rochester, N.Y., is working with industrial design students to refine the mobile kitchen, called MO:KI.
The kitchen is a collection of modular units that highlight work zones for cooking, cleaning, and food preparation.
The free-standing, multifunctional MO:KI system is interchangeable and uses a plug-and-play approach, a grid with custom pegs, and hard and soft storage solutions with varied height work surfaces. Set on casters, the units mobilize to fluidly reset the cooking environment based on changing needs.
 "In the past, we would try to test our projects with us sitting in wheelchairs, but it's not the same," Canny said. "Seeing our partners from Al Sigl use the kitchen, push around the movable components, use them as they would in their lives and homes is invaluable."
Because of this experience, Canny said, she plans to implement universal design into all of her projects. And after RIT, she wants to work in medical design, designing for people with disabilities.
The MO:KI system began with RIT Assistant Professor Mary Golden, who brought the discussion of universality and aging in place for the cooking experience into her interior design studio at RIT. A select team of students, including Canny, furthered the premise.
LiveAbility Lab projects start in a variety of places on campus.
RIT's Albert J. Simone Center for Innovation and Entrepreneurship is an incubator where students from any major gather to work with coaches on idea generation and business development.
Idea Lab employs multidisciplinary student teams to solve unique problems identified by organizations or institutions such as Al Sigl, Rochester Regional Health, and others.
Each year, senior engineering students work on team-based projects as part of the multidisciplinary senior design program. This two-semester capstone experience builds upon earlier coursework by integrating engineering theory and practice within a structured, collaborative environment.
Phillips said that if there is a definitive problem that can be solved and an engaged end user, chances are the project is a good fit for the LiveAbility Lab.
For example, a mind-controlled wheelchair and a thought keyboard are being developed by RIT's Neurotechnology Exploration Team, a student-run research group that builds assistive technologies that use electrical signals in the brain and muscles to help people with neuromuscular disorders move and communicate.
The wheelchair and keyboard projects will eventually move to the LiveAbility Lab for a large human subject research trial to collect brain signal data—and the team will also conduct usability testing in the facility.
"It is incredibly motivating and rewarding to know that the problems we are addressing within the Neurotechnology Exploration Team directly impact indiv­iduals in a significant way," said Adam Del Rosso, a fourth-year software engineering student and team leader.
Projects also come from Studio 930 Design Consultancy, led by Associate Professor Stan Rickel, who had the initial vision for the LiveAbility Lab. Studio 930 is a interdisciplinary studio focused on the design of access and health technology products.
Rickel said the group is motivated equally by real-world learning and helping people with disabilities in the community. He added that it's emotional when students understand that there is a person behind the product that they are designing.
"As soon as the students meet the users, it's no longer a school project, it's real life," Rickel said. "It brings a whole new level of empathy and the students are proud of the work they are doing."
Meaningful solutions
Yueyue "Zoey" Zhang, an industrial design graduate student from China, is working on several projects within the LiveAbility Lab.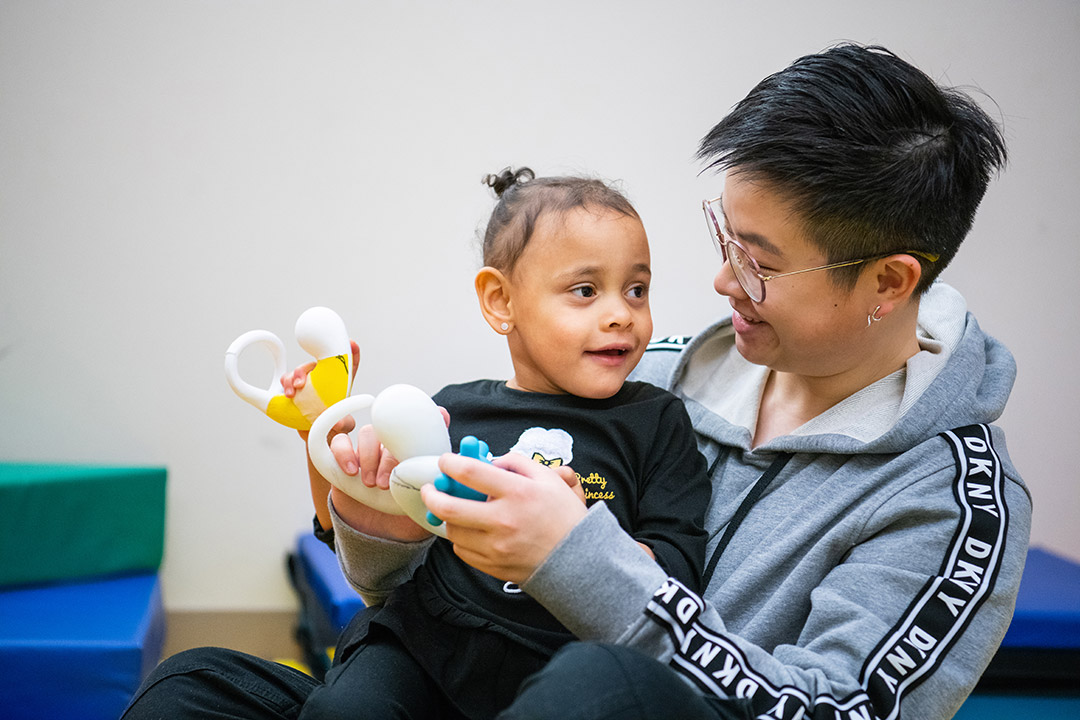 Gabrielle Plucknette-DeVito
One of Zhang's projects is an interactive toy for children with autism. The project started in Studio 930 about three years ago, but through the LiveAbility Lab, Zhang is now regularly working with children at Rochester Hearing and Speech Center, a member of the Al Sigl Community of Agencies, to refine the design.
 It's in the final stages of product development, which includes adding textures, colors, and lights.
Another project, in conjunction with Rochester Regional Health, is a design for a hospital bedside table that will enhance the experience of patients with mobility issues. Zhang also will soon begin work on a device that encourages children with special needs to feed themselves.
 "It's been amazing to spend time with the children and observe how they play with toys they already have and how they interact with their physical therapists," she said. "I take that information back to the lab and think about the toy we're creating—the shape, the form, and how all of that impacts the interaction, their learning, and their development."
Zhang also enjoys connecting with an interdisciplinary group of engineers and researchers and the sense of fulfillment working in the field of access technology.
"From the beginning of my academic career, I knew that I wanted to be an industrial designer, working to make the world better. Based on this experience showcasing my projects in the LiveAbility Lab, I feel like I'm prepared to do this in the real world."
RIT's partnership with Al Sigl began in 2012 with conversations about how the university could study the barriers for people with disabilities and special needs and how RIT could contribute to solving these problems using technology and innovation.
"We are so fortunate to be aligned with a world-class institution like RIT," said Tom O'Connor, CEO of Al Sigl Community of Agencies. "When you look at the talent of the students, the professors, and the administrators, and knowing the innovative model that the Al Sigl community presents to the nation, it's a perfect match. Together we're trying to develop ideas and products that will advance people of varying abilities."
Phillips said the LiveAbility Lab will eventually reach a point where projects are staggered—some in the conceptual stage and others that are close to finalization and market launch.
Ultimately, Phillips said, he hopes the LiveAbility Lab becomes a place where members of the community can go if they're looking for distinct and meaningful solutions to accessibility problems.
"The LiveAbility Lab is a real example of how our students are combining tech­nology, art, and design to create new solutions that can change the world."
LiveAbility Lab projects
The LiveAbility Lab is home to inter­disciplinary projects that impact people living with different abilities. In addition
to MO:KI, projects at the lab include:
Upper-arm prosthetics: Jade Myers, a Ph.D. student in Kate Gleason College of Engineering, is developing low-cost, context sensitive, upper-arm prosthetics for people with limb abnormalities in under-developed countries.
Accessible bathroom: Industrial design MFA students and students in the multi­disciplinary senior design program in Kate Gleason College of Engineering are developing an accessible lavatory designed for people who use walkers and wheelchairs.
Assessment tools: Zhi Zheng, assistant professor of biomedical engineering, is working with a team to develop sensory abnormality assessment and intervention tools for children with Autism Spectrum Disorder, and a robot-mediated cognitive and physical exercise device for older adults with mild
cognitive impairments.
Brain imagery and brain-computer interface testing: This project is coordinated by students on RIT's Neurotechnology Exploration Team, a student-run research group that builds assistive technologies that use electrical signals in the brain and muscles to help people with neuromuscular disorders move and communicate.
Turn About: Multidisciplinary senior design program students have partnered with BZ Design to develop an automated device that uses swiveling and lifting technologies to allow a driver or passenger to easily enter and exit a vehicle. The device is designed for those who have mobility issues associated
with disorders such as ALS.
Therapeutic and sensory play devices: Students in the industrial design MFA program and electrical engineering students have continued to develop interactive modules that use textures, lights, and sounds to increase the attention spans of children with special needs. They are also developing a rock climbing wall and an interactive toy for children with autism.
Accessible toilet: The project is being evaluated by multidisciplinary senior design students.
Pediatric stander: This device, under the direction of Steven Day, chair of RIT's biomedical engineering program, allows for upright maneuverability opportunities for children with certain mobility impairments.