Atlanta official credits RIT master's degree for advancing her career
Chonte' Martin oversees operations in 3.6 million square feet of Atlanta buildings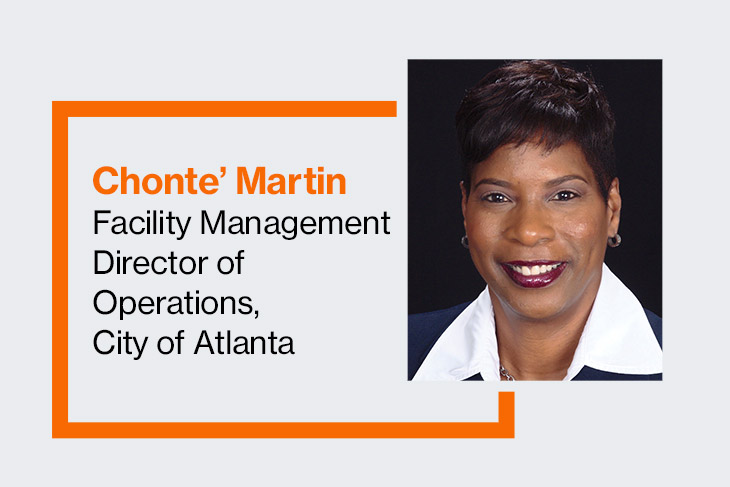 Chonte' Martin doesn't take her role as Atlanta's facility management director of operations for granted. After all, it wasn't that long ago that most people thought the business of heating and cooling, electrical circuitry, and clean water was a man's work.
"A lot of men said this isn't right for you," said Martin, who said there have been challenges and bumps along her career, and at times, without positive encouragement. But she's proving them wrong with the help of her master's degree in facility management she earned online from Rochester Institute of Technology.
A native of Westfield, N.J., Martin started her career 25 years ago after learning electrical work in technical school. She majored in business at St. Leo University and worked for a company as a regional facilities manager, finding ways to improve operational efficiency in buildings.
"I was a road warrior living out of a suitcase," she said. "I traveled across the U.S. providing advice to strategically steer units to be more productive. How do you steer customers to what they need to see? I was communicating with a lot of customers and clients. From there, I decided to go to school. I said instead of traveling, I want to focus on one facility and steer them in one direction in running an efficient operation."
She looked at master's degrees at various colleges, "but it had to be relevant. At this stage in my career, I needed validation. I had a great introduction to RIT and decided RIT was the route I wanted to go. It was one of the best decisions as far as education goes for me. I had a lot of ah-ha moments in the program which let me elevate my career."
Martin received her advanced graduate certificate in project management from RIT's School of Individualized Study and continued her online study to complete her master's degree from the College of Applied Science and Technology, now known as the College of Engineering Technology.
She said the leadership and technical skills she learned enabled her to communicate at executive levels about why things should be done and be able to back it up with statistics.
Today, Martin is responsible for the operations in about 3.6 million square feet of buildings, including Atlanta's city hall, fire and police stations, courts, jail, and neighborhood centers. Her team manages the day-to-day operations, involving skilled trades, HVAC, electrical, plumbing, grounds, and custodial operations.
"Things can change while you're driving into the office," she said. "Equipment malfunctions and the entire dynamic changes in an instant. I've learned to be alert to the unexpected and to proactively mitigate as many risks as possible. You think you have things all planned out, then suddenly you get the call that your chiller is down in the main building and your mayor is about to speak. How about that? When systems go awry, I have to quickly shift to plan B."
Martin has made educational and professional contributions to the facility management industry a priority with commitments to several organizations including The Building Owners and Managers Association, where she sits on the board and teaches certification courses. She's also involved in Women in HVAC.
"I'm very proud to be a graduate of RIT," said Martin, who hopes one day to become an adjunct faculty member, teaching business and leadership courses at RIT. "I've taken away so much, from project management to leadership."
This story includes information from the ARC Facilities blog.
Topics