Packaging science student is first female Eagle Scout in Finger Lakes region
Rebecca Bober's love for the great outdoors fuels scouting passion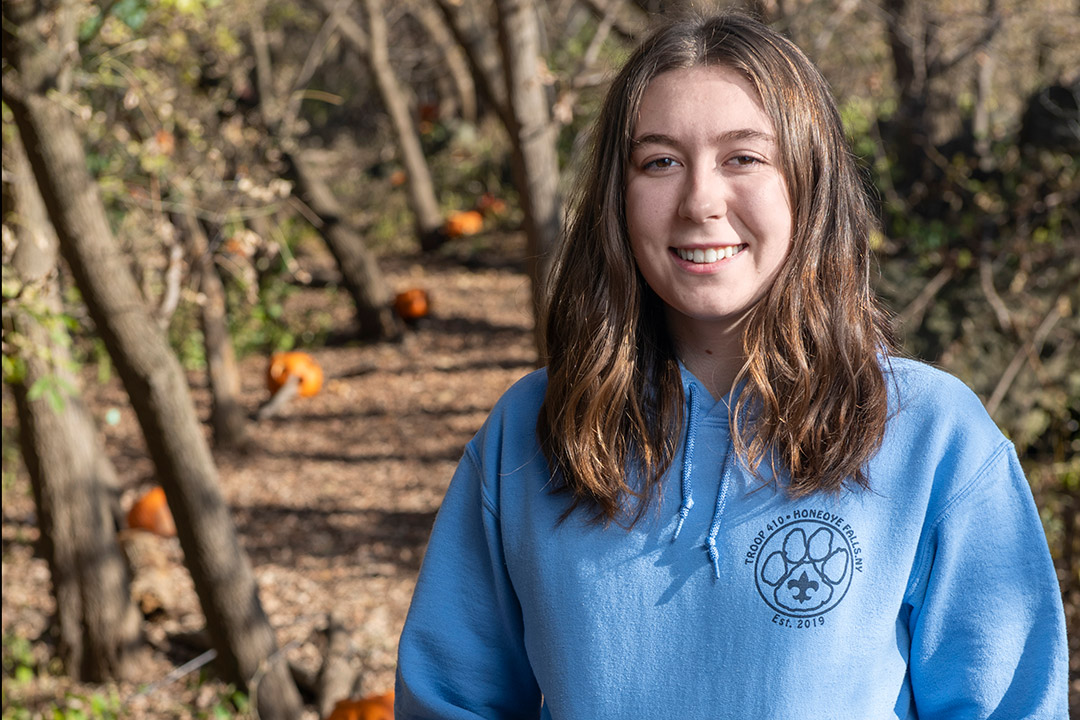 Elizabeth Lamark
Rebecca Bober, a third-year packaging science major from Bloomfield, N.Y., recently earned Eagle Scout rank with Boy Scouts of America, becoming the first female Eagle Scout in the Finger Lakes region. Only 8 percent of scouts attain the Eagle Scout rank.
Bober has always loved spending time outdoors and has felt drawn toward scouting. She joined Girl Scouts in elementary school and, although she says it was an enjoyable experience, the focus was predominantly on indoor activities. As a teen, her love for the outdoors pushed her to join a Venturing crew, a fun and challenging Boy Scouts of America adventure program that encourages ethics, leadership, and skills training.
What inspired you to attain the Eagle Scout rank?
Growing up, I saw my brother work toward his Eagle, and it grabbed my attention. Joining Venturing, a high adventure program, increased my interest in everything outdoors, from rock climbing to whitewater rafting and everything in between. I then joined the Scout BSA program after teaching and lifeguarding for a few years at a scout summer camp. I'm truly glad that so many more kids now have the opportunity to join this rewarding program. The experience gave me the opportunity to be a mentor for other scouts, as well. I have seen the ambition in the eyes of our young scouts, many of whom are now working toward their Eagle ranks.
What does being an Eagle Scout entail?
In order to reach the rank of Eagle, you have to attain several other ranks, as well. There are seven ranks: Scout, Tenderfoot, Second Class, First Class, Star, Life, and Eagle. The first four ranks are about learning skills including first aid, swimming, camping, and safety. One must also complete a number of camping nights and have appropriate service hours for each rank. After covering the basic skills, the other ranks include a stronger focus on leadership, service, and merit badges for a specific skill. The Eagle rank also includes a community service project for an organization of the scout's choice. In order to become an Eagle Scout, one has to complete all of the requirements. The title stays for life. Being an Eagle Scout aims at building character.
Can you explain your Eagle Scout community service project?
The Penfield Victory Garden was the beneficiary of my Eagle project. The garden offers Penfield residents a spot to grow food, flowers, and plants by renting garden beds for a season at a time. The garden members also teach outdoor skills and gardening classes for children in the community. They had a small trail with a pond sitting area on the side, as well as a play area at the end of the trail. All of this was pretty overgrown with an invasive black swallow-wort, which is a plant much like milkweed that is poisonous to monarch butterfly larvae. We removed all of the swallow-wort on the trails, extended and mulched the trails, cleaned up the teaching areas, furnished benches, and planted new native plants to the area. The plants promote the right ecosystem for the monarchs and have been labeled for kids to examine. Overall, it is now more accessible to kids and their families to enjoy.
What is it like to be a woman in a traditionally male-dominated organization like Boy Scouts?
Personally, I am honored to be a role model for younger scouts, and especially girls and women who may not be so sure about joining due to it being a male-dominated organization. Although it can seem intimidating to join an organization like this, it's really something you can embrace. It is empowering to do what you want to do regardless of how other people may perceive it. There is such a great community that I have been a part of through these experiences and I will take them with me throughout my life.
Topics