Professor emeritus inducted into international Gravure Cylinder Society
Robert Eller recognized for advancing gravure industry and in providing notable technical leadership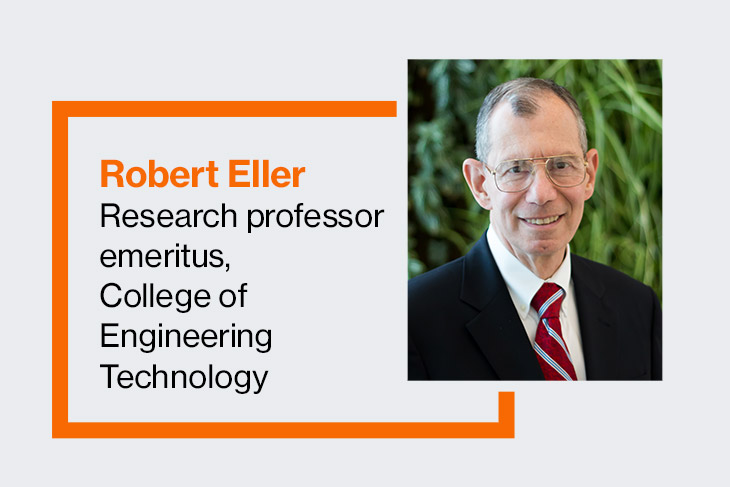 Photo provided
Robert Eller, research professor emeritus in RIT's College of Engineering Technology, was recently honored by the Gravure Cylinder Society as a member of the class of 2021.
Recognized for his research in reinventing the gravure cylinder—the image carrier in gravure printing— Eller was formally inducted into the national society at its annual AIMCAL Executive Leadership Conference in April.
Eller has been a member of the RIT faculty since 2011, when he began as a visiting professor. In 2016, he was named the Gravure Endowed Professor, and he led research in advancing gravure technology. Induction into the Gravure Society is the highest honor bestowed by the Gravure AIMCAL Alliance, the organization representing this important high-volume printing process, said Bruce Myers, department chair of Graphic Media Science and Technology, based in RIT's College of Engineering Technology.
"Professor Eller's induction represents an appreciation of his years of teaching, service, and as an accomplished researcher in this domain," Myers said. "His work continues in his current professor emeritus role where his research agenda is not only advancing the industry, but also benefiting our students in immeasurable ways. I speak for all of the Department of Graphic Media Science and Technology community in congratulating Prof. Eller on this prestigious recognition of his accomplishments."
Each year, the Gravure Association of the Americas recognizes individuals who have worked to support the strength and advancement of the gravure industry. Eller, a faculty-researcher, has been instrumental in the evolution of gravure technology. His work demonstrated that new technology gravure cylinders could restore the cost competitiveness of gravure while simultaneously enhancing the quality of gravure printed graphics.
As a faculty member, Eller advised undergraduate and graduate students' research and taught classes in graphics communication. As a long-time member of the GAA, Eller presented research as both keynote speaker and trainer at many of the society's annual Gravure Summit sessions. He retired from the department last year, but will teach part time, and remains as an adviser to the department that is celebrating its 100-year anniversary.
Gravure is a foundational print technology that details exceptional image quality, color saturation and highly consistent print resolution. A mainstay of the print industry, its advancement and Eller's research into its development have aligned to maintain print's relevance in a changing industry. He is recognized for his exceptional scientific methodology applied to advancing projects with technology in this important print realm. Eller introduced one of the printing industry's key moments in 2019 when scientists from Image Test Labs, matched image quality of traditional offset printing using a web-fed inkjet printer in production conditions. The breakthrough marked the growth and quality of digital technology.
Topics