Darci Lane-Williams receives 2020 Edwina Award
Ten graduating students also named as 'Legacy Leaders'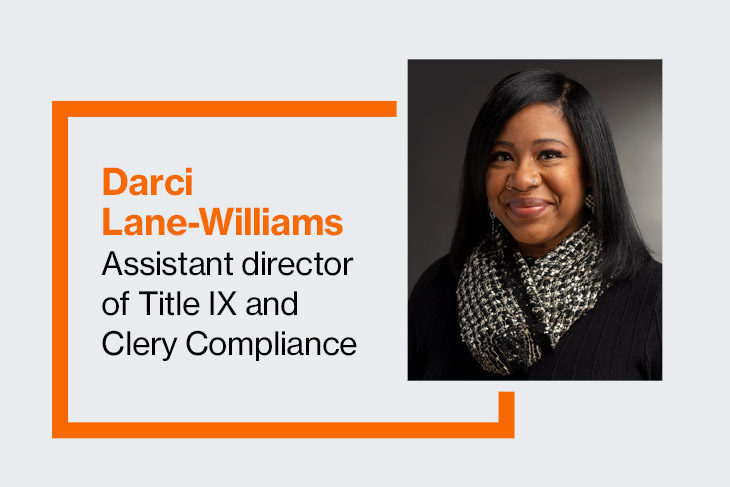 Darci Lane-Williams, assistant director of Title IX and Clery Compliance, has received the 2020 Edwina Award.
The award, from the Center for Women and Gender in conjunction with Student Affairs, is given to a faculty or staff member for significant contributions to enhance gender diversity and inclusiveness at Rochester Institute of Technology.
In addition, 10 graduating students were also named as "Legacy Leaders" and invited to a virtual breakfast with Ellen Granberg, provost and senior vice president for Academic Affairs, and Sandra Johnson, senior vice president of Student Affairs.
Lane-Williams came to RIT in 2009 as the assistant director of Counseling and Advocacy in the Center for Women and Gender. In 2011, she became director of the center before assuming her current role last fall.
A native of Buffalo, Lane-Williams, received a bachelor's degree in psychology from the State University at Buffalo, and a master's degree in counseling psychology from Argosy University in Atlanta.
"I thought I would be a dentist, but I found out I didn't like most of the coursework involved," she said. "I knew that was not meant for me. Fortunately I figured it out rather quickly and didn't waste a lot of time pursuing a degree that wasn't going to fit."
She switched to psychology and followed a career in community mental health services.
"I've always had a strong moral compass. And I've always been fascinated by human behavior," she said. "I am fascinated by deviant behavior. I like to figure out why people behave the way they behave and what experiences did they have that caused them to behave like they did. Was it nature or nurture, or was it combination of both?"
Her curiosity with human behavior grew when a close family friend committed murder.
"I was in high school, when my stepfather's best friend murdered his wife with a hammer and ran out of the house," she said. "He showed up at our house and my mother made him tea. The news came on TV and showed a picture of his house with crime scene tape and they said a woman's body had been found. My mother looked at him and said, 'You need to call the police' and he turned himself in. How does a guy do something like that? How could he do that and still be a great dad and a good friend? He was a super good guy, super nice. He just snapped."
Lane-Williams said it didn't occur to her until 10 years ago that the experience may have steered her to mental health counseling.
"That's when it clicked for me," she said. "I ended up where I'm supposed to be."
Prior to coming to RIT, she worked in Atlanta for two years, inside the DeKalb County Jail, helping men and women inside with drug and alcohol treatment case management, mental health screening and counseling.
She then moved to Rochester, doing advocacy work with the Willow Domestic Violence Center.
"I figured I'd go into community health, but instead I began working with survivors of domestic violence," she said. "I was fascinated by abuser behavior, so this gave me an opportunity to examine human behavior."
Moving to RIT, she said, was a fluke when she was asked to apply. "It was a good opportunity," she said.
And she says her move to her current role as assistant director of Title IX and Clery Compliance also is a good fit.
"If I didn't have my former role as an advocate, I wouldn't be as good," she said. "I come from a different perspective. I can be equally supportive. I can sit down with a student in a case, either as a complainant or a respondent and offer support. If you are an accused student, you have the right to due process. There is more equity."
Lane-Williams enjoys developing training for RIT and working with college students.
"The beauty of this age, 17 to 22, is that they are just beginning adulthood. They haven't figured out who they are yet," she said. "We can help them with developmental counseling and talk about their interpersonal relationships. They have a choice. Sometimes we can sit down and say, 'This choice is probably not a good one. Let's look at alternatives."
Legacy Leaders
The 10 graduating students named "Legacy Leaders," and the legacies they feel they are leaving behind are: