Graduating sonography student urges colleagues to strengthen their grip for healthy career
Elena Zambito to graduate from College of Health Sciences and Technology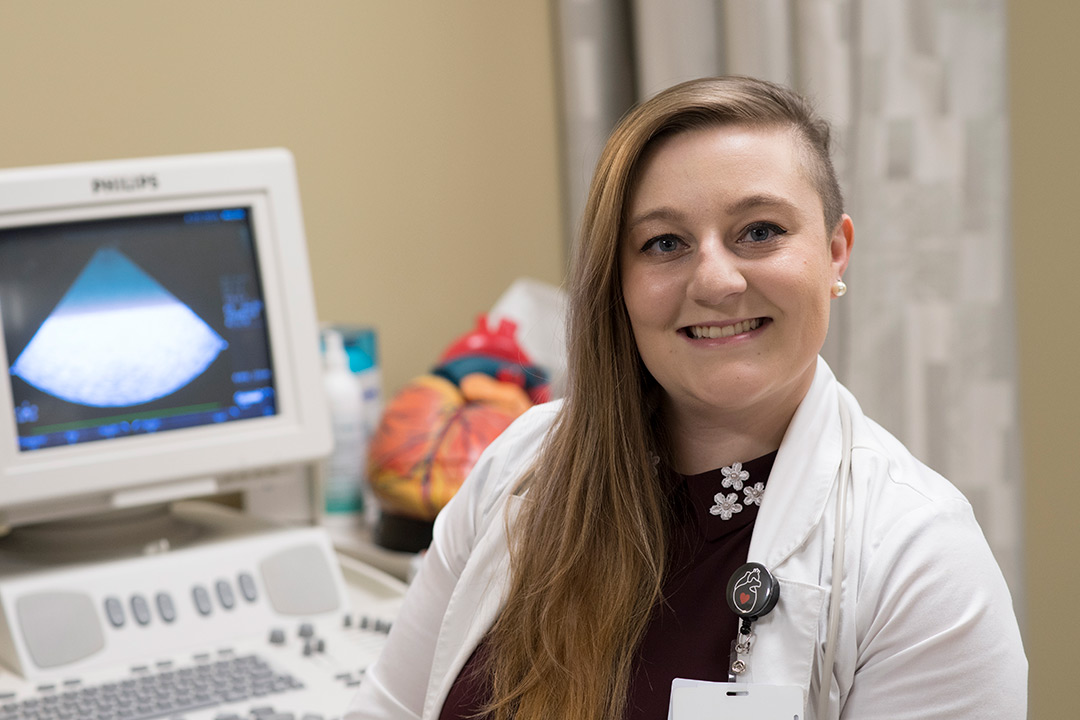 Commencement weekend kicks off with Academic Convocation on May 10. Read more about the Class of 2019 at rit.edu/news/commencement-news.
Elena Zambito will graduate this May from RIT's diagnostic medical sonography program, and she is already finding ways to enhance her new field.
Her goal is to land a cardiac sonographer position at a leading research hospital like the Mayo Clinic and discover ways to reduce the high rates of injury among sonographers.
Sonographers stand for long hours at their ultrasound machines, which can take a toll on their bodies. They operate the control panel of their scanner with one hand and a probe with the other, looking back and forth from patient to screen and adjusting their probe as needed. 
During her training and clinical rotations, Zambito experienced the way sonographers must position themselves to scan valves, tumors and congenital disease.
"It's very visual, physical and social—all the things I love," said Zambito, originally from Saratoga, N.Y.
She also knows that career-ending injuries are a reality in sonography and affect one in five ultrasound practitioners. The statistics are striking: more than 90 percent of sonographers will experience injuries, and 64 percent of that group will have hand, wrist and elbow pain.
 "I had written those numbers down when we were going over ergonomics, and I thought this is crazy, and I wonder what we can do for this," Zambito said.
She conducted an eight-week study, funded by an RIT Summer Undergraduate Research Fellowship, to address the problem. Her aim was to prevent work-related pain and injury in the hand and wrists by increasing grip strength and improving stability and muscle balance.
Zambito applied her knowledge of strength training to the problem and her experience as a medical assistant at a sports medicine and orthopedic practice at Rochester General Hospital. With guidance from her mentor, Hamad Ghazle, professor and director of the diagnostic sonography program, Zambito designed a program of extensor exercises for a group of local sonographers.
Ghazle helped recruit sonographers from the Rochester area and 30, including many alumnae, were selected for the eight-week study. Members of the active group were assigned a series of three exercises to perform with a modified extensor tool favored by rock climbers. Their strength was tested and compared to the grip of participants in the group who made no changes to their lifestyle.
"The end result was a statistically significant increase in strength," Zambito said. "We saw an increase in all active participants."
"Sonographers are working with their hands all day, and that is why increasing grip strength through extensor training is really interesting because even someone who has been doing this for 20 years saw improvement with extensor training," she said. "This means there is a threshold that hasn't been tapped into yet for their grip strength."
 Zambito presented her research, co-written with Ghazle, "The Effects of Focused Extensor Training on Increasing Grip Strength in Sonographers," at the National Conference on Undergraduate Research at Kennesaw State University in Georgia in April.
 Zambito is moving ahead with her research and developing a different device to help sonographers maintain a neutral hand position while scanning.
Topics