LSAMP and McNair Scholars programs provide important research opportunities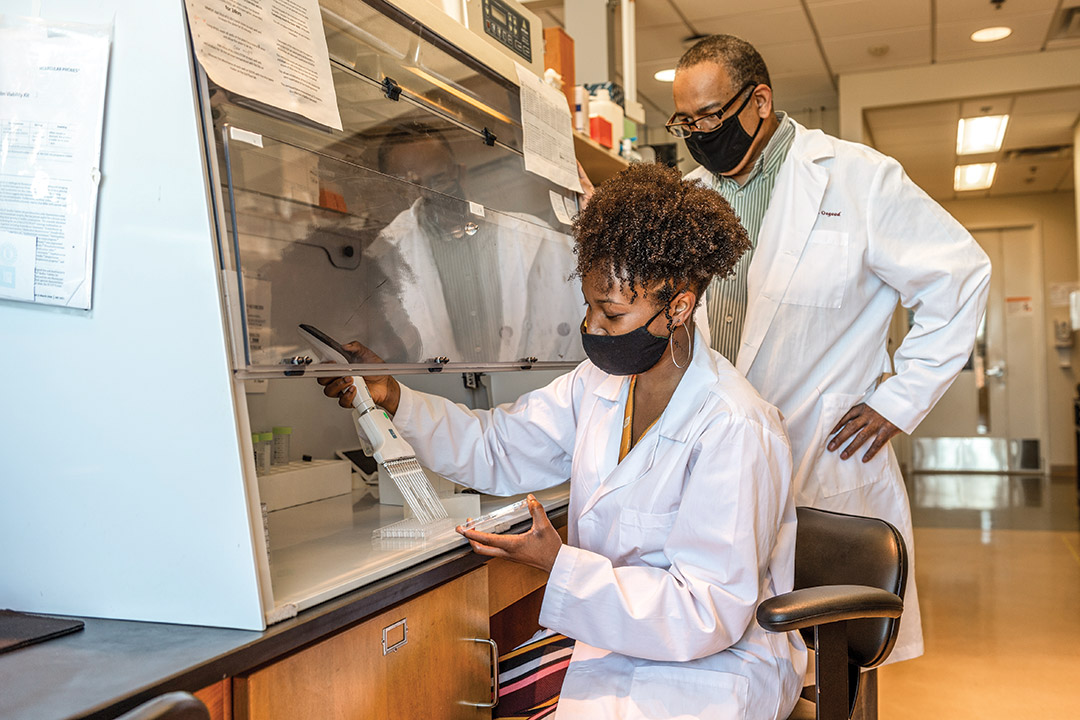 Diamond Guy, a fourth-year biomedical sciences student from Rochester, and Associate Professor Robert Osgood spent the fall creating PCR primers for identifying three types of bacteria that are linked to cardiac disease, oral infections, and other issues.
The researchers aim to create a multiplex test that dental offices can use to detect the presence and concentration of Streptococcus mutans serotypes c, e, and f in patients' saliva.
For Guy, performing research at this level has been a long-term goal that is part of a larger plan to become an M.D.
"Since I was a high school senior, I knew I wanted to do research as an undergrad," said Guy. "I heard that Dr. Osgood has a good rapport with students and is very helpful and takes new students under his wing, teaching them to become strong and independent researchers. I really like this project because it seems like it has a lot of great clinical applications. I've been learning a lot from it."
Guy was one of a record 15 students participating in fall research projects thanks to support from the Louis Stokes Alliance for Minority Participation (LSAMP) and Ronald E. McNair Post-Baccalaureate Achievement programs. Both programs provide opportunities for research, funding to travel to and present at professional conferences, information about graduate school, and help connecting students with faculty mentors.
Together, the programs currently serve 49 students—31 are in the McNair Scholars Program and 38 are in LSAMP, with several students enrolled in both. The programs also continue to help alumni who may have gone off to work in industry and decided they want to go back to graduate school and need help with the application process.
LSAMP is funded by the National Science Foundation and available to STEM students from underrepresented groups with a strong interest in attending graduate school. McNair Scholars program is funded by the Department of Education and offered to second- or third-year students who are first-generation college students and low income or a member of an underrepresented group. 
Osgood has served as a mentor to LSAMP and McNair students since he joined RIT 13 years ago. He said the programs provide opportunities for students who would not otherwise have access to research.
"A lot of the students who come in through the program don't really have much prior experience, so we have to meet them where they're at," said Osgood. "If they don't know how to do something, it is on us to become that teacher who can show them how to do it, what's important about it, so that when they're doing it, they're confident. But if they come in with enthusiasm, I can take it and add to that some skills and abilities, throw in some confidence, and what comes out on the other side is someone who can do research."