Richard Doolittle named interim dean of the College of Health Sciences and Technology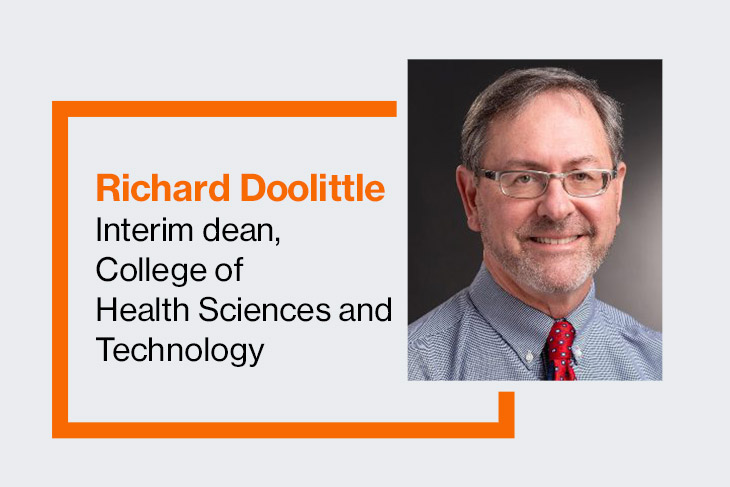 Richard Doolittle has been named interim dean of RIT's College of Health Sciences and Technology, effective immediately.
"In addition to being an accomplished professor, Richard is a successful researcher as well. His research interests include biomedical engineering projects within orthopedic rehabilitation as well as virtual reality environments pertaining to medical education," said Ellen Granberg, RIT's provost and senior vice president for Academic Affairs.
In recent years, Doolittle's professional interests have extended to the development of programs to support deaf/hard-of-hearing people into health care careers.
Doolittle has a long history with RIT's health care programs, and he has served as vice dean of the College of Health Sciences and Technology for nearly a decade. Prior to that role, he was acting dean and played an integral role in envisioning, creating and organizing the new college, which began in 2011 as compilation of existing programs. He continues to support the university's strategic partnership with Rochester Regional Health, the RIT & Rochester Regional Health Alliance. Doolittle succeeds Dean Dr. Daniel Ornt, who began a sabbatical this month.
"It's a privilege to work for the people of the college, not only working through the challenges of the pandemic but continuing the conversation for expanding existing and new programs and research efforts and our relationship with RRH," Doolittle said. "I want to maintain that vision of the college so that the new dean can help provide the advocacy we need to make that vision a reality."
Doolittle, in 1986, joined the biological sciences faculty in RIT's College of Science. His numerous leadership roles have included assistant provost for Undergraduate Education, head of the School of Life Sciences and head of the Medical Sciences Department in the College of Science.
Doolittle holds a BA in biology from the University of Bridgeport and a MS/Ph.D. in pathology and anatomy from the University of Rochester School of Medicine and Dentistry.