RIT to offer BS in exercise science
Program accepting students for fall semester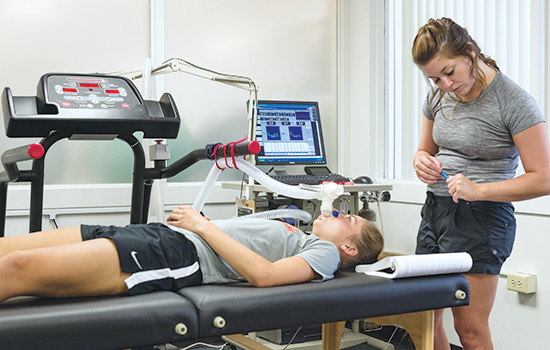 Rochester Institute of Technology is offering a BS degree in exercise science, with its first freshman class beginning in the fall semester.
The four-year program is the first new degree offered through the Wegmans School of Health and Nutrition in RIT's College of Health Sciences and Technology. Exercise science applies health, fitness, physiology, biomechanics and psychology toward enhancing athletic performance and preventing or managing chronic illness, such as cardiac disease, type 2 diabetes, high cholesterol and other health problems.
The U.S. Bureau of Labor Statistics projects employment in health care occupations—including athletic trainers and exercise physiologists—to grow 19 percent by 2024.
"Our program prepares students for these two areas of exercise science where jobs are available and growth is happening," said Bill Brewer, director of exercise science at RIT. Exercise science majors are required to complete 120 credit hours, including 40 credit hours of core courses and nine professional electives. The core courses cover exercise physiology, fitness, biomechanics and kinesiology, or how the body moves, as well as personal training, worksite health promotion and sports psychology, among other topics.
Professional electives allow students to specialize in the program's athletic or clinical tracks. Completion of the exercise science degree prepares graduates to take the certified strength and conditioning specialist exam offered by the National Strength and Conditioning Association and/or the certified clinical exercise physiologist exam administered by the American College of Sports Medicine.
For more information about the RIT exercise science program, contact Brewer at wsbsci@rit.edu.