RIT student graduates with multiple degrees
Bobby Kovach made his achievement despite a serious car crash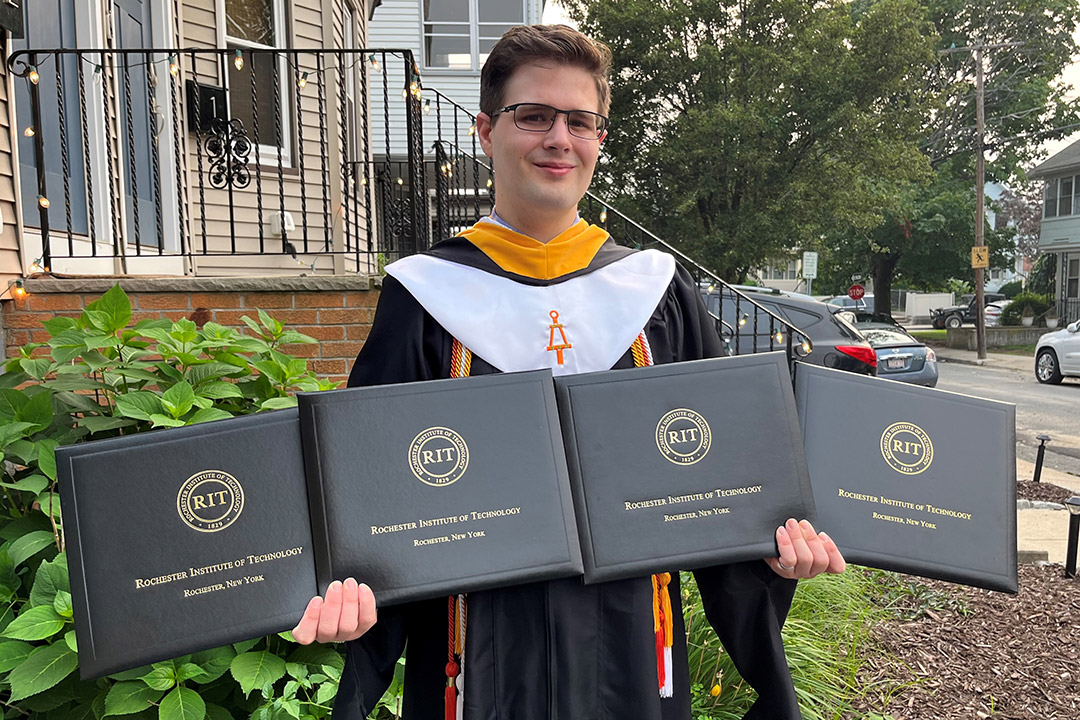 Despite overcoming health challenges from a car accident, Bobby Kovach, who recently graduated from Rochester Institute of Technology, managed to earn two degrees in four disciplines at the same time.
"RIT has had an extraordinary impact on me and my career," he said. "I'm grateful to RIT for providing me with opportunities to keep moving forward."
In May, Kovach, from Norwalk, Conn., graduated with four disciplines from four of RIT's colleges: a bachelor's degree with three majors, chemical engineering from the Kate Gleason College of Engineering, economics from the College of Liberal Arts, and applied arts and sciences from the School of Individualized Study. He also earned a Master of Science degree in material science and engineering from the College of Science.
Kovach attended the academic convocation and walked at three of his four graduation ceremonies. He missed one because it occurred simultaneously as one of his other graduations.
He started his college education at RIT in 2018, where he majored in chemical engineering, with a concentration in economics. While working on that degree, he realized he only needed three more courses to qualify for an economics major, so he took those as well.
Kovach was also a Navy ROTC midshipman through the University of Rochester. His goal was to work on a nuclear submarine.
"That ground to a halt when I was severely injured by a reckless driver that had T-boned me in September 2021," he said. "Because of the damage to my brain and spine, I missed that semester of school completely. Being placed on a medical leave of absence meant that I was no longer receiving ROTC scholarship funding, so I also became ineligible to receive my housing scholarship. My options were laid out for me: go home until medically cleared or drop out and give up on school altogether."
Kovach said RIT's financial aid team helped him find a third option.
"The Tiger community assisted with my search for new housing as well as my transition from an MS in science, technology and public policy to materials science and engineering," he said. "This let me qualify for engineering scholarships and research assistantships at the graduate level. At the same time, my professors allowed me to take a grade of incomplete for the courses I missed while bedridden. This gave me the time I needed to recover further and take my fourth- and fifth-year chemical engineering courses simultaneously in the fall of 2022."
Meanwhile, the Navy notified Kovach that his medical waiver was denied this spring, which jeopardized his full-time status, and his financial aid.
"But the School of Individualized Study made an elegant solution possible. Using the unallocated credits from Navy ROTC along with some others, I worked together with SOIS to create a curriculum that gives Navy ROTC students who face life struggles the opportunity to still graduate on time with meaningful skills."
They called his customized program "Leading Interdisciplinary Teams," and it focused on developing the ability to effectively understand and lead those with different cultural and academic backgrounds.
SOIS also supported him by funding travel to a workshop in Wisconsin on Antarctic climate and meteorology, where he was able to introduce a renewable energy startup he co-founded, SATEG Corp., to an international audience. The company hopes to provide carbon-free electricity throughout the polar night by extracting heat from the ocean.
"By registering for the program, I was able to graduate on time while maintaining full-time student status," he said.
James Hall, dean of University Studies and executive director of the School of Individualized Study," calls Kovach "an extraordinary student not only in terms of his ambition and resilience, but really in terms of the quality of his intellect and the way he engaged scholars both inside and outside of RIT. His capstone work was extraordinary and involved really novel ways of looking at persistent problems in public requisition of funding in complex industries."
Kovach now works as a manufacturing engineer for Electric Hydrogen, an electrical hydrolysis company near Boston.
"My long-term goal is to have RIT open a school for nuclear engineering in the next 35 years," he said.