Department of English Student Organizations and Resources
Affiliated Clubs and Centers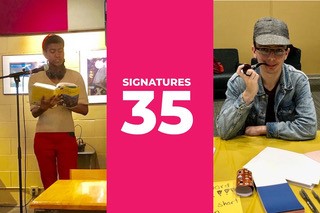 Now in its 36th year, Signatures is RIT's free, award-winning, student-run undergraduate literary and arts journal. As a collaboration between the College of Liberal Arts (CLA) and the College of Art & Design (CAD), Signatures has won numerous awards, including the Columbia Scholastic Press Association (CSPA) Gold Star Award in 2008, 2015, 2016, 2017, 2018, and 2019 as well as the 2012 Design Award from ArtiST (Art in Science and Technology). We strive to show off the best of the best in student work, from poetry to painting to illustration to furniture design, and to encourage the liberal, performing, and creative arts at RIT and in the larger Rochester community.
For more information, including details on how to submit work and how to obtain back issues, visit Signatures Magazine online or contact us.
The English Department hosts the newly launched Center for Engaged Storycraft (CES), an interdisciplinary center that exploits the potential of story and craft, in combination, to support research, creative production, education, civic partnerships, and professional workshops, all of which work to engage scholars, communities, and students in and through innovative practices and applications of story, story-based analytics, and technical craft.
The Computational Linguistics and Speech Processing (CLaSP) lab at RIT is dedicated to advancing applied and theoretical research involving text, speech, and multimodal data. An area of focus is linguistic and language-inclusive multimodal sensing. CLaSP provides research opportunities for undergraduate and graduate students, and hosts a regular student research discussant series.