Opportunities for Leadership Development
Opportunities for Leadership Development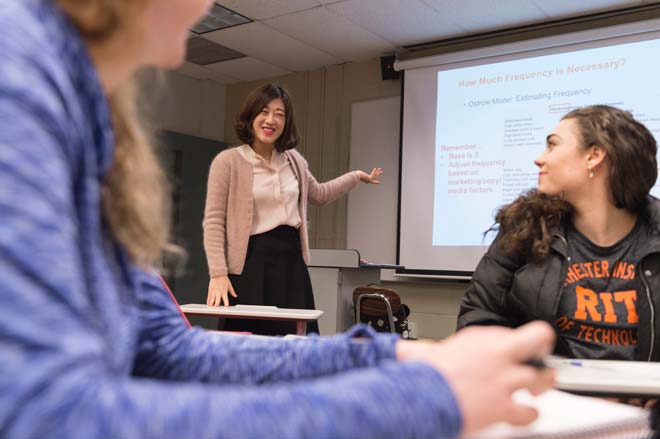 The best way to develop leadership skills is to take on leadership responsibilities. And with ample opportunities at RIT and in the College of Liberal Arts, you'll be able to hone your ability to be a leader in any setting—from small, informal groups to large, established organizations.
Each of the 300+ clubs on campus, including those sponsored by the College of Liberal Arts, have leadership roles such as club officers and executive boards. There is also Student Government, with elected, appointed, and volunteer positions, that advocates within RIT's administration and works with stakeholders around campus to implement innovative programs, services, and initiatives to improve the student experience, both in and out of the classroom. These leadership experiences give students firsthand knowledge of what it's like collaborate with other toward a common goal—even if there are differing opinions on how to accomplish it. They also provide experience in event management, working with executive leadership, shared governance, and group communication, among others.   
There are also leadership development opportunities available within the College of Liberal Arts. The Student Advisory Board is a team of student leaders from each degree-granting department who work together to maintain and improve the satisfaction of their fellow students regarding education and accessibility. The Student Advisory Board advocates for student issues within the college community, enhances student relationships with Student Government, the college and RIT as a whole, as well as advises the dean on student issues. Recent examples of the Student Advisory Board's impact include the creation of a student lounge and co-working space, the development of a co-op and career fair targeted specifically to students in liberal arts majors, and the annual College>Connect>Career networking event with alumni and local business leaders.
Never satisfied with the status quo, our student leaders are working for change and making a difference on campus.