September 27, 2022
by Dr. Juilee Decker
CHIPR Conference Held at RIT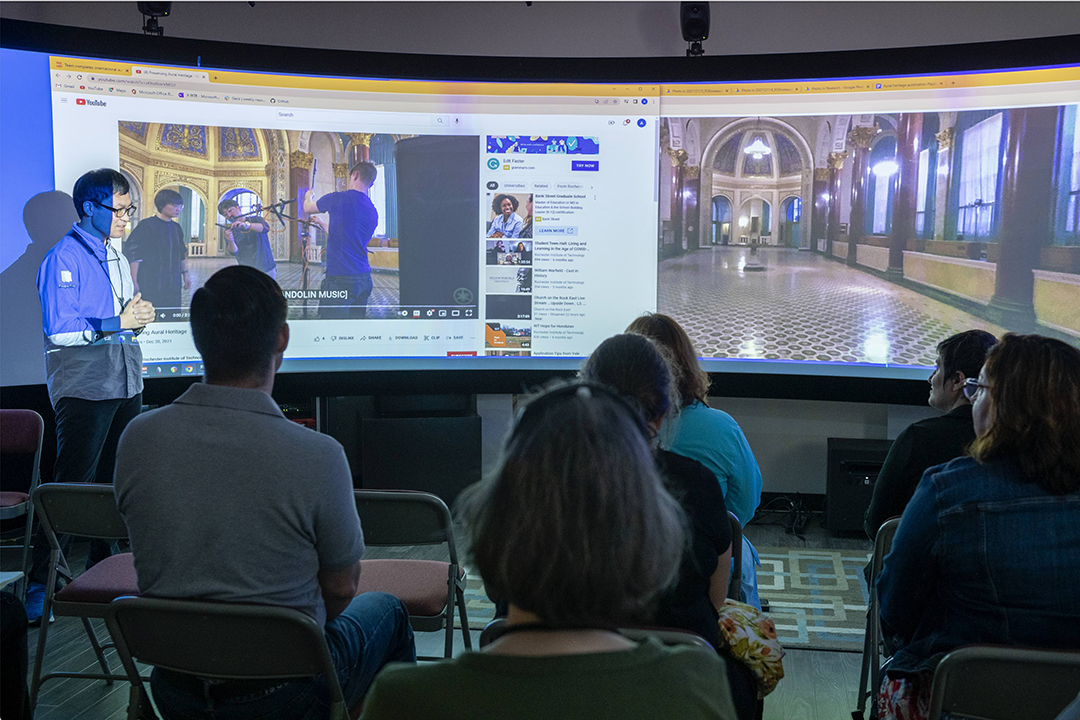 Students and faculty in the museum studies program participated in a one-day symposium focused on cultural heritage imaging, preservation, and research (CHIPR) organized by Dr. Juilee Decker (Director of Museum Studies) and Dr. David Messinger (Imaging Science Program). This event, held in person on the RIT campus on August 15, 2022, was a free learning opportunity open to anyone in the region based at museums, libraries, archives, and historical societies interested in preservation, access, and research. More than 70 students, scholars, professionals, and researchers attended.
Six demonstrations or handling sessions were held simultaneously during the half-day symposium. Groups of attendees were led by student volunteers to campus labs and sites. Third-year MUSE major Etta Arnold (shown here) co-led a demonstration on the imaging system developed by the interdisciplinary team led by Decker and Messinger and funded by the National Endowment for the Humanities.  The project focuses on a low-cost, end-to-end multispectral imaging system, Multispectral Imaging System for Historical Artifacts (or "MISHA"), that can be used on small format historical documents, sheet, and leaf collections that have overwritten text, faded ink, or other un-readable or unknown content. Arnold presented along with Dr. David Messinger, Dr. Roger Easton, and Dr. Juilee Decker. Examples of use cases from the Cary Collection were part of this session as well.
Other sessions included: an interactive tool developed by researchers from RIT's Color Science Program who use spectral imaging for the purposes of color comparison and analysis (presented by Olivia Kuzio, PhD Candidate in Color Science; Susan Farnand, Assistant Professor in Color Science; Leah Humenuck, PhD Student in Color Science. More info here); a non-invasive method of mapping and identifying pigments in paintings developed by Imaging Scientists and presented by Dr. Joseph Hornak. More info here; a tour of Image Permanence Institute, a research center in the College of Art and Design dedicated to supporting the preservation of cultural heritage collections in libraries, archives, and museums around the world; methods for audio reproduction of cultural heritage sites developed by Dr. Sungyoung Kim with Doyuen Ko, Belmont University and Dr. Miriam M. Kolar; and a visit to RIT's digitization lab.
The symposium was organized by Decker, Messinger, and Easton along with undergraduate students Etta Arnold, Alana Bourgeois, Izzy Moyer (Museum Studies) and Parker Mei (Imaging Science). MUSE students Sydney Arcuri, Kosovare Beha, James Falotico, and Kristen Walker served as volunteers for the event. We look forward to holding another event in the future!
Topics