September 22, 2023
by Kim Walters
RIT hosted colloquium examines ethical and social issues of emerging technology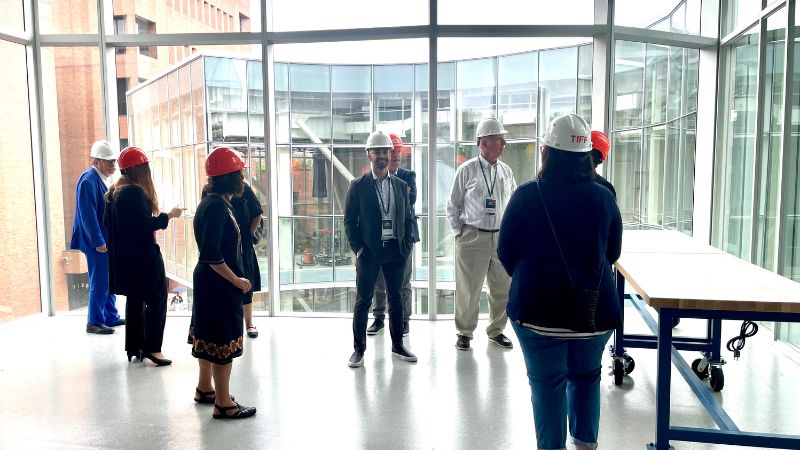 Innovation is largely seen as beneficial — driving the creation of goods and services that improve the quality of human life — while new technologies create great potential for accelerated progress. But, how do ethical or moral issues shape the applications of emerging technologies and what role should public officials play to ensure that innovation doesn't undermine equity, freedoms, sustainability, and social justice? 
Earlier this month, an interdisciplinary group of RIT alumni, academics, researchers, and public policy professionals met to discuss issues like these and more. In a conference sponsored and organized by The Liberty Fund and directed by RIT's College of Liberal Arts Associate Dean Lauren Hall, Ph.D., the group met for a focused, day-long session.
"How will technology shape the way we govern, now and in the future? That is the fundamental question we explored," explained Hall. "Because rapid innovation is leading to economic, political, and social disruption,we need to think deeply and seriously about how to build just, secure, and sustainable futures."
From rising new professionals to experts who had recently retired from long careers of public service, the diverse group of conference participants brought a balanced breadth of expertise, perspective, and passion to the discussion. 
"In today's increasingly divided political climate, it was refreshing to be able to spend a day having respectful and meaningful discussion about important societal issues with people from across a range of backgrounds, disciplines, and political lenses," said Brianna Alverson '16 (international and global studies and political science double major), analyst, Johns Hopkins Applied Physics Lab.  "I came away with new perspectives on these issues and think the experience was valuable for thinking about the intersections of technology and society in a more robust and holistic manner."
Alverson was joined by others including a retired head of security for the World Bank, a senior analytic manager for Amazon Ads, the director of Water for South Sudan, the director of Bioethics, Health, and Society at Wake Forest University, computer scientists and entrepreneurs, faculty from the College of Liberal Arts, and others. 
"Of course, we can't solve these issues in a day, but deeply and intentionally considering them, seeking out a range of perspectives, and keeping them in the forefront is critical," said Hall. "And, that is something this group of conference participants — and the College of Liberal Arts at RIT —  is passionately committed to." 
The Liberty Fund is a private educational foundation that encourages thought and discussion of enduring issues about liberty. It organizes colloquia on enduring questions all over the world.  The College of Liberal Arts at RIT, meanwhile, plans to keep discussions of the social, ethical and political implications of new technology in the forefront through its McKenzie Salon Series and other events and lectures. For more information about upcoming events, see rit.edu/liberalarts/events.