Faculty compensation is focus of NSF-sponsored research
Multidisciplinary team will expand knowledge of best practices and increase understanding of compensation systems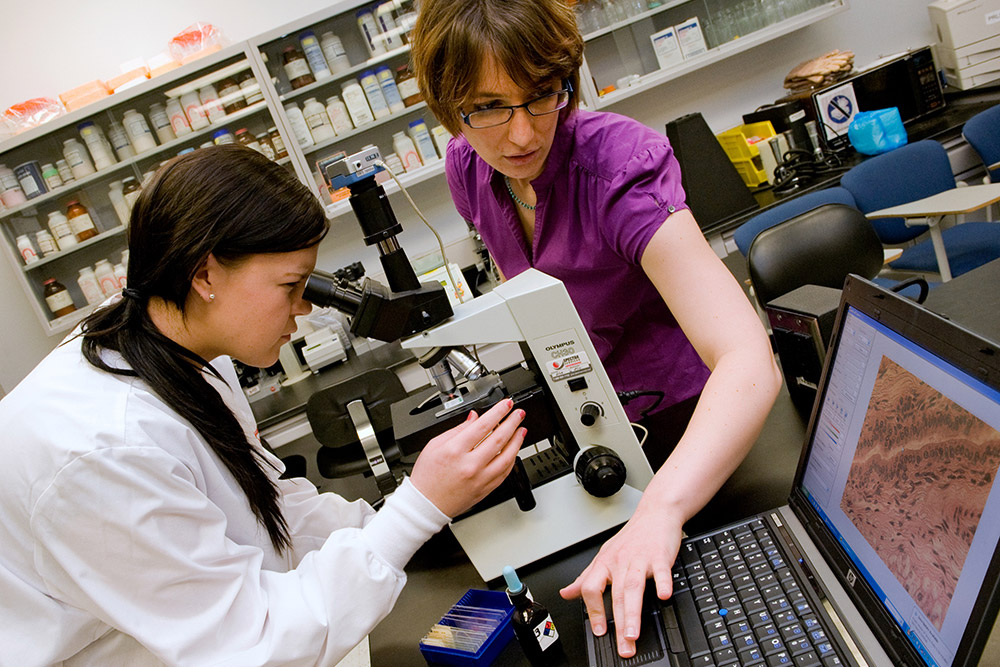 As a scientist and associate professor, Annemarie Ross is nothing but confident when it comes to teaching chemistry to students with differing abilities, or explaining the complexities of climate science to Deaf and hard-of-hearing individuals. But, as a female STEM faculty member, Ross isn't as comfortable when discussing salary.
To build understanding of faculty compensation systems and improve conversations around salary, Ross is among several faculty members sharing their experiences with a National Science Foundation-funded multidisciplinary research team from Rochester Institute of Technology, the American Association of University Women, and the NSF INCLUDES Aspire Alliance. The team's goal is to significantly expand knowledge of best practices for faculty compensation to a broader community in higher education and provide insights to guide compensation practices.  
"Let's Talk Money: Building Community Understanding of the Institutional Compensation System," a $1.3 million NSF ADVANCE Partnership grant, draws on experiences gained through an ongoing salary equity initiative implemented as part of RIT's Institutional Transformation project. This project built on salary studies from an earlier IT-Catalyst project, both funded by the NSF ADVANCE program.
Carol Marchetti, a professor in RIT's School of Mathematical Sciences and associate director of the Research Center for Teaching and Learning at RIT's National Technical Institute for the Deaf, led the salary equity activities on the past project and is the principal investigator on the newly awarded grant.
Grant co-PI Margaret Bailey, a professor in the mechanical engineering department, served as PI on the past two NSF ADVANCE funded projects. On the current effort, she will manage partner university relationships and the project's external advisory board. Both professors are proud that NSF has recognized the significance of their past institutional transformation work, especially in the important area of salary equity.  
"No one likes to talk about compensation, and possible inequity, in particular," Marchetti said. "Data doesn't provide all of the answers, but we can use the data as a stepping stone to begin the difficult conversations that people need to have. Our goal is to change the conversation around salary in higher education."
As lead institution on this new project, RIT will guide a cohort of partner institutions in a salary equity initiative with the goal of empowering stakeholders to effect systemic change within the faculty compensation system. The work of the grant will engage administrative units, including the provost office, human resources, and equal opportunity office, at partnering institutions in collaborative relationships to undertake salary equity studies. Goals include enhancing decision makers' understanding of and basis for pay decisions and their ability to communicate to individuals how their pay is determined, and increasing faculty knowledge of institutional pay practice while emphasizing the importance of inclusion and institutional values.
For female faculty members, like Ross, who are Deaf, the project means a lot and is important to the next generation of female scientists and professors.
"There are very few women I have met who are comfortable asking for raises and negotiating. In addition, interpreters communicating for those in the Deaf community may or may not relay negotiation conversations effectively when discussing salaries," said Ross. "There is a finesse when negotiating salaries, and sometimes it is hard to convey that finesse when your superior is not proficient in your primary language, such as American Sign Language."
The project involves workshops, coaching sessions, and organizational action plans for partner institutions Drexel University, Gallaudet University, and Villanova University. Input from women of color and deaf and hard-of-hearing women will be integrated into the design and assessment of project resources. Expected outcomes include implementation of compensation-related accountability measures, improved faculty understanding of pay practices, increased comprehension of equity among salary decision-makers, and infrastructure changes to support ongoing progress. And, finally, the reach of the project will expand to include additional universities and institutions through the partnerships with the American Association of University Women, NSF INCLUDES Hub, and the Aspire Alliance/APLU.
Other RIT faculty members engaged in the project include co-PI Iris Rivero, professor and head of the industrial and systems engineering department, who will lead the grant's dissemination efforts and co-lead the women of color advisory board along with dt ogilvie, a professor of management in Saunders College of Business. Ross, an associate professor in the Department of Science and Mathematics at NTID, will co-lead the grant's advisory board for Deaf and hard-of-hearing women faculty.
Other co-PIs on the grant include Jessica Bennett, director of STEM education at the Association of Public and Land-grant Universities and initiative co-lead with the Aspire Alliance, who will lead strategic dissemination of grant results, and Gloria Blackwell, executive vice president and chief program officer at the American Association of University Women, who will lead the incorporation of ideas and resources developed through the project into AAUW offerings.
"Not everyone has someone to go to bat for them when it comes to salary compensation and negotiations," added Marchetti. "But improving the culture around compensation is one way that we can make a difference for our students and colleagues."
Topics