Department of Industrial and Systems Engineering

Department of
Industrial and Systems Engineering
Contact
Academic Advising
Tabitha Vick
, Academic Advisor
Graduate Programs
Katie McConky
, Associate Professor
Department Operations
Kim Eldridge
, Senior Staff Specialist
Overview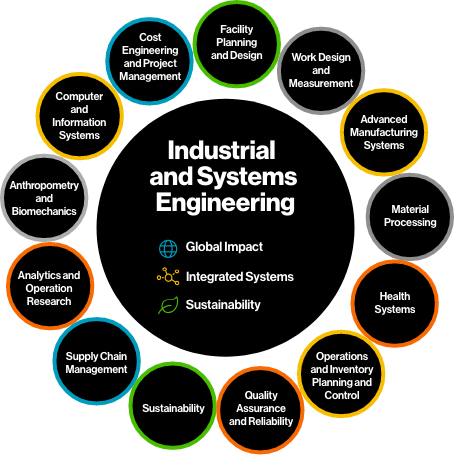 ‌
Is your interest in:
Working at an amusement park reducing wait times for rides?
Developing optimal distribution plans for vaccines?
Being part of a design project team to make a medical device?
Integrating systems for satellite tracking of shipments?
Exploring the impact of adding robots to a manufacturing line?
Designing sustainable products that use less energy or materials?
Discovering a new way to assemble a product that will prevent worker injury?
If you answered yes to any of the questions, then we invite you to learn more about Industrial and Systems Engineering at RIT.
Industrial and System Engineers focus on integrating information, machines, and people effectively, efficiently, and safely produce goods and services. RIT will help you gain the knowledge through course work, acquire skills practicing in our world class laboratories, and develop professionally through the cooperative experiences awaiting you. Our students have worked at organizations like Walt Disney Company, Tesla, Hershey Foods, Lockheed Martin, and have consulted in the healthcare or pharmaceutical industry. Many still work there post-graduation.
A world of opportunities to design processes and systems that improve quality and productivity awaits you!
Mission, Vision, and Values
Mission: The department will provide an education that integrates experiential learning and applied research, with a student-centered approach, resulting in graduates who make immediate and long-lasting contributions in manufacturing, service, government, and academia.
Vision: The department is globally recognized for graduates who are highly sought after due to their ability to solve problems and transform organizations. Our graduates, along with research performed by our students and faculty, positively impact the quality and competitiveness of manufacturing and logistics, the efficacy of health care, and the integration of sustainable practices into many settings.
Values: We impart important values to our students at all levels of their study, ensuring we graduate industrial engineers who are well rounded and prepared to make meaningful contributions to their field.
Student Centered: Our department makes decisions and behaves in a manner that demonstrates the primary importance of our students' needs and interests.
Community: Our department is a close-knit community characterized by respect for our differences, inclusion of a diverse set of ideas and people, and friendly collaboration among the faculty, staff, and students.
Teaching Excellence: We demonstrate continuous excellence and innovation in how we deliver classes to our students, and the support we provide our students outside of class.
Experiential Learning: We provide experiential learning throughout our undergraduate and graduate curricula via cooperative education, relevant projects, and practical experiences in our state-of-the-art labs.
Practical Research: Our innovative research makes an impact on the outside world, both directly through its application, and for our students via project opportunities and incorporation into our courses.
Innovation: Our teaching and research are characterized by new ideas and approaches, as well as a willingness to take risks.
Accreditation
The BS degree in industrial engineering is accredited by the Engineering Accreditation Commission of ABET, www.abet.org. For Enrollment and Graduation, Program Educational Objectives, and Student Outcomes, please visit the college's Accreditation page.
4
Undergraduate degree options in ergonomics and human factors, manufacturing, Lean Six Sigma, and supply chain management.
Latest News
May 7, 2021

Home grown leader builds a people-oriented industrial engineering career

Laura Discavage originally wanted to go to an out-of-state college, but RIT's engineering program intrigued her. She learned about RIT while growing up from her mom, Maria Burgio '87 (computer science). And after a conversation with a family friend about his work as an industrial engineer, she applied to RIT, and found the community she was seeking.

May 4, 2021

RIT alumni 'futurists' discuss blend of technology, art, and design at Imagine RIT symposium

The virtual Futurists Symposium featured a collection of RIT alumni tapped to present an insider's look into the future of industry as it relates to technology, art, and design. The symposium was held via Zoom during the May 1 Imagine RIT: Creativity and Innovation Festival.

April 28, 2021

Senior design program results in more than prototypes

Multidisciplinary Senior Design is a required, two semester, design-based course for engineering students. Currently, more than 400 students are working on 80-plus projects.
Degree Programs
Undergraduate Degrees
The industrial and systems engineering department offers an undergraduate degree in industrial engineering that stresses both technical engineering knowledge, business acumen, and communication skills. Graduates have used their degrees as a springboard to launch careers in engineering, management, consulting, manufacturing, sales, health care, law, and education.
Graduate Degrees
The industrial and systems engineering department offers graduate degrees that provide in-depth exploration of industrial and systems engineering and related fields such as manufacturing and sustainable engineering.
An engineering management master's degree that combines your engineering knowledge with business insights to successfully manage an engineering or technology focused company.
Learn More

about Engineering Management ME
An industrial engineering master's degree that offers an in depth look at the contemporary manufacturing process and its product development and logistics processes. A customized curriculum includes research opportunities that prepare you to lead integrated systems.
Learn More

about Industrial and Systems Engineering MS
A sustainable engineering degree that allows you to reduce a product's environmental effects at every stage of its lifecycle–from conception, development, and prototyping to commercialization, recycling, and disposal.
Learn More

about Sustainable Engineering MS
Minors and Immersions
The minor in engineering management integrates technological and managerial expertise while focusing on the management of these areas. Engineering management is concerned with understanding the technology involved in an engineering project and the management process through which the technology is applied.
Learn More

about Engineering Management Minor
A minor in industrial engineering focuses on the design, improvement, and installation of integrated systems of people, materials, equipment, and energy. Students utilize skills in statistics, ergonomics, operations research, and manufacturing.
Learn More

about Industrial Engineering Minor
This multidisciplinary minor is for students interested in exploring issues associated with developing and delivering sustainable product systems. Courses enhance the understanding of the three dimensions of sustainability (economic, ethical, and environmental), develop awareness of the need for more sustainable approaches to product development, and explore strategies for developing and delivering sustainable product systems.
Learn More

about Sustainable Product Development Minor
Student Resources
The industrial and systems engineering department offers a variety of resources for our students that range from academic support to handbooks and more. Visit our Student Resources for more information.