Inclusive Excellence cultivates diversity
Program focuses on biology, chemistry and physics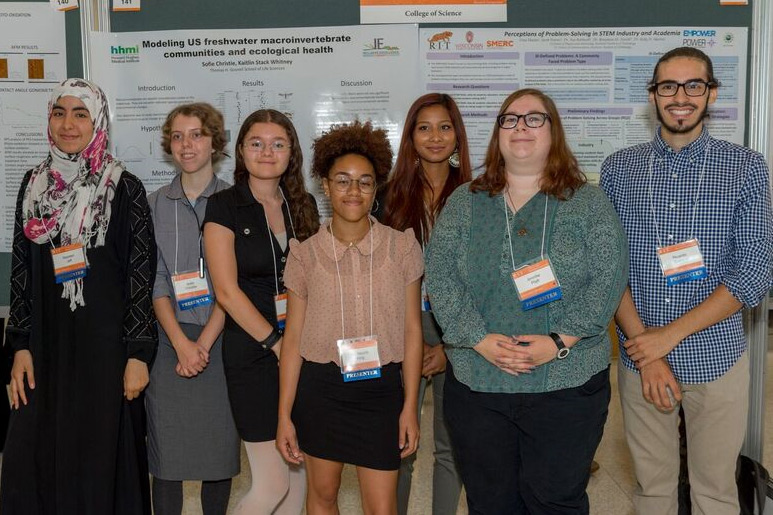 RIT's Inclusive Excellence initiative is working to create a deeper understanding of diversity in the College of Science and on the RIT campus. Awareness training and compassionate communication underlie the program's three practice areas—research/mentoring, classroom practice/teaching and informal community.
The first Inclusive Excellence research fellowship was held this summer and paired seven undergraduate students in the College of Science with research mentors.
The 10-week program was supported in part from a grant awarded to RIT in 2017 from the Howard Hughes Medical Institute through the Science Education Program. The Inclusive Excellence initiative is housed within CASTLE (Center for Advancing STEM Teaching, Learning & Evaluation) in RIT's College of Science.
Laurel Hunter, a third-year physics major from Hampton, Va., was in the initial cohort of research fellows. Her interest in biophysics made her a good match with George Thurston, professor of physics, who studies the molecular origins of disease. As part of Thurston's research group, Hunter learned to replicate eye-lens proteins that condense to form cataracts, the leading cause of blindness.
"It's been a good chance to get involved in my field doing research that I otherwise wouldn't have had a chance to do or even know about," Hunter said. "And it turns out I really like doing it, and I want to keep doing it. So it's been a great introduction to something that is important to me now."
The interdisciplinary nature of this project led Hunter to collaborate with Aaron Fadden, a graduate student in chemistry. Interacting with upper-level students is another layer of mentoring embedded within the Inclusive Excellence summer research program.
Hunter and Fadden successfully isolated a gamma crystallin protein found in the lens in a form suitable for study, using nuclear magnetic resonance and light scattering, Thurston said. Hunter will join his research group in the fall and hopes to continue making progress on eye-lens proteins. 
Hunter also contributed to Thurston's research on the vitreous humor, or the gel that fills the eye. They are using laser-light scattering techniques to study how vitreous molecules transition from gel to liquid phases, a characteristic of the aging vitreous. The project is part of a National Science Foundation study led by RIT biophysicist Moumita Das.
"Inclusiveness is something that makes the whole enterprise healthier by having a mix of goals and that ends up inspiring people who don't have the same viewpoints," Thurston said. "It's just healthy."
Thurston was paired with Hunter after completing a prerequisite mentorship training offered during the academic year.
The mentoring workshop series focuses on issues and challenges facing non-traditional students. Faculty wrestle with topics like bias, micro-aggression, conflict resolution and stereotypes threats—when students internalize perceived low-expectations from others based on their identity group. Anxiety from these hidden challenges can hinder student performance in class and labs, said Lea Vacca Michel, facilitator and lead of the research/mentoring strand, and associate professor in the School of Chemistry and Materials Science.
"Talking about race can get really uncomfortable," Michel said. "But if we are going to do a better job and be more inclusive, we have to learn how to talk about it because we want our students feeling comfortable coming to us with sensitive issues."
Workshop participants are encouraged to talk about their feelings of bias, vulnerability and privilege, and practice breaking conversational barriers.
"People are so afraid of saying the wrong thing," Michel said. "We want to be respectful but at the same time we can't be afraid of making mistakes."