RIT graduates seek careers in growing health care field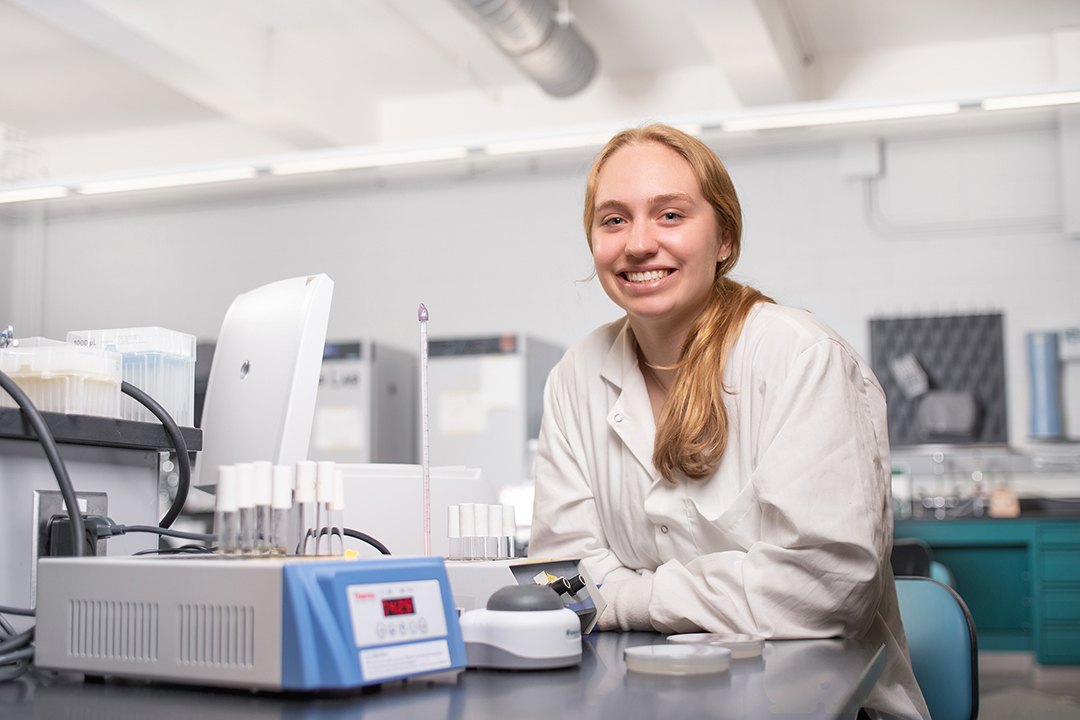 Elle Holland discovered her dream job as a genetic counselor while still in high school, and she came to RIT to become a scientist as the first step toward her career goal.
Holland will graduate with a BS degree in biotechnology and molecular bioscience from the College of Science and recognition as an Outstanding Undergraduate Scholar for her cancer-cell biology research with Gary Skuse, professor of informatics. The strong foundation in biology she gained at RIT will prepare Holland for the genetic counseling master's program she will begin this fall at Case Western Reserve University in Cleveland.
RIT graduates are finding careers in health care, said Yong "Tai" Wang, dean of the College of Health Sciences and Technology. "Health care is the single largest employer in the nation, and RIT graduates have new opportunities in the industry due to a local and national workforce shortage."
The situation is due, in part, to high retirement rates in the industry and the aging baby boomer generation requiring more care so that health care demands are increasing and evolving, Wang said.
The U.S. Bureau of Labor Statistics anticipates health care jobs will grow 13 percent by 2031 and that nearly 2 million new jobs will be added during the decade. The bureau projects the demand for genetic counselors to increase 18 percent and physician assistants to grow 28 percent.
Students graduating from RIT's accelerated physician assistant BS/MS program traditionally have a high placement rate and career options, Wang said.
Howie Revans Jr. will graduate with his physician assistant BS/MS degree after a busy year of gaining clinical work experience at Rochester General Hospital and other clinical sites in the region and taking exams on campus.
Students in their final year of the program rotate through 10 five-week clinical experiences. Revans resonated most with his rotations in orthopedics and in emergency medicine. He acted on opportunities to try different techniques during his clinical rotations and participated in knee and shoulder replacement surgeries with the orthopedic team. While on rotation in emergency medicine, he performed an advanced procedure, under a doctor's guidance, and inserted a catheter into a patient's neck to aid the delivery of certain kinds of medicines.
"Everyone feels uncertain about themselves going into their clinical rotations, but I quickly realized I had the tools that I needed to be successful, and I credit RIT for that," said Revans, who grew up in West Irondequoit, N.Y.
Revans has accepted a full-time position in emergency medicine at Unity Hospital. He will begin his career in the emergency department while preparing to sit for the Physician Assistant National Certification Exam.
In the interim, Revans is looking forward to the annual white coat ceremony on May 11 held by the physician assistant department. The tradition is a symbolic passing of knowledge that Revans and his cohort take seriously. During the ceremony, the student removes their short white coat, symbolizing the novice, and a senior clinician helps them don the full-length coat of a physician assistant.
The sequence of events is reminiscent of the promotion ceremony Revans participated in while serving in the Marine Corp following high school. "It's a similar symbolism of passing on tradition of knowledge, culture, and responsibility."
Like Revans, Holland said RIT has helped her develop as a scientist and as a biologist.
Holland took Medical Genetics and Case-based Genetics Counseling taught by alumna Jessica Salamone '99 (biotechnology), director of Genetic Counseling and Cancer Risk Assessment at Elizabeth Wende Breast Care, and a leader in the field. Genetic counseling classes are unusual at the undergraduate level and the experience, Holland said, reinforced her passion for the profession, and gave her another mentor.
"Genetic counseling perfectly blends my interest in analytical science and patient care," Holland said.
Holland also grew as a student-athlete on the RIT swimming and diving team. She ended her collegiate career on a high note with two lifetime best times during her last meet and as a member of the 200 free style relay team, which set a school record at the Liberty League Championships.
"My teammates helped me find my place here," Holland said.
Topics