RIT's Inclusive Excellence program engages rising sophomore students in research
Inclusive Excellence Summer Research Fellowship connects STEM students with faculty mentors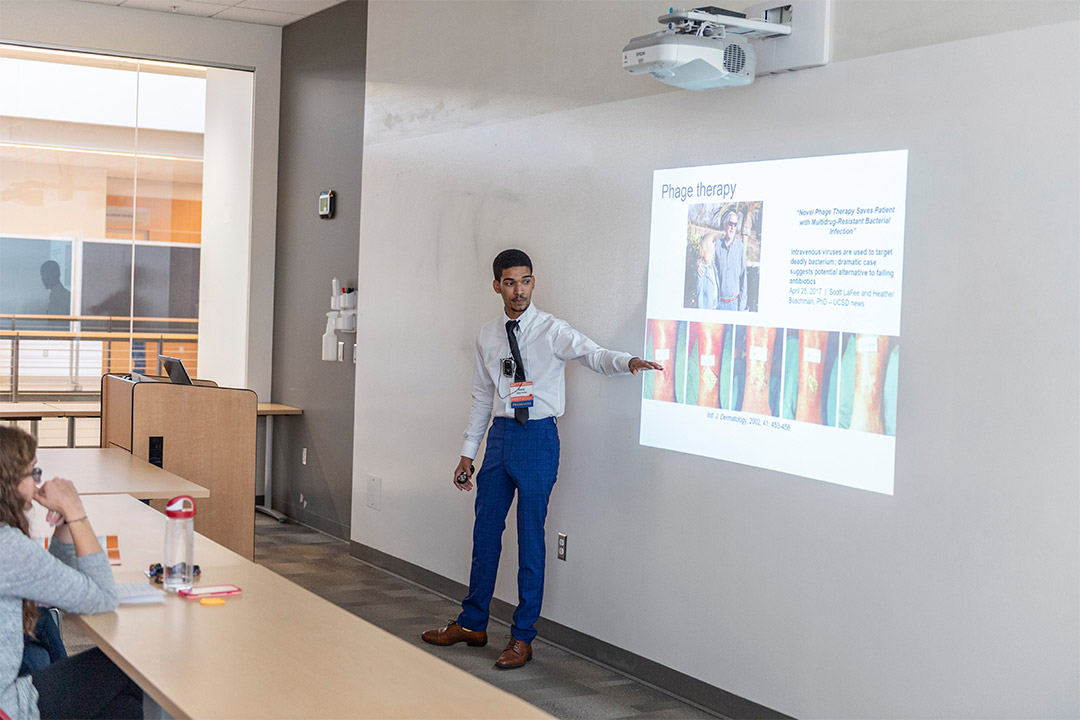 Rochester Institute of Technology is helping more students from nontraditional pathways get hands-on experience in scientific research early in their academic careers through a unique summer program focused on mentorship. RIT's Inclusive Excellence Summer Research Fellowship program paired nine students entering their second year at RIT with faculty mentors to perform research on topics ranging from organic photovoltaics to microplastics.
The program, led by Associate Professors Lea Michel and Dina Newman along with postdoctoral researcher Brittney Wyatt, aims to establish a culture where research attracts and includes all students. The faculty mentors met biweekly throughout the academic year to discuss issues including belonging, identity, communication and mentoring before teaming up with the students for their research projects. Michel said programs like this can help reduce the sense of isolation many underrepresented STEM students feel and keep them on track with their studies.
"I've been at RIT for about 10 years and I find that this type of experience can help the students who are on the edge and questioning, 'Do I really belong here?'" said Michel. "Getting them engaged in a research program helps them feel like they have this new sense of belonging. It gives them a chance to feel like they have a mentor that they can talk to and other students in the group they can relate to."
Randy Diaz, a biology student from Bronx, N.Y., is one of the students who participated in the program and worked with Assistant Professor Julie Thomas this summer researching phages, viruses that attack bacteria. He studied the DNA of phages that attack salmonella bacteria to examine how changes in their genetic material can impact their ability to target and interact with their bacterial host. The research has broad implications because there are increasing numbers of superbug bacteria resistant to the antibiotics previously used to treat them, and scientists are looking to phage therapy as a possible alternative treatment. Diaz and the other students in the program presented their findings at the Undergraduate Research Symposium.
Thomas noted that Diaz thrived in the research environment and that the experience helped him develop skills that will serve him well as he continues his studies.
"Randy's a fantastic microbiologist and he's developing his molecular biology skills and soon he'll have bioinformatics skills as well," said Thomas. "We do a lot of cross-disciplinary techniques in our lab. Even though he may not end up choosing to be a phage researcher, he'll have a lot of skills that are relevant going forward into his career."
Diaz said the experience helped him see new career paths and that he now ultimately wants to pursue a career in research.
"I used to think I wanted to be a clinical doctor, but I knew I didn't want to deal with patients. Once I started doing research, I knew this is what I want to do."
RIT's HHMI Inclusive Excellence initiative, made possible by a $1 million grant from the Howard Hughes Medical Institute, is a five-year plan set forth by College of Science faculty, staff and students. The goal is to foster a more inclusive environment across the college in research, classroom and community settings. For more information, visit http://InclusiveExcellence.rit.edu.