RIT undergraduates share cutting-edge research at annual summer symposium
Event is a testament to commitment to high-level student-centered research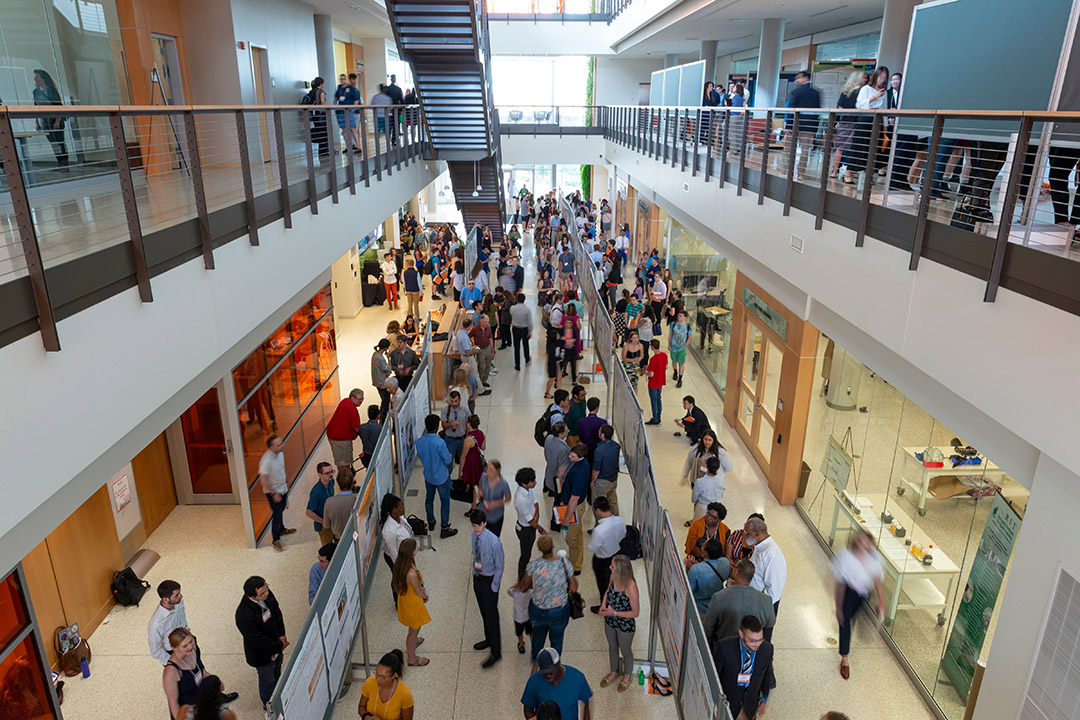 RIT student Filip Jander is thrilled by the opportunity to conduct his own research in machine-learning and is optimistic that one day his work will find its way to industry to help predict worker fatigue and prevent debilitating and costly injuries. His project, "Fatigue Analysis of Athletes," was among more than 250 student projects, representing all nine colleges, on display at the 28th annual Undergraduate Research Symposium on Aug. 1 at RIT. Research proposals were featured in a series of oral and poster presentations throughout the day. 
The event, which took place in Louise M. Slaughter Hall and Sustainability Institute Hall, is structured as a professional research conference. Research themes included everything from fundamental microbiology to the fine arts and included biomedical and life sciences; optics, photonics and imaging; energy and sustainability; business; chemistry, materials sciences and engineering; computer modeling, design and simulation; ecology; and social sciences and humanities.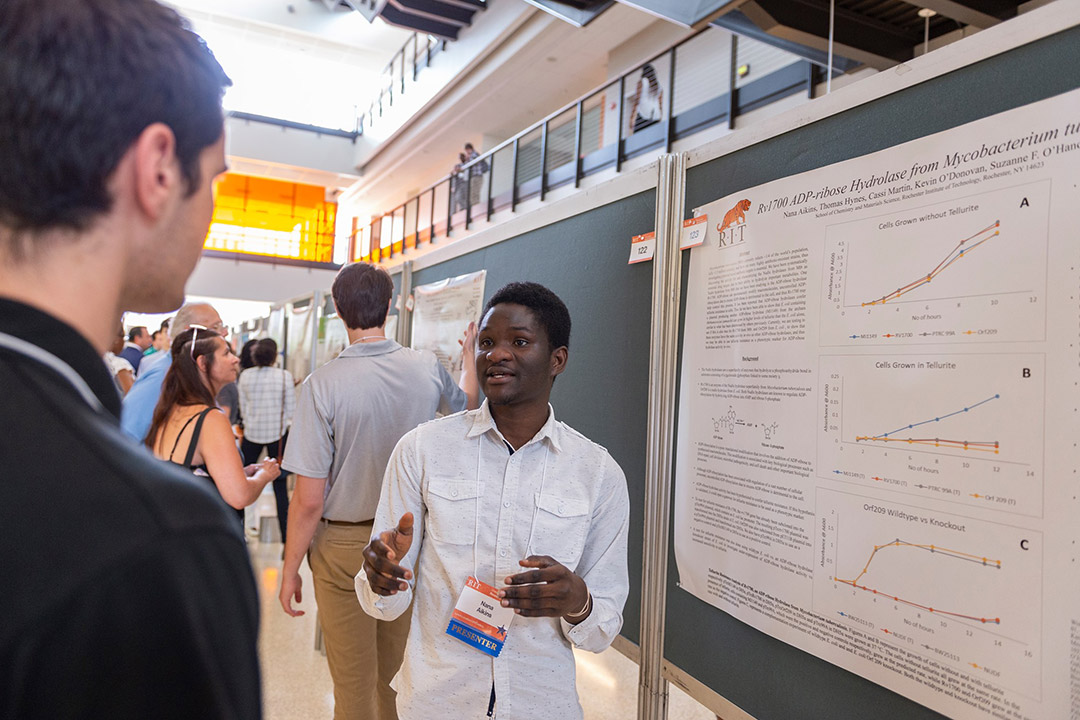 Grace Walker
Jason Nordhaus, an assistant professor of physics at the National Technical Institute for the Deaf and a program faculty member in RIT's astrophysical sciences and technology Ph.D. program, said this experience is very unique for undergraduate students and is often the students' first taste of what it's like to conduct intensive research. 
"All faculty members started off as undergraduates, and it's so important to have that first research experience working alongside a faculty member to kick off your career," he said. "From a faculty perspective, working with these undergraduates is very invigorating. They are focused on very concentrated work during the eight- to 10-week summer session. They bring with them so many different experiences and backgrounds and they're so eager to learn."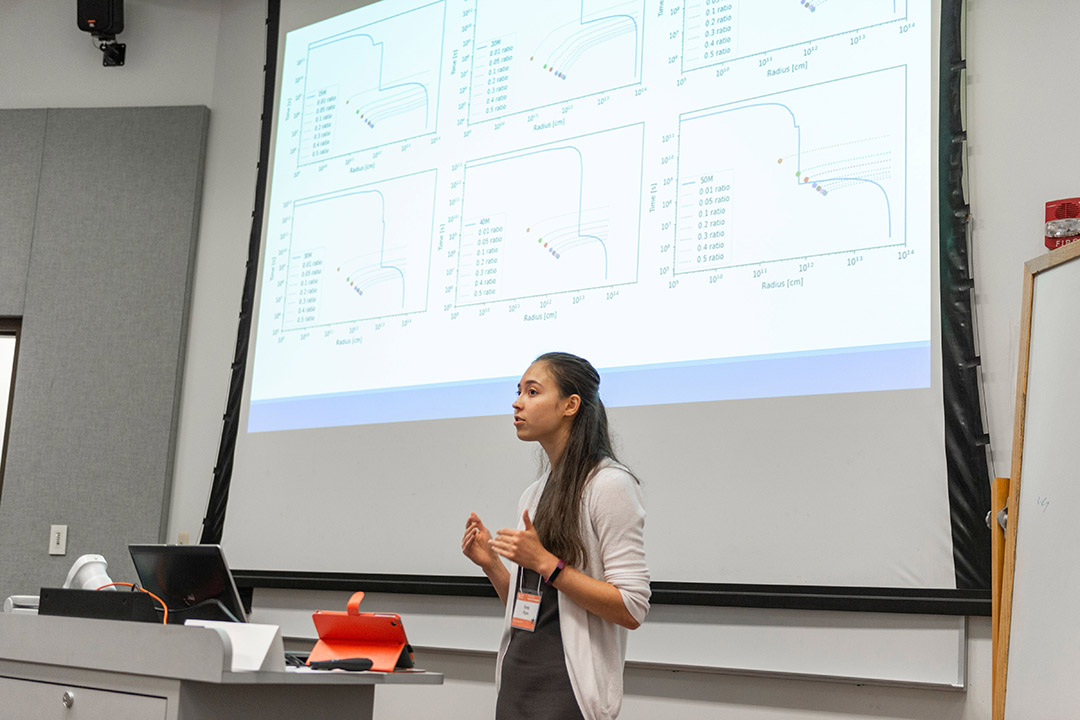 Grace Walker
Emily Flynn, an electrical engineering student from University of Virginia, studied at RIT as part of the Summer Research Experience for Undergraduates (REU) program at NTID. She showcased her work in astrophysics at the symposium, demonstrating her calculation models to simulate the life of a star.
"This experience sounded so cool, so I decided to go for it," she said. "I was able to work independently, which was nice, but able had the chance to work with a diverse group of students and see what excites them."
Among this year's presentations was research on evaluating molecular imaging agents for breast cancer, creating geo-games to enhance the capabilities of emergency operations centers during disasters, examining the role of invertebrates in the burial of microplastics in lake sediment, studying the impact of memes, and exploring the oral histories of the Rochester Public Market, among others.
Jander, a second-year mechanical engineering major from Ithaca, N.Y., used his algorithms to measure high and low fatigue in athletes with 78 percent accuracy. He said that this experience was helpful in starting his research career and he plans to publish a research paper based on his work. "My professors were always there to provide guidance or if I just needed to talk things through. But it was fun to be able to learn on my own, too."
Other student projects included:
Karly Zanghi, a fourth-year hospitality management student from Perry, N.Y., presented her qualitative approach to exploring consumer perceptions of Airbnb accommodations. Zanghi has experience working in hotels and wanted to learn more about other accommodation options. Not only did her survey produce useful results, the experience allowed her to consider the best method for achieving her goals, determine what questions to ask, and how to translate her results into practical applications. "Prior to this experience, I really wasn't exposed to conducting research. But I now see that I can use my research in the workplace to help companies solve problems. I didn't expect this, but I was inspired by this project and know that it will open doors for my career."
Kristina Chomiak graduated from RIT in May with her bachelor's degree in environmental science. Her presentation focused on the toxicological and ecological impacts of microplastics in freshwater sediment. Chomiak, who is from Rochester, plans to pursue a graduate degree. "Microplastics are a hot topic right now, and I'm hoping that my research will impact management and policy. This experience has been so meaningful and I learned something new every day. I was able to create my own protocols and assess how well they worked, eseentially bridging the gaps. This has been the best example of experiential learning."
Aquene Sausville, a 2019 RIT graduate of the College of Liberal Arts' psychology program, is researching the medicinal benefits of psychedelic drugs to help patients suffering from addiction, anxiety and post-traumatic stress disorder. "Conducting my own research has been an awesome experience," said Sausville, who is from West Fairlee, Vt. "I think I've found my passion in research."
The keynote speaker for the symposium was Jason Babcock '00 (imaging and photographic technology), '03 (color science), founder of Positive Science, creators of a head-mounted eye-tracking and behavioral analysis system. His company graduated from RIT's Venture Creations technology business incubator earlier this year.
The symposium is sponsored by RIT's Office of the Vice President for Research.
Topics