Graduate Student at the Intersection of Biology, Medicine, and Physics
April 13, 2023
Lucas Berens '21 (physics)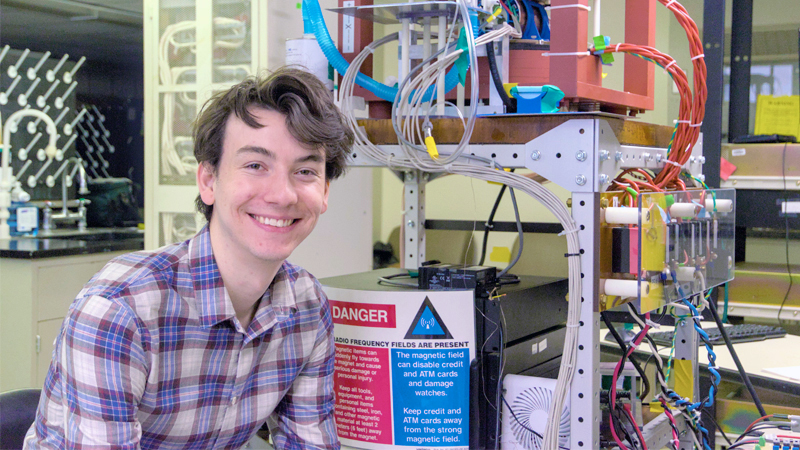 When Lucas Berens was in third grade, he wrote a report about Albert Einstein and fell in love with physics. In the years that followed, he immersed himself in math and science and knew he was meant to be a physicist. Today, he's attending the Medical Physics Ph.D. program at the University of Chicago where he's researching hypoxia imaging and exploring new ways to find hypoxic regions in cancerous tumors.
In preparation to become a physicist, Lucas spent his academic years enrolling in as many STEM courses as possible. When it was time to decide on college, he visited RIT. "The campus provided me with a unique culture, abundant resources, and research opportunities. It was the friendliness of the students and the approachability of the faculty that attracted me to the School of Physics and Astronomy. I wanted to be somewhere where I could surround myself with people who valued both research and undergraduate education, and RIT was the perfect place for me."
The accessibility of faculty allowed Lucas and his fellow students to learn about diverse topics, uncover research opportunities, and make lasting connections. "Without the support of the physics faculty at RIT, I would not have gained the experience and knowledge that I needed to enter graduate school."
During his first year, Lucas worked with Dr. George Thurston on aromatic amino acid biophysics research. "Dr. Thurston taught me the fundamentals of literature reviews, scientific computing, and laboratory techniques. Since the first day that I met him, he has been a fantastic mentor and a reliable source of wisdom."
His first-year research project was just the beginning. Lucas started exploring photonics with Dr. Edwin Hach who also introduced him to Dr. Stefan Preble's research group. Lucas was able to dive into photonics at RIT which subsequently helped him land photonics work at the Air Force Research Laboratory.
Lucas spent his final year and a half at RIT working with Dr. Aaron McGowan on neutrino physics for his senior thesis. "Dr. McGowan was a great advisor and encouraged me on what were sometimes difficult research paths. He was also instrumental in my decision for graduate school by offering advice and fielding my questions during the application process."
Lucas found inspiration not only from his faculty but also from his fellow physics students. "The faculty was exceptional, but my fellow students were an amazing source of support, too. We would often gather in the Physics Activity Center to collaborate on physics and unwind after class. We lost some of that cohesiveness during the pandemic, so I wanted to bring it back. I became involved in the RIT Chapter of the Society of Physics Students (SPS). Thanks to the efforts of the E-board members, we helped foster a deeper sense of community in the school. The society provided me with valuable communication skills, and the connections I made helped me reach out to graduate schools and other scientists." The RIT Chapter of SPS recently won a 2023 Outstanding Chapter Award from the flagship organization for their hard work and devotion to improving professional relationships between physics students.
Lucas left his mark on the RIT campus as an impactful leader of SPS and 2021 John Wiley Jones Outstanding Student Scholar. These days, Lucas is in his second-year as a Ph.D. student at the University of Chicago Graduate Program for Medical Physics. "During my four years at RIT, I knew I wanted to further my education through a Ph.D. program. I had considered many subfields of physics and explored a few through on-campus jobs and internships. But it wasn't until speaking with my internship mentor, Nicole Neveu, that I seriously considered the field of medical physics. The intersection of biology, medicine, and physics has always fascinated me."
As a graduate student, Lucas is researching hypoxia imaging. Hypoxia is the state of tissues which have a low oxygen concentration—a commonality in cancer. Radiation is used to treat many types of cancers and works in part by the reactive oxygen species (ROS) created by ionizing radiation. These ROS break apart and cause lesions to DNA, leading to cellular death. Without oxygen, ROS are less frequent and cause less overall damage to DNA. Knowing where hypoxia exists in a tumor is therefore important, and treating hypoxic regions with higher radiation leads to a better prognosis.
"I am exploring new ways to find hypoxic regions in tumors. This includes developing a technique that takes images from Positron Emission Tomography (PET) and Magnetic Resonance Imaging (MRI) scans to predict where hypoxia has developed, and a new type of imaging called Positronium Lifetime Imaging which uses electron-positron semi-stable bound states to detect oxygen molecules."
Lucas encourages students interested in graduate studies to consider medical physics as a career. "Medical physics differs from other subfields of physics since it offers the clinical route option in addition to a career in academia and/or industry. I encourage students to look into the field because it's small and relatively unknown. Also, the career prospects are excellent for the clinical route. Every hospital which has a radiation oncology facility and/or a radiology department will have a medical physicist. Many large hospitals will have quite a few. Medical physicists make sure the linear accelerators are operating to specification and ensure the imaging systems (CT, MRI, PET, etc) are taking high-quality pictures. They are also the radiation safety officers for the hospital. Of course, the academic and research side of the field is rich as well. Many research areas are moving at break-neck speed, and it makes me excited to think about future medical treatments and imaging techniques."
Lucas also suggests students explore the field online and reach out to local hospitals to ask about shadowing opportunities. "You can also reach out to students like myself. I would be happy to help answer questions!"
---