From RIT to BU: How Research Experience Paved the Way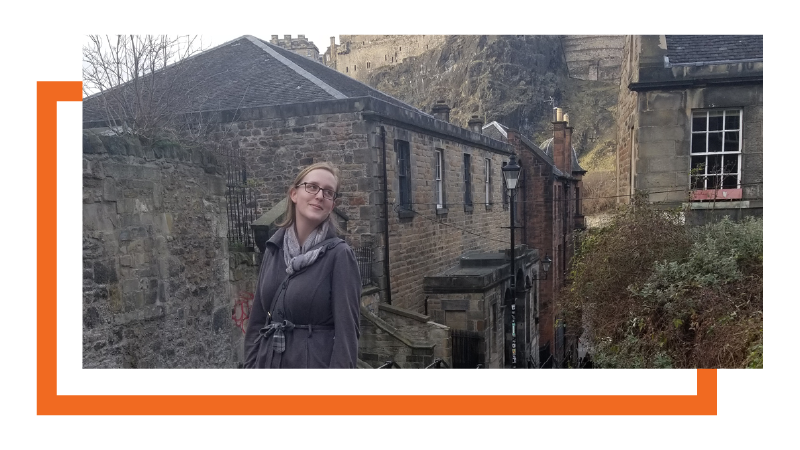 From day one, Stephanie Beach-Molony '15 was prepared for her transition into the Chemistry Ph.D. program at Boston University. She knew how to approach a project, tackle whatever data came from it, and complete multiple tasks on her own, thanks to her research experience at RIT.
"At RIT you have the facilities and support of a large school but the classroom of a small liberal arts school," said Beach-Molony. "With the smaller size of the chemistry program, I got to know my professors and had more individualized attention whenever I needed it."
Beach-Molony first met Dr. Hans Schmitthenner (Dr. Hans) in her general chemistry class and discovered she enjoyed his teaching style. Since he was easy to talk to, she asked him about his research. In his response, it was clear to her that he was passionate about his work in the Molecular Imaging Lab. "The passion for his research was extremely evident and it was hard not to get excited about it when you heard him talking," said Beach-Molony. The thought of being able to help further cancer research motivated her to ask to join his research lab.
While everyone in the lab was working on synthesizing targeted molecular imaging agents (TMIAs), Beach-Molony's goal was to see if they could simplify the synthesis of imaging agents. After proving their hypothesis was correct, and the synthetic method was an improvement on previously known methods, they were able to file a preliminary patent on the process by the summer before her senior year. Beach-Molony, Taylor Barrett '15, and Chelsea Weidman Burke '15 were involved in the patent process, including meeting with lawyers and assisting in writing parts of the documents.
"I think the concentration on the undergraduate research experience at RIT gave us all the opportunity to have greater intellectual input towards our work, leading to the patent," said Beach-Molony.
After RIT, Beach-Molony enrolled in the Chemistry Ph.D. program at Boston University (BU), with the Inorganic Chemistry subsection. She enjoyed collaborating with groups from various departments while working with established scientists both nationally and internationally.
When asked about her most memorable times at RIT, she replied, "Being able to patent my work and meeting lifelong friends and my husband." Today, Beach-Moloney works at Saint-Gobain Research North America as a Research Information Analyst.
---