From RIT to MD: Part of the Team that Saves Lives
March 29, 2021
Kyle Grimaldi '12 (chemistry)
Faculty: Lea Michel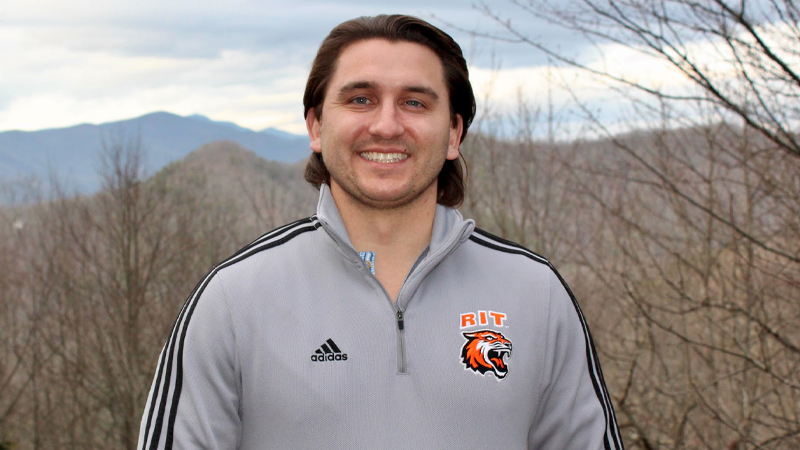 "I'm extremely happy with where my life has taken me, and I know my experiences at RIT played a large role in both the physician and the person I am today."
Kyle Grimaldi '12 was always interested in the sciences. He loved biology and chemistry in high school and went on to be a chemistry major at RIT. There he worked in The Michel Research Group with Dr. Lea Michel where he gained two years of valuable bench experience. Although some people like the tinkering of scientific experiments, generating a hypothesis and then testing it out and deciphering the results, Kyle realized he liked the human connection even more.
"I loved science but I realized I craved more human connection than bench work could provide."
Kyle's favorite part about being in the lab was the people and the interactions they had working together towards a common goal. It was similar to how he felt playing on the RIT soccer team and how he feels about team sports in general. He didn't identify his path in medicine, though, until his senior year at RIT.
Dr. Michel encouraged Kyle to take a job as a medical scribe in Rochester General Hospital's emergency department. There he was immersed in actual patient care and was able to see the life of a doctor. The experience left him with excellent relationships with the doctors and the realization that he wanted to be an emergency medicine physician.
At SUNY Buffalo's Jacobs School of Medicine, Kyle found that a solid background in general science was beneficial because the first two years of medical school focus heavily on this. Some of his classmates who didn't major in the sciences, like chemistry or biology, struggled early on with both the rigors of medical school education and the general science aspects. Kyle completed his residency training at The University of North Carolina, Chapel Hill, and now works as an Emergency Medicine Physician at Mid-Atlantic Emergency Medical Associates, a physician-owned group that staffs 4 Novant Health hospitals in the greater Charlotte area.
As an ED doctor, Kyle never knows exactly what he will encounter. He enjoys the immediate results from working in emergency medicine and being a "jack of all trades," where he has to know a lot about multiple aspects of medicine. His role is to both evaluate and treat patients as well as supervise the physician assistants and nurse practitioners on their team.
In addition to a foundation in the sciences, Kyle recommends flexibility and time management skills for those hoping to work in emergency medicine, given the fast-paced environment and the severity of illness. There is also a good portion of managing personalities because ED doctors see patients from all walks of life, often on their worst days, and need to relate to them in some fashion.
"Medicine is a journey, and medical school is just the first step."
Kyle reminds future ED doctors that medical school is a sacrifice - extremely rewarding - but also very taxing. Future ED doctors will be in school or training essentially throughout their 20s, while many of their peers and friends will be starting working careers and have much more free time. Be ok with that fact and recognize that the ends justify the means.
Today, Kyle is grateful for the mentorship from Dr. Lea Michel, the shift work that fits his lifestyle, and the ability to work in a field that truly makes a difference in the lives of others.
---