From RIT to Science Writer: An Unexpected Journey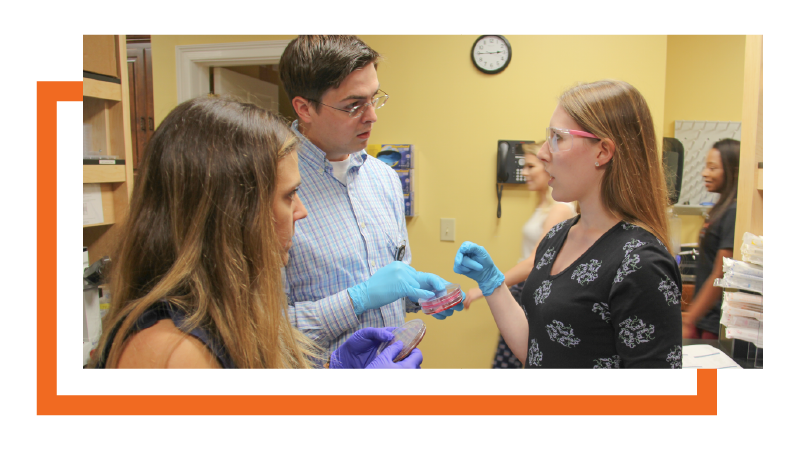 While meeting her future husband is her most memorable moment at RIT, Chelsea Weidman Burke (BS '15) also looks back fondly on the community, creativity, and inspiration she felt at her alma mater. Weidman Burke says RIT helped prepare her to explore science writing during graduate school at Boston College and a clinical study coordinator at Edward Via College of Osteopathic Medicine.
Originally interested in biochemistry research, Weidman Burke wanted to make molecules that had direct biological applications, and molecular imaging agents fit the bill perfectly. During her freshman year, she met Dr. Hans Schmitthenner (Dr. Hans) and said "yes" when he asked if she would be interested in doing research work in his Molecular Imaging Lab.
"Dr. Hans was a good balance of being hands on and available to answer any questions while allowing me to be an independent researcher and come up with my own solutions and conclusions," said Weidman Burke. During her time in the lab, she learned lab techniques for performing chemistry research, how to keep a lab notebook, troubleshoot instruments, and how to correct reactions that weren't going as planned. She also designed her own experiments and synthetic pathways to build molecules.
"I went in wanting to learn how to become a 'real' chemist and walked away with a solid understanding of chemistry research." - Chelsea Weidman Burke
Weidman Burke said the graduate courses she took for fun at RIT began preparing her to become a science writer, although she didn't realize it at the time. She learned to think critically about published research, summarize the findings, analyze how the results weaved into the big picture of what was happening in the field, and how they relate to the public. All the cornerstones of science writing.
She fell in love with science writing during graduate school at Boston College and has since written for BioSpace, Massive Science, and Harvard University's Science in the News. From there she continued onto her career as a science writer at Alzforum, an Alzheimer's disease research news and resource site for scientists.
Photo Credit: James Nichols, Edward Via College of Osteopathic Medicine - Carolinas Campus. Pictured: Chelsea and her husband, Kyle Burke (BS '15).
---