Academic Success Center: A place to boost grades, and confidence
Peer tutors give free help to RIT students in math, physics, even time-management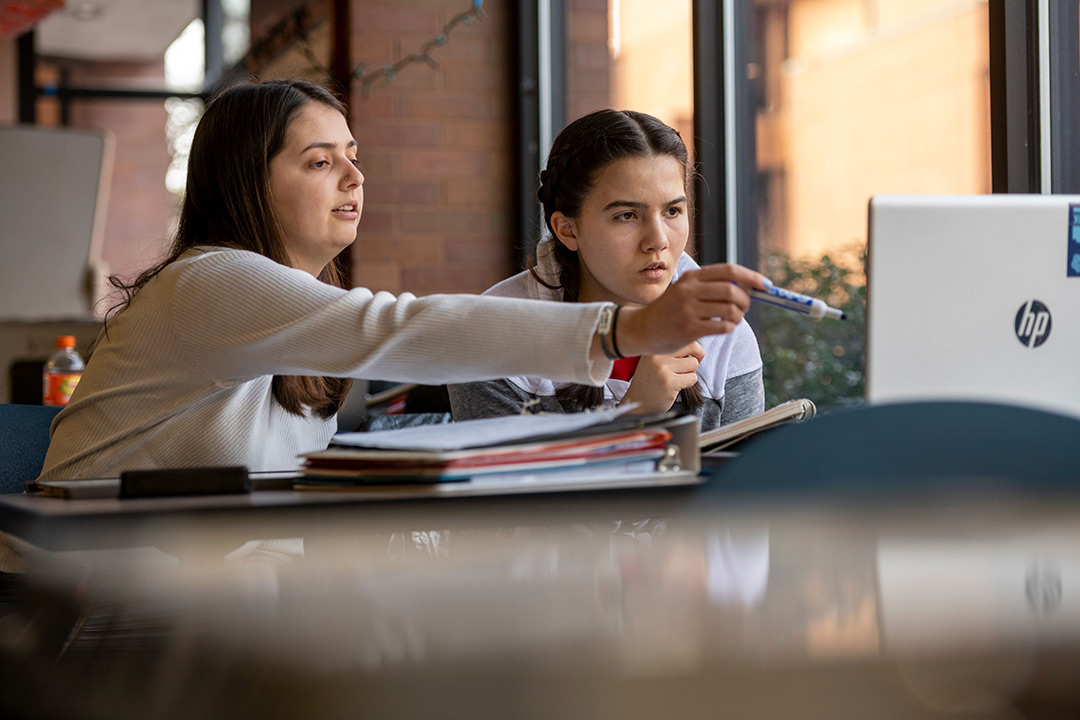 One of the first lessons students learn at college is that studying and completing their homework is probably a lot different than it was in high school.
Transitioning to college, with the loss of the social support from family, peers, and the school students knew for years, can mean the first years of college can be a struggle for many students.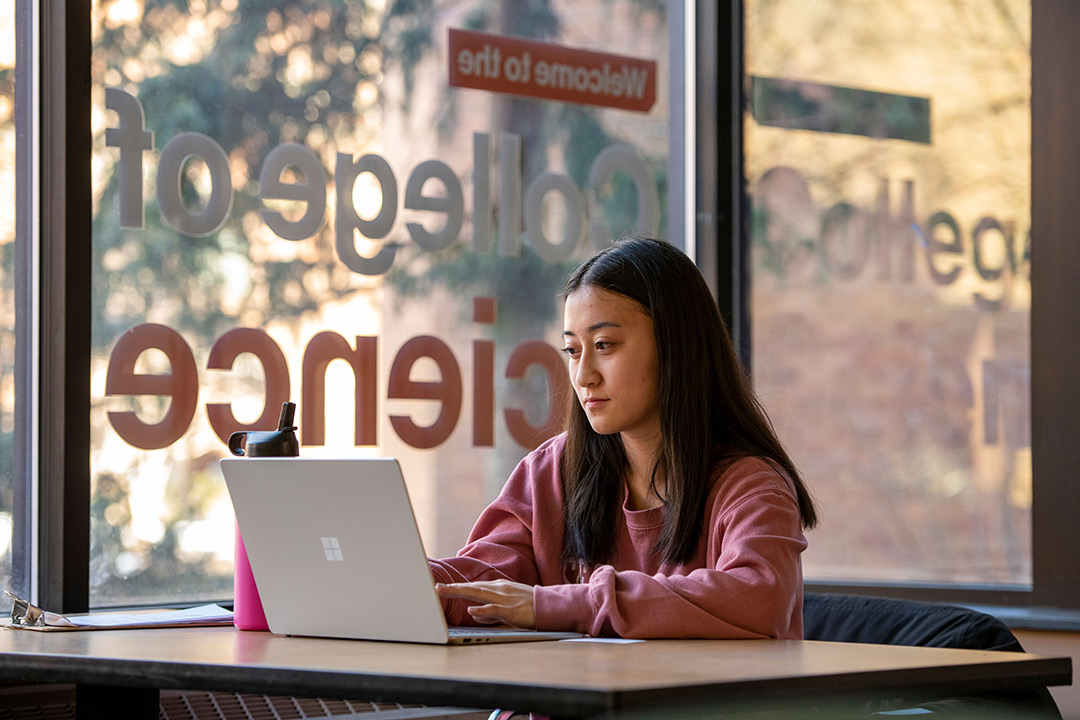 Elizabeth Lamark
That's why free walk-in study areas were created decades ago at Rochester Institute of Technology, where students can do their homework and be helped by trained student peers. More than tutoring, students can get coaching on time-management skills and sleep habits to help them through college, on the way to and becoming better lifelong learners.
"Students come to college from a network of support including family, peers, and teachers in their high school," said Cha Ron Sattler-Leblanc, senior director of RIT's Academic Success Center. "In college, students have to take that lead in their learning, and we're helping them to learn how to learn."
Math is a core competency for many RIT majors that has been more challenging for students coming out of remote learning from the pandemic. Students who struggle with concepts can complete a math assessment with the center, including a diagnostic test. The center offers critical math skill courses, customized with a list of topics specific to the student, to give them the knowledge they need.
"There is no homework, no quizzes, and no grades," said Justyna Oldziej, assistant director for the classes run by the center. She says the program is set up to help students benefit from small classes and individualized support. "I call them low-stakes, high-impact classes."
The center helps students build their learning chops from semester-long courses, to essential boot camp-like courses, workshops, and professional and peer coaching.
"Particularly after the pandemic, students are rebuilding skillsets that were disrupted by remote learning," Sattler-Leblanc said.
But the bulk of the center's work is one-on-one support in the study centers, which saw more than 4,500 student visits last year seeking coaching, or just a quiet place to get their work done. The center has two primary locations for students to visit. The largest is the Bates Study Center, in Gosnell Hall overlooking Infinity Quad, and is open five days a week, from 10 a.m. to 8 p.m. The other is the Study Room in Sol Heumann Hall, open 6 to 8 p.m. Sunday through Thursday.
The center offers a portfolio of services, many that depend on principles of peer learning. The center employs more than 80 student staff in peer and educator roles including academic coaches, tutors, and Supplemental Instruction leaders. As of January, all three programs have been certified by the College Reading and Learning Association.
"Our certification meant that we had to not only think about RIT students, but we had to meet an international standard of best practices," Sattler-Leblanc said.
Many of the students who work for the center sought guidance at the center themselves when they first came to RIT.
"They are some of our best staff. They realized what a good service it was," Sattler-Leblanc said.
Some students drop in for only a half hour, while others may stay for four or five hours. Last week, four students in RIT's Space Exploration Club used the space to meet and discuss an upcoming project.
Other than their laptops, students are free to bring in meals, drinks, or whatever makes them more comfortable doing their homework.
The tutors sit on tall chairs against the wall, looking for students raising their hands for help. Sometimes the students will also say what they need help with, such as differential equations, double integration, or multi variables.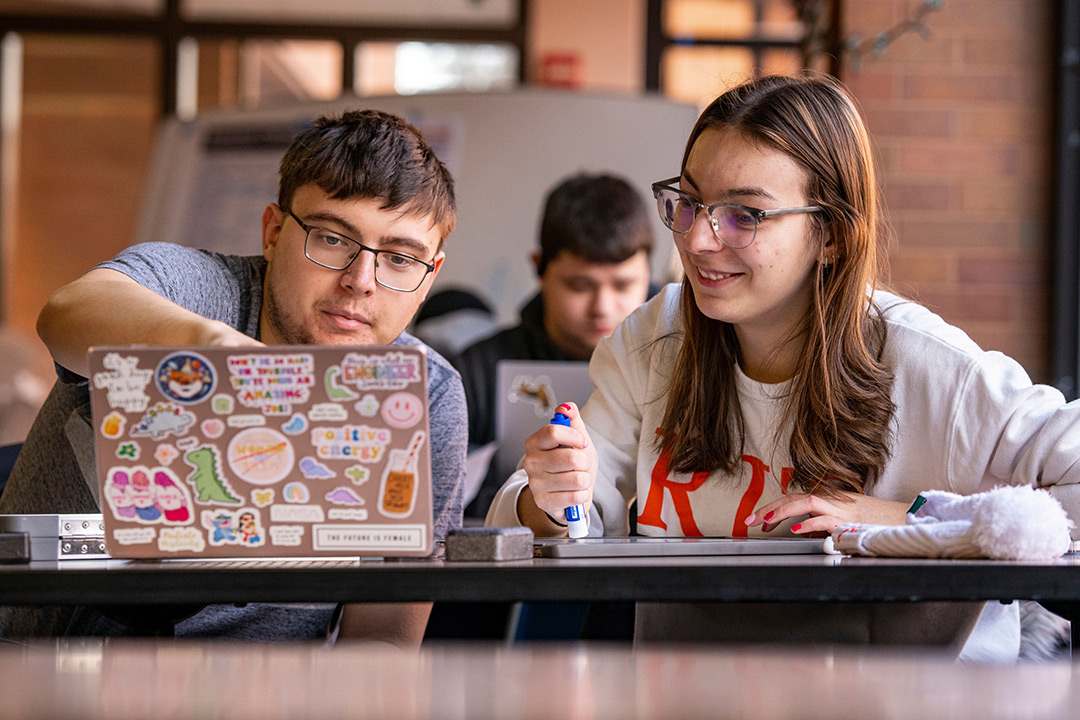 Elizabeth Lamark
The tutors sit next to the students and soon begin drawing formulas or graphs on portable whiteboards.
Alexis Smith, a first-year mechanical engineering major from Webster, N.Y., raised her hand to get help on her calculus homework. Tutor Jared Hugo, a third-year computational mathematics major from Waverly, N.Y., came over and sat next to her.
After several minutes, one problem was solved.
"Oooh," Smith replied, smiling and touching her index finger on her temple. "That's the equation you just taught me. Math is making sense now."
After walking through several more homework problems, Hugo asked Smith, "Does it make any more sense now?"
"It does," Smith replied.
"Most of this is formula memorization," Hugo said. "I'm not sure if your professor is going to give them to you on a test."
Smith said the material she had help with was covered in class that day, but Hugo "basically retaught it to me."
She said the center was recommended by her academic advisor during the first few weeks of her first semester. "I've been coming here ever since."
Smith, who comes to the center "a lot," said she especially appreciates the space on weekends when she does a lot of homework.
"I like it because it's a quiet place to go," she said. "This is a really good resource for me."
Hannah Martinez, a first-year mechanical engineering major from Spencer, N.Y., says she comes to the Academic Success Center almost daily. She can't always attend office hours her professors have.
"I do need some help, and I do think it is helping me," she said. "But sometimes I just come here to do homework. It's a good place to do it."
Natalie Labbe, a fourth-year chemistry major from Akron, Ohio, has worked as a tutor in the center for two years.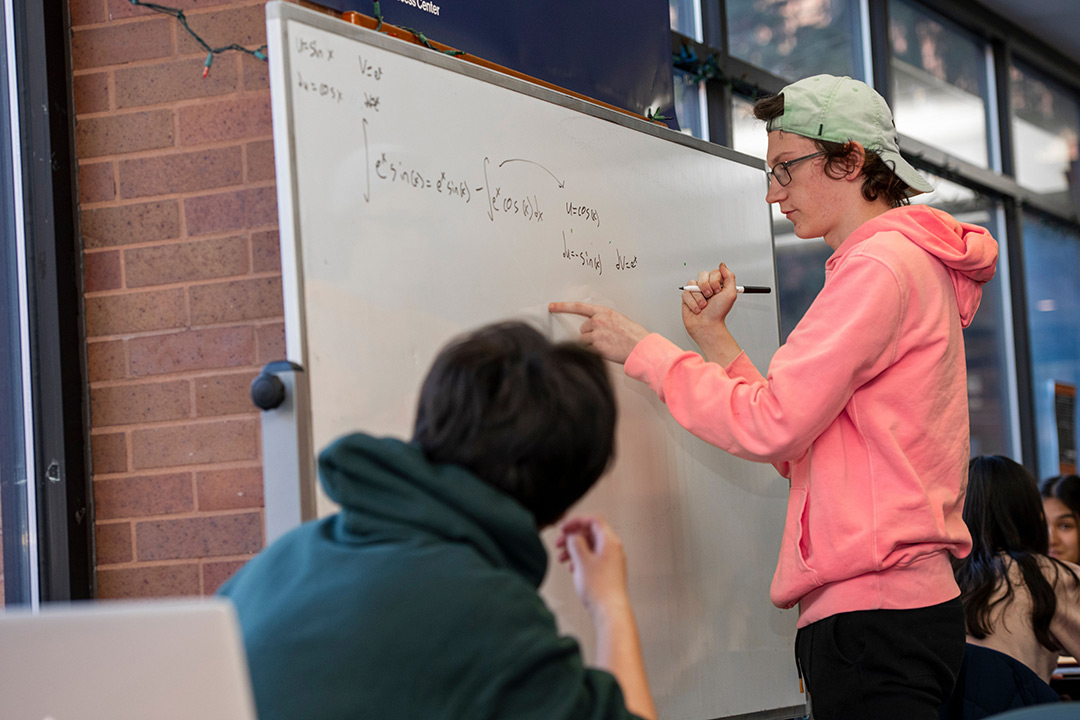 Elizabeth Lamark
"I like helping people," she said. "It's so nice to have students who didn't understand something their professor taught them, and I explain it another way and they understand it."
Ethan Silver-Kiskin, a second-year mechanical engineering major from Berea, Ohio, started working at the center last year as a tutor.
"I really like math in high school," he said. "I was helping friends then, nothing official though, but it seemed fun and I like the aspect of helping people."
And the fact the subject matter interests him is a bonus.
"I couldn't do a job where I didn't have to think, or had to do the same thing over and over," he said.
Although the study centers specialize in math and science, academic coaches are available to meet with students who need help managing their workload, time management, and developing their study skills.
The Academic Success Center is one of many services on campus that work to support student success. RIT's National Technical Institute for the Deaf has a learning center to support its students, and the Writing Commons provides support for students who need help writing papers. The center also partners and refers students to RIT's Counseling and Psychological Services as needed.
Topics