Clubs promise to be as active and diverse as ever
Fewer pandemic restrictions mean closer gatherings and travel now possible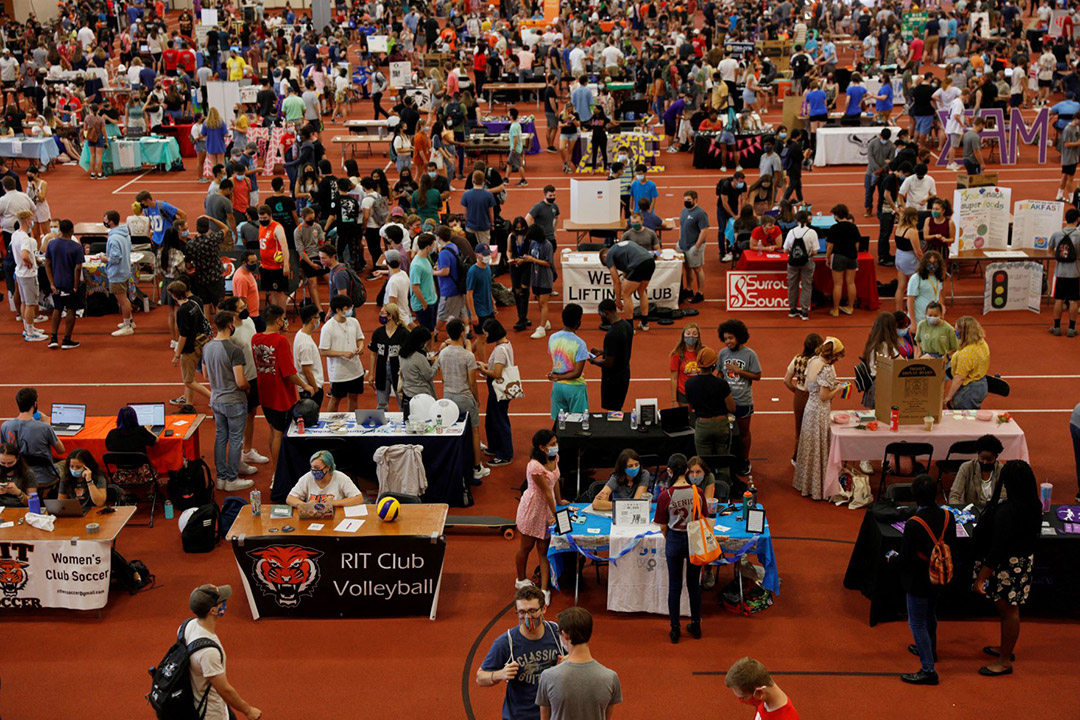 The thousands of students who belong to the more than 300 clubs and organizations at Rochester Institute of Technology face fewer restrictions this semester when gathering to play a sport, sing, dance, do community service work, or discuss common topics of interest.
Many clubs last year continued to function — some more successfully than others — despite limitations due to COVID-19 protocols in place. This semester, student clubs and organizations are able to gather in person, meet, and hold events, both on and off campus.
The main limitations now — and this could change as protocols change — are that masks must be worn for any indoor activity and are still required indoor and outdoor for singing groups and people playing musical instruments that produce droplets.
Last year, there were restrictions on travel farther than 25 miles. Further distances are now permitted. In addition, dance groups may now dance with physical contact with a partner.
Di'Monique George, associate director for student engagement in the Center for Campus Life, said the past year was a learning experience, but most clubs found ways to pivot to keep members as engaged as possible.
"Our clubs do benefit more from in-person experiences, and last year, they definitely were able to be more strategic about their operations," she said. "They still found a way to meet to host activities the best they could. We were really proud how they were able to shift gears and make it work."
On Saturday, representatives from more than 230 of RIT's student clubs and organizations attended the Tiger Activities Fair in the Gordon Field House, where nearly 3,500 students saw what is offered and learned how they can get involved.
More than 100 students signed up in the first hour to learn more about the RIT Skydiving Club. Students said they are more comfortable dropping in on practice sessions hosted by the RIT Jam Club. And interest in the RIT Beekeepers Club is buzzing, now that it oversees its second set of hives, in downtown Rochester, as well as their original hives near RIT's tennis courts. The RIT Sailing Club, Rocky Horror, and RIT Drag clubs also attracted a number of interested students.
Even during pandemic restrictions, 15 new clubs started last year at RIT, including Pre-Law Society at RIT for students interested in the legal profession; RIT Voices, which organized a Black Lives Matter rally on campus; Her Campus at RIT, an online magazine format for students; and Alpha Kappa Delta Phi International, a sorority focusing on service, Asian awareness, and women empowerment. The sorority, the 32nd Greek organization at RIT, is the first to be added in years.
Zindagi dance group, combining Bollywood and hip hop culture, is another new club. Its president, Shobhit Dhamania, a fourth-year game design and development major from India, said many other colleges have a similar dance troupe.
"RIT has a big Indian population," he said. "When I leave this college, I want to be able to look back and see this continue for students for many years."
At the fair, the men's (Spuds) and women's (Yams) Ultimate Frisbee teams helped recruit interested students by hosting a jumping competition to see how high students could go to reach a target. Some students managed to soar past 11 feet.
"We're ready for a great year with a competitive season," said Elspeth Dorr, a fourth-year mechanical engineering major from Hyattsville, Md., and president of the Yams. "We know the pandemic took away that first-year experience for a lot of the students last year."
Brooke Cary, a third-year electrical engineering major from Lincoln, R.I., is vice president of the Hooks & Needles Club, whose 20 members typically gather each week to knit, crochet, talk about projects, and socialize.
"Last year, we didn't have our weekly meetings," she said. "This year, we're going to be able to meet in person. We're booking larger rooms so we can all be safe."
The 300 members of the Outing Club are taking advantage of the fewer restrictions this year by planning trips to the Allegheny Forest in Pennsylvania and to the Adirondacks.
"We like to snowshoe, go canoeing, backpacking, hiking, and camping," said Greg Paiement, a third-year computer science major from Fairport, N.Y., and a vice president of the club. "Last year, we couldn't do as much because we had to stay in a 25-mile radius. We're looking forward to a better year this year."
Clubs involving close physical proximity, such as the Judo Club, say fewer restrictions this year will help them keep active and recruit new members.
"Our club was impacted a lot," said Daniel Mojica, a graduate student from Lockport, N.Y., and secretary of the club, about last year's limitations. "When close contact was restricted, we couldn't do the techniques we wanted to teach people. It requires partners to throw or grapple with. So in order to keep activities running, we had to focus more on non-related exercises."
Members of the RIT Chess Club last year had to cancel some of their in-person meetings, however they did not let that stop them. They expanded their club with an online Chess platform and Discord server, allowing members to stay connected and challenge each other from the safety of their homes.
"We really learned how well the chess team can operate online despite the COVID-19 restrictions," said club Vice President Vlad Zaltsman, a fourth-year civil engineering technology major from Brooklyn, N.Y. "We continued growing our online presence and are proud to announce that we will be starting a competitive E-Sports Chess Team in collaboration with the RIT E-Sports Club."
William Tom, a third-year computer engineering Honors student from New York City, is president of the League of RIT, a club of RIT students and alumni interested in League of Legends and Valorant video games. Last year, the clubs held a few in-person events, but members also stayed connected online.
"The pandemic caused a lot of people to play more video games," he said. So much so, Tom said League of RIT was one of the most active clubs last year, with weekly meetings.
Already, Tom said one of their first meetings this semester for new students had 111 people show up, about three times the number of students who show up to in-person meetings previously. He said more than 700 students already this year are members. Several tournaments will also be held for RIT students and alumni.
"This semester, we're hoping to have more interaction in person," he said. "It's nice to be able to put a face to a name by meeting in person."
Another new club took advantage of COVID-19 to get its name: The Pandemic Step Team, complete with a logo resembling bio-hazard lettering.
"It was really a coincidence how we got the name," said Club President Amyria Kimble, a second-year chemistry major from Horn Lake, Miss. "We were coming up with ideas and wanted a name that sounds epic and explosive. Someone said, 'pandemic' and that was it."
Kimble helped start the club last semester because she enjoyed stepping in high school, and RIT didn't have a step team. Last year, about eight students were on the team. Although there were no competitions with other schools, they practiced fundamentals and performed at RIT's Black Lives Matter event.
This year, more than 40 students have already expressed interest in the club, and competitions are expected.
"We're really looking forward to all of the events we have planned throughout the year," Kimble said.
George said RIT encourages students to join clubs because they offer an out-of-classroom experience to help them learn a lot of skillsets, including budget management, event management, and conflict resolution skills.
"These are all experiences our students will be able to use in their future careers," she said. "Clubs really offer that sense of belonging for a lot of our students. We can't wait to see all the great things they'll do this year."
If students have an interest not represented by a current club at RIT, they are free to apply to start a new club by contacting clubs@rit.edu.
Topics