Climate Commitment
Striving for neutrality by 2030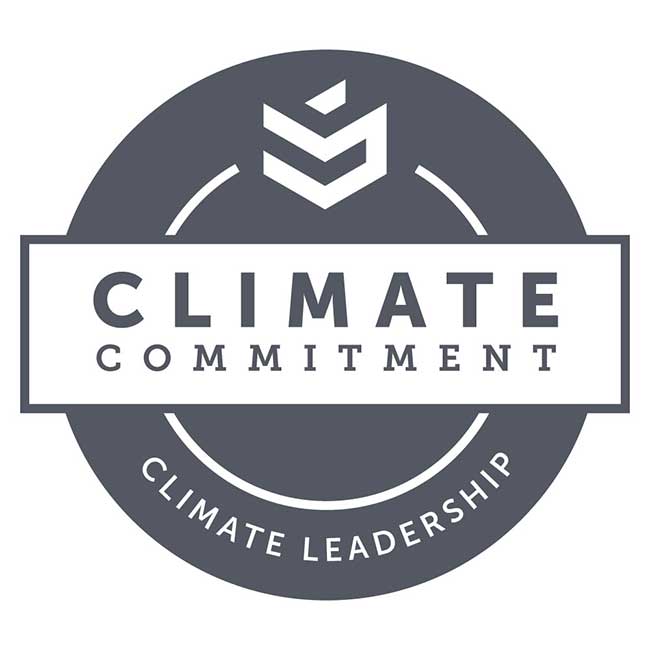 On April 22, 2009, RIT became a signatory of the American College and University Presidents Climate Commitment (now called the Climate Commitment). RIT began inventorying its greenhouse gas emissions and released its first Climate Action Plan (CAP) in 2011, establishing 2030 as its target date for carbon neutrality.
Since that time, several new buildings have been constructed, the university has increased its renewable energy generation—including the installation of two 2MW solar arrays—and an international climate agreement has been reached. RIT has also expanded its Climate Commitment to include resiliency and adaptation planning.
This 2017 Climate Action Plan update outlines a roadmap for RIT to achieve carbon neutrality and climate resilience. Faculty, staff, students, and community members were engaged in the 2016-2017 planning process to determine goals, strategies, and actions within the CAP. The plan was then made available for public comment to ensure that the plan was as inclusive as possible.
The updated plan identifies the following goals:
Build adaptive capacity and reduce vulnerability to Climate Change
Reduce dependence on, and increase diversity of, external suppliers for critical resources
Reduce RIT's purchased energy use by 15% by 2020, 25% by 2025, and 40% by 2030
No net increase in carbon dioxide emissions from new buildings by 2020
Fossil Fuel Free by 2045
Improve reliability and accuracy of data for GHG calculations by 2018
Net increase in carbon sequestration on campus landscapes by 40% by 2030
Reduce emissions associated with commuting by 40% by 2020, 45% by 2025, and 60% by 2030
Progress
2009 was established as the baseline year for RIT's greenhouse gas inventory. That year, RIT emitted 77,614 metric tons of carbon dioxide equivalent (MT CO2e). The inventory includes greenhouse gas emissions from on-campus stationary, fleet vehicles, refrigerants and chemicals, agricultural sources (fertilizer), purchased electricity, faculty/staff and student commuting, and directly financed outsourced travel. By 2016, RIT's emissions declined to 53,762 MT CO2e.