Featured Events
April is Earth Month!
RIT joins the world in celebrating Earth Month every April. You might be familiar with Earth Day, celebrated annually on April 22nd, Earth Month is a part of the global movement to demonstrate support for environmental sustainability for a 30-day period. Join us in recognizing Earth Month 2022 in a variety of ways.
Recurring Earth Month 2022 Events:
Featured Events:
Gray Matter: is Climate Change Racist? April 1 | 12 - 1 p.m. Kick-off Earth Month with a discussion on the intersectionality of racism and the climate action movement! Gray Matter is an open, facilitated, monthly dialogue on a new topic each session. We practice supporting free speech and "controversy with civility" in a safe environment. Join us for this free and virtual event. Register at https://cglink.me/2d1/r1552647 

Gracie's Forest Restoration April 2 | 11 a.m. - 3 p.m. RIT Sustainability is partnering with Fraternity & Sorority Life (FSL) and Facilities Management Services (FMS) to restore and maintain the Gracie's forest trail for the RIT community to enjoy. Join us and help clear paths, marking trails for a new map system, and remove trash from the trails. Register at https://cglink.me/2d1/r1569049 

Spring, Succulents, And Spirit April 8 | 1:30 - 3:30 p.m. Join Spirituality and Religious Life (SRL) as we welcome Spring and celebrate its renewal of our bodies, minds, and souls! Come and decorate a potted plant that you can take back to your room for ongoing rejuvenation; take part in some fun raffles; and just enjoy each other's company. The first 100 registrants will be guaranteed a plant and pot to decorate and/or take with them! Register at https://cglink.me/2d1/r1565304 

Lights Out! April 10 | 7 - 9 p.m. Join RIT Student Government in learning about ways to reduce RIT's energy footprint! Students are encouraged to turn their lights out for the duration of this event, and partake in sustainability-themed activities on the Greek Lawn.

Trash Talk April 14 | 11:30 a.m. - 12:30 p.m. There is so much confusion about what to recycle on and off campus. We want to take some of the confusion away by discussing recycling in general, what we recycle on campus, where recycling stations are located, and how recycling affects our planet. This event will be held over zoom. Registration Link.

Earth Day Yoga! April 22 | 12:30 - 1:30 p.m. Join Better Me Wellness and GCCIS outside for Earth Day Yoga. Please bring a reusable water bottle and mat. The event will begin at 12:30pm with the first 15 minutes for sign in, and finding a location on the lawn. Please use the Eventbrite to make check in go faster. You can still attend the event and sign up the day of. In case of inclement weather the event will be moved indoors to SLA 2230,2220, 2210. Please consult with your physician before participating in any exercise activity. If you have any questions please email Lyndsay Herkimer at lmhigm@rit.edu.

Banff Centre Mountain Film Festival World Tour at RIT April 18 - 20 | Doors open at 6 p.m., Showtime: 6:30 p.m. Get off the beaten path and explore the edge of believable with captivating stories from the 46th Banff Centre Mountain Film and Book Festival. Stand on the highest peaks, ski the steepest slopes, and be a part of the gripping adventures waiting for you in this year's Banff Centre Mountain Film Festival World Tour. From exploring remote landscapes to adrenaline-fueled action sports, films selected for the 2021/2022 World Tour are sure to captivate and amaze you. Be moved. Be inspired. Don't miss out! Tickets available at www.rittickets.com 

Goodbye, Goodbuy! Move-Out Collection Program April 29 - May 8 Every year, RIT students throw out over 100 tons of goods during move-out. The following fall, incoming students purchase the same items. The cycle continues, and usable items sit in landfills. Goodbye, Goodbuy! Helps change this cycle, and reduce waste! Students donate their unwanted items as they move out. Collection points are located in dorm lounges and near dumpsters at RIT apartments. Items collected are appropriately sorted to be donated to local non-profit organizations or to be stored over the summer for the fall sale. Sign up to volunteer at https://cglink.me/2d1/r1485741 
Earth Day Community Events:
Every year on April 22, Earth Day is celebrated to commemorate the birth of the modern environmental movement in 1970. Support your neighborhood's environmental efforts by attending a local event on April 22nd:
Climate Solutions Summit in Rochester, NY April 22 - 24  This inspiring weekend will offer individuals, organizations, and their leaders opportunities to hear from climate solutions leaders through a keynote presentation and panel discussion; plug into the regional climate action strategy developed by the Genesee-Finger Lakes Climate Collective; build skills in climate action, advocacy, organizing and leadership; take tangible, impactful action to advance climate solutions in our region and state; join field trips to experience pioneering people, programs, and practices across our region; network, connect, and cross-pollinate with climate-concerned neighbors from around the region. Contact neha.sood@rit.edu to learn about free registration options, sponsored by RIT.

Town of Pittsford Earth Day Celebration April 22 | 1 - 3 p.m. Looking for something fun and exciting to do for Earth Day? Join the Town of Pittsford Recreation Department for a free event to help celebrate Earth Day! Stop by between 1pm and 4pm to plant seeds, enjoy our Story Walk, and more!
Check out @RITSustainability on Facebook Instagram for additional events, tips, and engagement opportunities. If you are hosting an event that you would like us to add to this list, please email sustainability@rit.edu.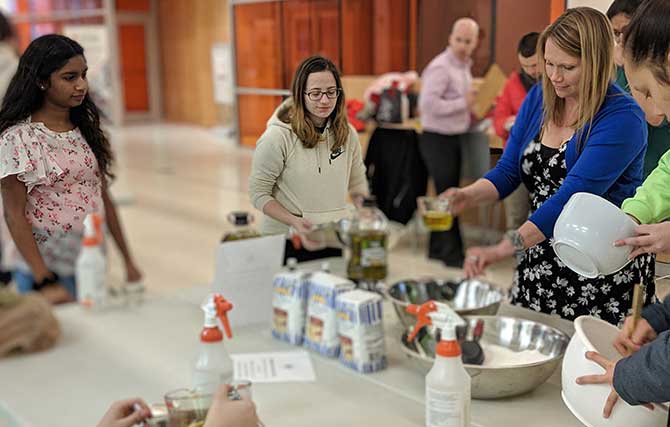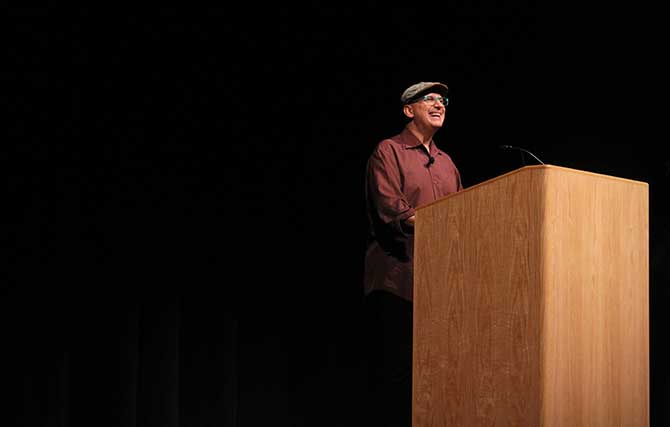 Climate Speaker Series
Every spring RIT hosts a Climate Change speaker who covers various aspects of climate change from the science behind it to environmental justice issues that are resulting from it. Previous speakers have included Aaron Mair and Dr. James Hansen.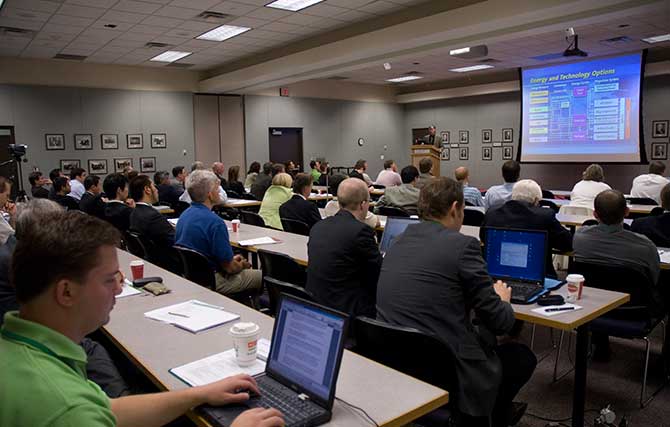 Professional Development Opportunities
Sustainability in Practice: RIT is committed to employing best-in-class sustainable practices within university operations and achieving carbon neutrality by 2030. But what are sustainable practices, how will RIT become carbon neutral, and what is the role of staff members in advancing these commitments? RIT recognizes the need for all staff to become better equipped to lead sustainable change within their departments. This session, provides an introduction to sustainability and provides resources to facilitate sustainable behavior change. Participants will learn how RIT is responding to this grand challenge, and will explore tools and strategies for enacting sustainable practices within your unit and everyday work.
Exploring the Intersections of Equity, Sustainability and the Environmental Movement: Sustainability is about more than recycling, planting trees, energy efficiency and cool green technology – it is about ensuring that all people live in harmony with their natural environment. In this workshop, we will explore the intersections of sustainability, diversity, and justice, and cover topics such as human health and wellness, access to resources, and environmental justice. Participants will learn how structural racism, sexism and classism contributes to environmental degradation, and how certain individuals are more vulnerable than others to its harmful impacts. Examples from RIT and the greater Rochester community will be shared, and participants will discuss ways to create meaningful dialogue and social change within campus and beyond.

Have an idea for an event?
Let us know if you have an idea for a sustainability related event that you'd like to help organize.