April 1, 2019
by Felicia Swartzenberg
Alumni Update: Suzanne Farrell finds her place at Dolby Laboratories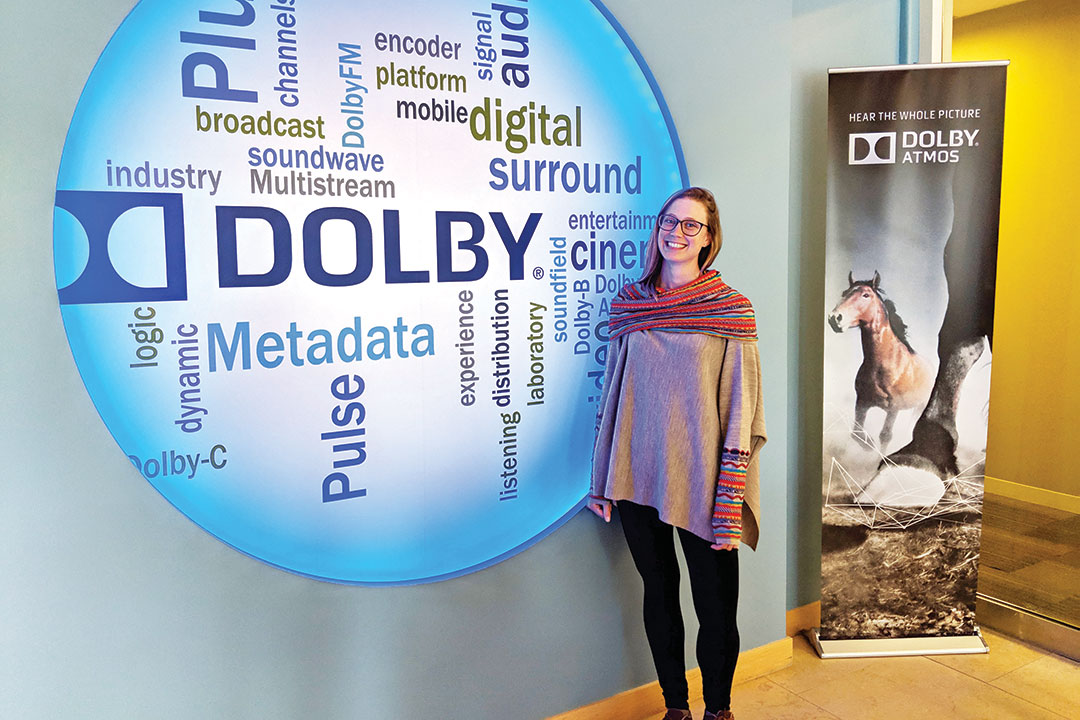 There is an RIT graduate behind the enhanced image quality of movies viewed with Dolby Laboratories' technology. Suzanne Farrell '12 (motion picture science) is a software engineer in the applied vision science department at Dolby.
"We are always trying to deliver a quality experience to the consumer by tailoring the experience to the way each individual consumes media and preserving the director's artistic vision for how they want their film to look," said Farrell.
Much of her work toward achieving these goals involves research in luminance dynamic range preferences, backlight modulation using image statistics and fidelity video testing.
Farrell stumbled into software engineering as a junior in the motion picture science program.
"I took my first post-production class and realized it was not my cup of tea," said Farrell. "I never saw myself as an engineer, but I knew working in a post-production track would never work for me."
After completing her degree, Farrell moved to San Jose, Calif., for an internship at Dolby Laboratories.
During the internship, she did research on technology the company was developing regarding viewer preferences on luminance dynamic range and presented it at the National Association of Broadcasters conference in 2013. At the beginning of 2014, she graduated from an internship to a full-time position.
"There is a nurturing and supportive atmosphere at Dolby," said Farrell. "I stayed because I wanted to see my research through to the end."
Farrell is one of five RIT motion picture science alumnae working at Dolby, and it's not just the company's popularity that's reeling graduates in.
"A lot of what we learned in the motion picture science program is directly applicable to the work we do here at Dolby," said Farrell. "They were interested in me and my degree because it was quite unique."
For someone unsure of her path, landing an internship at Dolby was a stroke of luck that helped Farrell determine what she wanted to do for her career.
"Early on, I definitely had many bouts of frustrations and would question if this was what I wanted to do with my life," said Farrell.
 "Ultimately, I believe this was the right company to come to. It helped me develop and hone my skills, gave me unique opportunities to share my research with a wide audience, and living across the country, away from friends and family, is something that helped me grow as a person."
Topics