College of Art and Design's new MAKE program opens doors for creative exploration
MAKE provides opportunities for students to engage with art, craft, and making outside of the classroom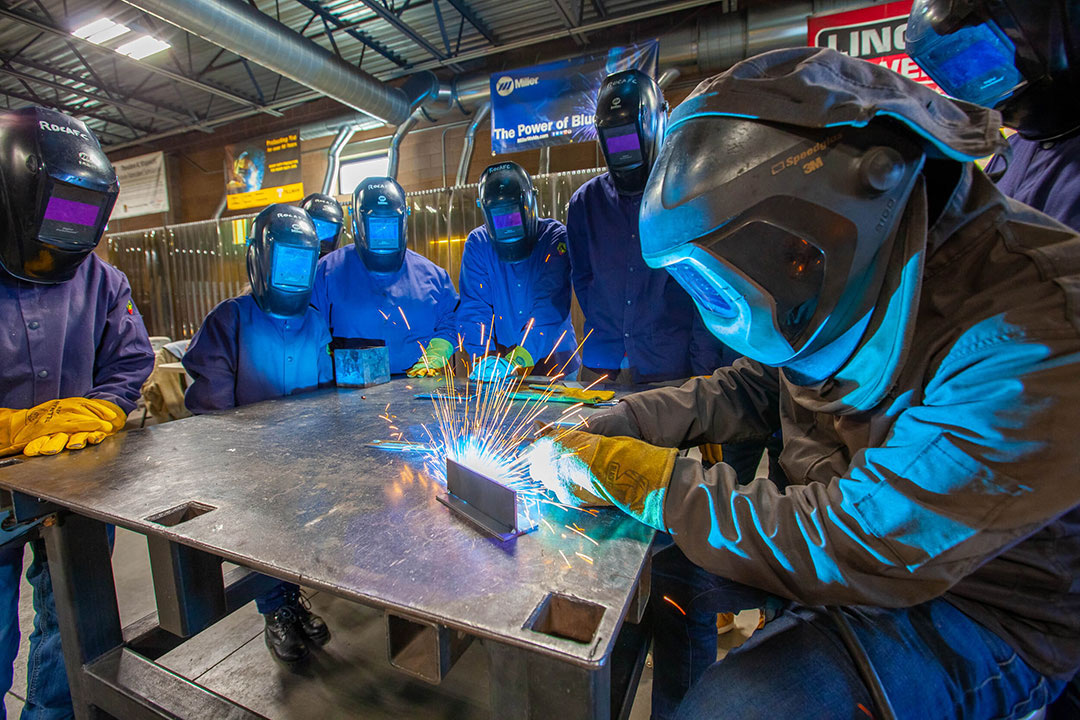 RIT students will have more opportunities to flex their creative muscles outside of the classroom through a new program called MAKE, housed within RIT's College of Art and Design. The new program creates opportunities for students outside of the college to engage with the resources and expertise available within the School for American Crafts and School of Art.
The new non-credit-bearing program is for students who are interested in exploring their passion for hands-on making, and it will launch for the incoming class in fall of 2023. Crafted with the target audience of students enrolled in academic programs outside of the College of Art and Design, MAKE's goal is to pique students' interests in exercising their creative energies, working with materials and processes, and engaging in art and craft making experiences at RIT and within the greater arts community of this region.
"MAKE is a signature initiative that will offer programs from our renowned College of Art and Design to students in other areas like engineering, computing, business, health, the physical sciences, and liberal arts," said RIT President David Munson. "We are offering students creative, collaborative experiences outside of their degree programs, outside of the curriculum. This effort supports development of the whole person, left brain and right brain, and provides an outlet for students, allowing them to engage in hands-on activities that bring joy. MAKE is a program that could take place only at RIT."
Robin Cass, the director of MAKE, describes the program's offerings as a "series of creative adventures that will augment and enrich students' undergraduate experience."
"Students in MAKE will learn how to fabricate metal, shape molten glass, create ceramic forms, work with wood—all activities that are unlike anything most people have an opportunity to engage with in their regular lives," said Cass. "This kind of studio experience can improve resourcefulness and grit in students and their ability to persevere. These skills are transferable to their primary discipline and to the world of work after graduation." 
The MAKE program will consist of a series of workshops, visiting artist lectures and demonstrations, off-campus field trips, and other community-oriented activities. There are no required assignments or quotas to fill, and all participation is self-driven.
Cass believes that the program will help further establish RIT as a place where technology and the arts converge, and as a school where students can fulfill their creative drive regardless of their primary major.
"The best ideas come from where different disciplinary expertise and ways of solving problems intersect. I really expect that this program will spark exciting collaborations down the line for the students that take part in it," said Cass. "I believe this program is going to be a great opportunity for RIT to attract, retain, and enrich the education of a more diverse STEAM student body." 
In addition to providing new experiences for non-majors, the MAKE program will also give graduate students in the College of Art and Design a chance to try their hand at teaching. Students in the ceramics, glass, furniture design, or metals and jewelry graduate programs can apply to be MAKE instructors, and those selected will receive scholarship support for their work.
Leadership in the College of Art and Design anticipates that MAKE will enrich the RIT experience by allowing students to express themselves without the bounds of assignment prompts and grades to corral their creativity.
"Expanding access to our college's offerings is a way of celebrating and sharing how dynamic and unique these disciplines are, as well as the faculty and students who engage in these practices. It also carves out a space for students to play and be expressive. My hope is that this program will free students to engage with creation, making, and materials without a specific purpose. We want them to find new joys, interests, and ideas that weren't merely preconceived but, rather, discovered," said Todd Jokl, dean of the College of Art and Design. "After all, discovery of one's self is a big part of what college is about."
In the fall of 2022, MAKE hosted two pilot workshops, one on welding and working with hot glass, and another on iron pouring and metalworking. Elizabeth Kronfield, director of the School of Art and School for American Crafts, shared that those two events already resulted in students being invigorated by the idea of creating with their own two hands.
"As humans we are drawn to making with our hands as well as using our creativity. Since these experiences are non-credit bearing, they come without pressure," said Kronfield. "Combining the acquisition of skill with the desire to make allows students of all majors to cultivate their joy for learning while focusing on specific results—and the results themselves are self-driven, not determined by a professor, a rubric, or learning outcomes, but rather by one's own creativity and connection to the process."
For more information about the program, visit the MAKE website or email makeart@rit.edu.
Topics