Main Street Arts becomes family affair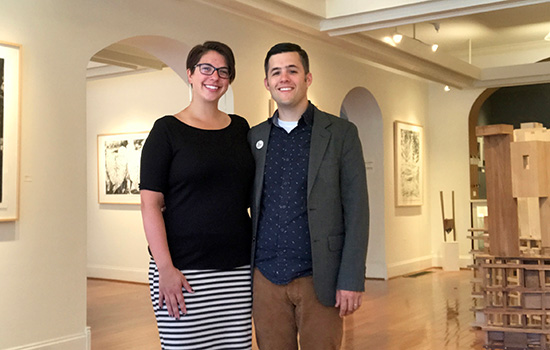 People often ask Bradley Butler '10 MFA (fine arts studio) and Sarah Butler '08 (graphic design) if they get tired of seeing each other.
The couple runs Main Street Arts in Clifton Springs, N.Y. Bradley is the gallery director/curator. Sarah is the gallery manager and graphic designer.
"We are always working, which is both good and bad," Sarah said. "We don't get sick of each other. We love being together."
The two have been together since high school after Sarah's cousin introduced them. They started dating when Sarah was a junior in Bloomfield, N.Y., and Bradley was a senior in nearby Manchester, N.Y.
From the beginning they shared an interest in art and graphic design. After high school, Bradley started as a graphic design student at Monroe Community College with plans to transfer to RIT. But when it came time to transfer, RIT professors told him he needed a stronger portfolio, so he stayed another semester at MCC and took more art classes.
In the process of beefing up his portfolio, Bradley decided he liked the tangible aspect of drawing. He changed his career goal to art teacher, got a bachelor's degree from Nazareth College and applied to RIT for graduate school.
At RIT, he became involved with Gallery r, which turned him on to gallery work.
"RIT opened my eyes to the different possibilities with a creative degree," he said, adding that he worked in a print shop, taught as an adjunct at RIT and SUNY Brockport and pursued his own art after graduating.
When the position opened up to run Main Street Arts in 2013, Bradley knew he would be a good fit.
Meanwhile, Sarah originally wanted to be an art teacher, but after attending Monroe Community College for a few years, she transferred to RIT in graphic design. After graduating, she worked for six years at Finger Lakes Community College as a graphic designer before the gallery position opened.
In 2015, she got a master's degree from the Maryland Institute College of Art in the business of art and design, which made her a good fit for gallery manager.
Since Bradley began working at Main Street Arts, the gallery has shown close to 90 artists with RIT connections. That includes alumni as well as faculty members.
The gallery not only shows art and sells art, but it has an artist residency program, where artists have access to studio space and host workshops.
Bradley and Sarah have many plans for the gallery, including converting the gallery to a nonprofit. They hope to expand the residency program and do more K-12 outreach. They have plenty of time to discuss those plans, even when they aren't in the office.
"It's pretty great to work together," Bradley said. "We talk about work all the time, and that makes work and life very connected. It is a good thing for the gallery and a good thing for us."
Topics