Alumna Katie Linendoll 'Means Business'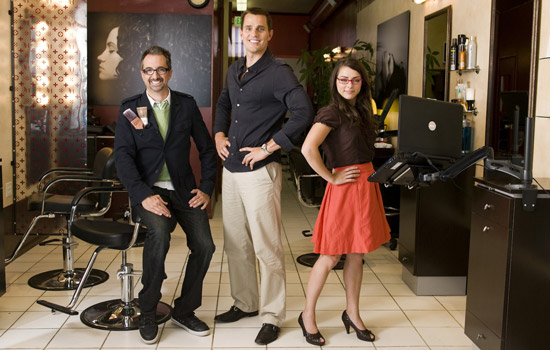 A&E Television Networks
ONLINE EXCLUSIVE
Cable TV's reigning "Chic Geek," Katie Linendoll '05 (information technology), launched her television career on RIT's SportsZone program (11:30 a.m. Saturdays on ESPN2 cable channel 25). That led to a co-op at ESPN and a permanent position after graduation. She won an Emmy Award for her work as an associate producer on ESPN's SportsCenter and participated in the show's "50 States in 50 Days tour."
Now she's one of the three hosts of A&E's new lifestyle show, We Mean Business, sponsored by Dell (airing in Rochester at 10:30 a.m. Saturdays on cable channel 37).
"We go into these struggling businesses and just blitz them from all sides," says Linendoll, who also blogs on the Dell Web site about each episode.
Linendoll takes on the business's technology infrastructure. Designer Peter Gurski ramps up the aesthetics, and Bill Rancic, entrepreneur and first winner of The Apprentice, provides business expertise. Each week, the three revitalize a different business, including a dog kennel, party shop, bakery, pizza shop and other small enterprises facing big challenges. For instance, there's the single mother whose specialty store is more than $200,000 in debt, and the bakery owner who has been hiding huge losses from her husband.
"We went in and spent three or four days, 17 hours a day working with these people," says Linendoll. "You get so wrapped up with them emotionally. These businesses are their whole lives. We really want them to succeed, but they have to step up to the plate."
Linendoll, who continues in her role as the Gadget Girl on HSN (a.k.a. Home Shopping Network), first heard about We Mean Business last April. She met with reps of A&E and Dell and "Two weeks later, I'm out in L.A. shooting the series," she says.
"It was exciting," she says. And the Erie, Pa., native is hopeful that the show will have legs. "So many people have a dream of running their own business," she says. "This show is a way to find out what it's really like."
Topics