Eva Navarro López named School of Information Director
Navarro to focus on diversity of computing ideas and people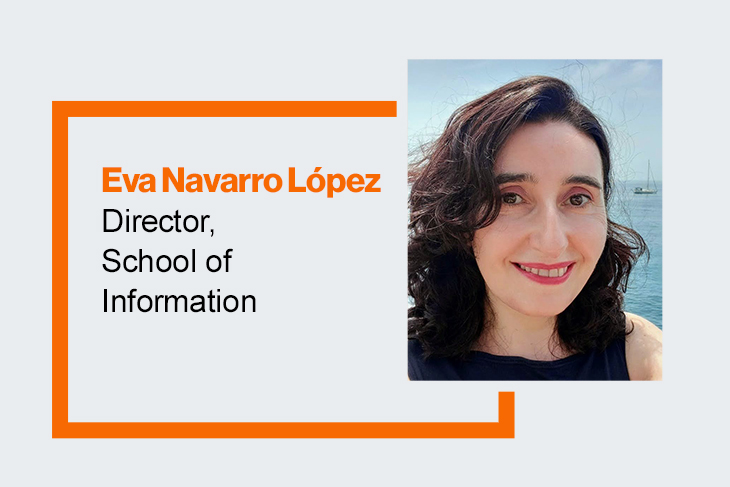 Eva Navarro López has been named director of the School of Information in RIT's Golisano College of Computing and Information Sciences. Navarro begins her duties at RIT Sept. 18.
The School of Information—also known as the iSchool—focuses on utilizing technology to solve real-world, human-centered problems. Students can pursue four different bachelor's degree programs and eight graduate degree programs ranging from web and mobile computing to human-computer interaction and artificial intelligence (AI).
"I am excited for the leadership and experience Eva brings to the iSchool's research and education at the intersection of people, information, and technology," said Matt Huenerfauth, dean of the Golisano College of Computing and Information Sciences. "Her interdisciplinary research and prior work on diversity, equity, and inclusion in computing is a wonderful match to the work of the school."
Navarro developed her career in industry and academia in three different countries—Mexico, the U.K., and Spain. She has served as a faculty member in data science at the University of Wolverhampton, in the U.K. She is also the founder and director of the Wolverhampton Artificial Intelligence and Data Science Research Lab.
"The future of technology and computing-related fields lies in diversity—diversity of ideas, of people, and in the combination of many areas of research and cultures," said Navarro. "I believe that RIT and the school's strengths are my strengths. We complement each other in our vision of diversity, inclusion, and multidisciplinarity, and change is evident in many forward-thinking initiatives in research and education."
Navarro is an honorary senior research fellow at The University of Manchester, where she applies network and data science to analyze social and urban dynamics. She is also part of AI Mexico, which promotes AI education and its responsible adoption by industry, and TechnoLatinas, a community that brings together technologists and scientists to advocate for equality, diversity, and inclusion. She is also a member of the International Panel on the Information Environment, an expert of the UNESCO Inclusive Policy Lab, and co-founder of ACM-W Europe and ACM womENcourage.
As iSchool director, Navarro said she envisions three pillars for the school, including collective, dynamic, and creative intelligence. Each has a scientific facet and a human facet.
"From the scientific viewpoint, collective, dynamic, and creative intelligence are used to formalize the evolution, learning, and self-organization of complex systems in computing," Navarro said. "From the human viewpoint, teamwork and cooperation result from a collective, dynamic, and creative process. I am looking forward to working with the wonderfully dynamic and creative people of our fantastic iSchool."
Steve Zilora will continue to serve as director of the School of Information until Navarro's arrival.
"I want to extend deep gratitude to Steve for his service to the iSchool, both during his earlier term as director and during this additional term over the past year," said Huenerfauth.